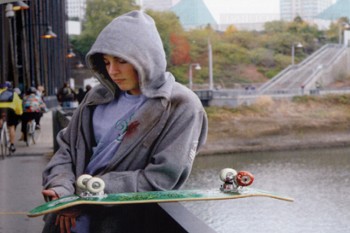 On some level, I'm happy that a Romanian film won the Palme d'Or at the Cannes Film Festival. After all, Cristian Mungiu's 4 Months, 3 Weeks and 2 Days was on every critic's list of prizewinner favorites. Looking at the composition of the jury, I actually thought that it would be hard for an American filmmaker to take the top prize, despite the fact that the Coen Brothers and Gus Van Sant were also listed as frontrunners throughout the competition. So it went to the underdog, a filmmaker from a small country that recently produced the likes of The Death of Mr. Lazarescu and 12:08 East of Bucharest.
I secretly was rooting for Gus Van Sant's Paranoid Park, about a teenage skateboarder who inadvertently commits a murder, especially after reading Matt Dentler's description of it. He had it listed as his second favorite film of those he'd seen at the festival. His first choice was Julian Schnabel's The Diving Bell and the Butterfly, about a paralyzed writer, for which he received the prize of Best Director. Voice critic J. Hoberman credits Schnabel for giving the awards ceremony's "most loutish performance." He writes: "His anger barely masked behind outsized sunglasses, the bearded, heavy-set artist insisted on shaking hands with every member of the nonplussed jury."
In her Filmmaker Blog, Erica Abeel offers a "mildly dissenting opinion" over the top prize, writing that Van Sant's Paranoid Park was more justified in winning his special jury award. Paranoid Park was also listed on indieWIRE's list of 10 films to watch. Hoberman calls it "superlative." In addition, it was reported that the French company MK2, which financed Paranoid Park, sold the U.S. distribution rights to IFC First Take and the foreign rights to 72 different countries. It's clear that Gus Van Sant has been on an incredible roll with his last three films: Elephant, Last Days, and now Paranoid Park.
In addition, a restored and re-mastered 35mm version of Van Sant's debut feature, Mala Noche (1985), opens at the IFC Center in New York City tomorrow. Nathan Lee gave it a very positive review in the Village Voice yesterday. Since I showed the film at the Madison Museum of Contemporary Art (MMoCA) this spring, I've already written about it at great length in my very first blog entry of April 25. Walt, the obsessive protagonist of Mala Noche, is a character straight out of a Hubert Selby Jr. novel, and the episodic film about Walt's fixation on a young Mexican illegal immigrant creates a stark poetic realism out of an accumulation of striking visual details. If Paranoid Park turns out to be as good as people say, it's hard to think of another American indie director — other than perhaps David Lynch or Jim Jarmusch — who has made six films that rival the quality of Mala Noche, Drugstore Cowboy, My Own Private Idaho, Elephant, Last Days, and now Paranoid Park. The simultaneous success of Paranoid Park at Cannes and the theatrical re-release of Mala Noche solidify Van Sant's status as one of the top American indie directors.
Most people seemed to consider Harmony Korine's Mister Lonely to be one of the weirdest films at Cannes. Dentler had it as his seventh favorite film and indieWIRE also had it listed as one of the 10 films to watch. Korine's Gummo (1997) is one of the most reviled films for all the wrong reasons, as I tried to argue in my book. It's a stunning first feature, even if Janet Maslin and other critics didn't get its associational structure and "in your face" aesthetic. If Korine had only shot the scene in Gummo of Bunny Boy and the young redneck cowboys, in my opinion, he'd still be a great filmmaker. Who wouldn't want to see a film with characters that include celebrity impersonators such as Michael Jackson, Marilyn Monroe, Shirley Temple, Charlie Chaplin, the Three Stooges, the Pope, and Abe Lincoln? And don't forget there's also a subplot involving Werner Herzog and a bunch of flying nuns. Korine is heir to the tradition of American vaudeville. Dentler describes Mister Lonely as feeling "sort of like Tod Browning's 1932 classic, Freaks, as made by Harmony Korine." Much has been made in Cannes reviews of the disturbing imagery in Korine's previous two films, but that's been overstated as well.
My favorite quote about Mister Lonely comes from Ray Bennett, who begins his review in The Hollywood Reporter: "There are probably people who will find Harmony Korine's ragged fable 'Mister Lonely' enchanting, but you wouldn't necessarily want them as neighbors." That alone would be enough to make me want to see the film. Meanwhile, Premiere's film critic, Glenn Kenny, is still trying to figure out who would sink money into such a project (try French fashion designer and film patron agnès b, for one), or who on 68th Street in Manhattan would be willing to fork over ten bucks for the experience (other than me). Hey, where are those marketers from Fox Searchlight when you really need them?
Posted 31 May, 2007
Comments Off

on Gus Van Sant and American Indies at Cannes