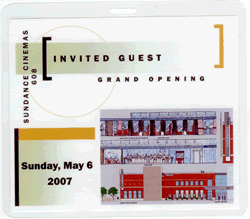 I attended the May 6 benefit at Sundance 608, the new six-screen multiplex that opened in Madison last week with great fanfare. I'm frankly excited at having Sundance in town, because it serves to increase the number of screening possibilities for non-Hollywood films. Robert Redford explained in an Isthmus interview: "We wanted to take the concept of supporting new artists into exhibition."
I wasn't so crazy about the film I saw at the benefit, Paris Je'Taime, which only proves how difficult the five-minute format is for even the best of filmmakers. The sound and picture, however, looked great, and each of theaters is stadium-tiered so that the sightlines are excellent. I went back this week to see the late Adrienne Shelly's Waitress. Since I wrote about Hal Hartley's Trust in one of the chapters of my book and have always been a huge fan, I don't know how I thought I possibly could see the film without experiencing an inevitable meltdown.
In any event, I would not have imagined that a new movie theater would engender such a spirited debate on the "filmies" listserv, but the gripes have ranged from the croissants to the art on the walls to the imported birch trees that line the walkway to the various theaters. The biggest complaints, however, have to do with the scaled ticket pricing, or added surcharge, which varies according to the time and day. I paid $7.75 for a 2:30 PM matinee (my ticket receipt ironically shows $6.25) on a Monday, but I hear that it can cost $11.75 for a Friday or Saturday primetime screening, once the $3.00 surcharge is factored in. Will this business model work? I'm not really sure. At my matinee screening there were about 20 elderly people – the kind of audience you might expect to attend a movie on a weekday afternoon.
Sundance 608 is attempting to convey an upscale rather than ballpark experience for movie-goers, with a bar and bistro, lounges, cafe, free wi-fi, and a rooftop bar for warm weather. The gift shop sells mostly Sundance sweat shirts and caps or branded merchandise and crafts (but so far no books on independent cinema). I was interested in a Sundance Film Festival catalogue, but unfortunately it wasn't for sale. The theater décor itself made me think I was in Scottsdale, Arizona rather than Madison, except for the trees rather than cacti. Despite public relations statements from Sundance that emphasize this community, I'm not convinced that Sundance completely understands the Madison market or the subtle politics and mores of the city.
Madison doesn't have a moneyed class in the same way that many other cities do. It's not that there aren't wealthy people who live here – there are plenty – but snobbery has never played well. It took years before wine bars and chic restaurants became accepted. The Wisconsin Film Festival is certainly a major hit. This year there were 28,700 paid admissions for the four-day festival, but it's not a star-studded event and ticket prices are inexpensive. The UW Cinematheque often draws packed audiences for its weekly fare of classic films and art cinema. Like the art museums, it's free to the public. Sundance, however, is selling a brand name, a certain lifestyle to people, so it doesn't surprise me that Madisonians might remain a bit skeptical, even though they appreciate the attention. Robert Redford was a no-show at the opening, but I'm sure he'll turn up as promised at some point in the near future.
Numerous emails and blogs reported that having ushers introduce the films seemed pretentious. At my screening, the young female usher beamed as she escorted people to their reserved seats, while a claymation short played silently on the screen minus its sound track. When the usher publicly welcomed everyone and announced she would be checking on our viewing experience, I can't say I felt reassured. After Waitress, I needed some time to regain my composure, but the usher was back again and her enthusiastic smile upon exiting seemed somehow inappropriate to the sadness I felt after watching Shelly's film.
Sundance 608 is counter-intuitive in a business sense. Jim Kreul suggests that most people (other than cinephiles) don't go to the movies anymore. He writes: "Generally speaking, it is very hard to get people out of the house for a film. This seems true of young and old, but for different reasons. Young: Income, video games, rap music, etc. Old: Home Theaters, fear of parallel parking, fear of rap music, etc." Many friends with kids certainly no longer go to the movies. It's too expensive to get a baby sitter. There's television and Netflix, and let's face it: people are working harder and longer hours than ever. How do you fit in a three-hour movie such as David Lynch's Inland Empire (or any overly long feature film) on a work night? It's almost as if many film directors are deliberately trying to drive off the remaining audience by extending most viewing experiences beyond endurance. It really does boil down to being able to find the time to go to the movies.
Obviously Sundance is counting on people to have a drink and dinner and catch a movie, but that's where the ticket surcharge could backfire. It could easily be seen as unnecessary gouging. The success of Sundance will also depend very heavily on the quality of its programming. I think people want to see the alternative movies they are reading about nationally in the New York Times and the New Yorker, or hearing about on National Public Radio. That's why there was a big audience for Charles Burnett's Killer of Sheep at a 5 PM Thursday screening at the Wisconsin Film Festival. That's where Sundance will be able to pick up an audience for certain films. It's possible that Sundance 608 could become a place for people to go for one-stop entertainment, which is why the Madison Museum of Contemporary Art (MMoCA) also has a restaurant and bar and a Rooftop Film Series in the summer.
I looked at the movies that are playing at the IFC Center in Manhattan: Tsai Ming-liang's I Don't Want to Sleep Alone, the beautifully restored 35mm print of Charles Burnett's Killer of Sheep, Day Night Day Night, Private Fears in Public Places, Wind That Shakes the Barley, and Zoo. I'll promise not to kvetch if Sundance 608 delivers this type of programming. In addition, the Madison newspapers better bolster their staff of movie reviewers because that's also an important part of the equation. And audiences really need to attend screenings of great films when they play here. Kreul writes to his fellow film colleagues: "All you can do is support what you want to maintain in your community, and see what happens. You're the target audience for these films, so you're essentially telling the distributors not to market the films in Madison if you don't go to see them in the theaters." He's right!
Posted 18 May, 2007
Comments Off

on Robert Redford's Sundance 608 Rides into Town