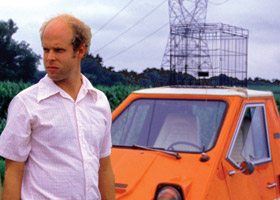 In one of their podcasts for Four Eyed Monsters, entitled "Losers," Susan Buice and Arin Crumley list the many reasons they consider themselves to be losers. One is that their film didn't get into Sundance, but rather Slamdance, thus making them losers because they were unable to come away with a distribution deal. The result has been a non-stop, grass-roots campaign to get their film shown theatrically, to sell DVDs, and finally to have it seen by over 500,000 viewers on YouTube this past week as a special promotion with Spout.com.
Todd Rohal's The Guatemalan Handshake (2006) apparently just barely missed getting into Sundance and also had to settle for the consolation prize of Slamdance, even though his film won a Special Jury Prize. Rohal discussed the ramifications in a recent Filmmaker interview with Nick Dawson: "I knew that the film would be a tough sell for anyone to see. There was never a thought that it would be distributed and put out in a million theaters, but it needed that legitimacy of Sundance taking it, saying, "This is a different kind of movie, and we're going to show it.'" Rohal later comments: "After the Sundance thing didn't come through, I said, 'This is going to be a long journey . . .' It's definitely been a struggle."
In the latest issue of Cineaste, there's an article by Rebecca M. Alvin on microcinemas that discusses the changes that have been affecting art houses around the country, most notably, the sheer expense involved in showing smaller films and the competition from home-entertainment systems that are taking away public audiences. She writes: "But it is the third factor – the intertwining of mainstream and art-house audiences – that is most troubling in hastening the disintegration of art-house subculture." The article talks about the effects of all of this, including the subsequent rise of microcinemas in out-of-the-way places as well as their attraction for people who still seek a community experience. Of special relevance here is the fact that Alvin's article provides an interesting perspective on the difficulties that indie films face in being screened at theatrical showcases these days. It explains why, for instance, a pseudo-indie like Little Miss Sunshine might play at an art-house multiplex, but not anything more risky or challenging like Mutual Appreciation, Four Eyed Monsters, or The Guatemalan Handshake.
The Guatemalan Handshake, which just finished up a limited-engagement, one-week run at the Gene Siskel Film Center in Chicago is definitely not a mainstream movie. It's been associated with the mumblecore movement for reasons that elude me, except for the fact that Rohal has acted in Joe Swanberg's Hannah Takes the Stairs (2007) and the film seems to be influenced by the work of David Gordon Green. Otherwise, it deals with entirely different subject matter than other mumblecore films. It doesn't focus strictly on the relationships of twentysomethings, and stylistically it bears little similarity to films by Bujalski, the Duplass brothers, or Swanberg. Shot in 35mm by the talented cinematographer Richie Sherman, The Guatemalan Handshake is an ensemble film, much like Todd Solondz's Happiness (1998) or Miranda July's Me and You and Everyone We Know (2005). It involves multiple characters and multiple plotlines that revolve around three main events: the mysterious disappearance of a man named Donald Turnupseed (Will Oldham), a power outage that develops at nearby Three Mile Island, and a demolition derby race.
The film is narrated by a ten-year-old girl named Turkeylegs (Katy Hayward), who considers Donald to be her best friend. Nasia mythicizes George in David Gordon Green's George Washington (2000); Turkeylegs does the same with Donald. Like Nasia, Turkeylegs isn't a terribly reliable narrator, mainly because she's only a child and her view of the situation is incomplete. Turkeylegs hangs on to a vision of Donald no one else shares. Little does she know that Donald's not necessarily deserving of her admiration. Many of the characters have names that sound like they're right out of a children's book: Turnupseed, Turkeylegs, Ethel Firecracker, Lunchmeat, and Neckface. Another is scatological (Stool), or in the case of Sadie's heavy-set, African-American half-sister, Dalabia, laden with sexual overtones.
One plotline involves an elderly woman named Ethel Firecracker who has lost her little white dog. Donald, who's searching for the dog for his own selfish reasons, witnesses its electrocution as a result of a surge in the power lines early in the film, just prior to his disappearance. Ethel puts up posters, hallucinates seeing the dog while sitting in her car, runs across her own obituary in the newspaper, and then attends her own funeral wake. As she blows her nose, Rohal creates a sound bridge to a bunch of neighborhood kids setting off firecrackers, which continues as she drives off in a hearse. Mr. Turnupseed's abandoned electric car, which Donald was last seen driving, is stolen by a couple of boy scouts, who sell it to Dalabia's friend, Stool (Rich Schreiber), who in turn trades it to Ivan, the crazy and hyperactive father of Donald's girlfriend, Sadie (Sheila Scullin), for his run-down school bus. Sadie moves in with Donald's father after getting kicked out by Ivan, presumably for getting pregnant.
A derby race gradually develops in importance as one of the film's storylines when Sadie, despite also having a broken arm, proceeds with plans to participate. Her major competition is her own father, who happens to be the reigning champion. The various plot strands at various times intersect, though it's more often as the result of sheer coincidence rather than motivated by either character or plot. An example occurs when Mr. Turnupseed encounters Ethel Firecracker at the local café. In response to her lost dog, Mr. Turnupseed offers the somewhat Buddhist explanation that if you love something you have to be willing to "set it free," which must be his own self-delusional rationale for seeming to be unconcerned about the fate of his own missing son. 
We get flashbacks in the film of past events involving Donald, such as his conversation with Sadie regarding his sick turtle in which she suddenly throws it into the creek because she really would rather have a dog. Sadie expresses her regret about the incident to Stool, who reveals that he was the person responsible for the mishap at Three Mile Island – something we've actually seen earlier. Afterwards, in a pixilated sequence, Mr. Turnupseed signs insurance papers related to Donald. All of the characters, including the insurance agent, head to the demolition derby. While Ivan provokes a fight at the derby, Mr. Turnupseed spies his electric car, and, adopting a Dick Vitale-like persona, drives off with it.
Meanwhile, even though Sadie's about to start the race, Stool passes her a note proposing they go to the beach, but she turns him down. Now without a car, Ivan begs Sadie to let him in hers, suggesting that they could become a powerful duo like Laurel and Hardy. Sadie refuses, but Ivan chases after her and manages to jump in through the open back window. The demolition derby becomes the film's climactic scene, as Rohal deftly crosscuts between the contest, chanting fans, Ethel seeing her dog at home, Mr. Turnupseed setting off fire works, the electric car rolling backwards, a turtle on the road, Mr. Turnupseed's car being driven off by a stranger, and Turkeylegs at the nearby amusement park. Sadie wins the race, but, even in victory, she still refuses Stool's overtures. Donald never reappears, but the film ends on Turkeylegs, who's still perplexed about what could have possibly happened to him.
Rohal deliberately refuses to tie together the loose ends of his episodic narrative, to follow conventions or even alternative strategies of narration employed by other successful independent films. Rohal takes a great many narrative risks, the biggest one being that no one really seems to care about the central mystery involving Donald's disappearance other than Turkeylegs. Sadie seems depressed and regretful, but she doesn't try to locate him. In the new romantic plotline, the horny loser Stool attempts to replace Donald, but that proves to be a red herring because Sadie simply rejects him. The fact that Sadie wins the race also does not really matter in terms of the story, except to the locals in the small town.
I think most people agree that the first ten minutes of the film are a real tour de force, but the dramatic momentum of the overall narrative sputters at times from too many incongruities. Like Harmony Korine, Rohal is ultimately more interested in individual scenes, non sequiturs, and small details of characterization. Often a character, such as Stool, will simply give up or capitulate in a scene, thereby diffusing the dramatic tension and energy. It's the imaginative visual style of the film, however, that represents Rohal's real strength and achievement as a filmmaker. For every scene that misses, there's another one that soars, especially the flashback to childhood involving Spank Williams or the adapted Moldy Peaches duet that Donald and Sadie sing together.
The Guatemalan Handshake is richly poetic as well as chock full of visual sketches and ideas. Rohal captures the texture of life in a small Pennsylvania town, especially one existing in the shadow of a nuclear power plant. In that sense it's really a small-town portrait (Stool even tells an Amish joke) — a character study of some of its inhabitants. Rohal creates many scenes that are deeply heartfelt and affecting, but these often involve the two characters who desperately care: Ethel and Turkeylegs. The overall tone of The Guatemalan Handshake is elegiac. Ethel Firecracker's love for her dog continues even beyond her own death. Rohal also does a superb job of capturing what it feels like to be a small child in a world that seems somehow confusing, mysterious, and full of intense melancholy.
Posted 18 June, 2007
Comments Off

on Todd Rohal: The Guatemalan Handshake