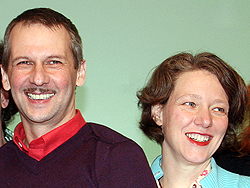 The confluence of the Venice Biennale and Documenta – the two largest and most important international art exhibitions in the world – occurs only every ten years, making it possible to compare the two major simultaneously-held events. Having attended Francesco Bonami's "Dreams and Conflicts" Venice Biennale four years ago and Documenta 11 five years ago, it seems to me that the two exhibitions have managed to become the inverse of each other this time around.
This year's Documenta 12 was co-curated by the husband-and-wife team of Roger Buergel and Ruth Noack, who attempted to rethink the nature of the contemporary art exhibition by aspiring to make it "formless" by erasing the cultural context of the works, the nationality of the artists, and the usual conceptions of what constitutes contemporary art, so that the works could be apprehended solely on their own terms. Their curatorial emphasis stresses relationships across media and historical time. Included in the exhibition are rugs, bridal veils, a lacquerwork panel, folk art, Persian miniatures, and children's drawings. Two years ago, then Village Voice critic Jerry Saltz warned that Documenta 12 could be "truly bad" following a brief exchange with Buergel over dinner at the last Venice Biennale. Saltz commented to Buergel: "After all, big exhibitions are about the art," to which the curator countered, "No. Exhibitions are about ideas." One could certainly argue with many of the intellectual premises behind Documenta 12, but it seems that Buergel and Noack's exhibition is not solely concept-driven.
There were lots of works by women and lesser-known artists from the Third World, especially Africa, as well as a lack of big-name western artists. Nevertheless, the show does emphasize an odd assortment of individual artists through inclusion of substantial amounts of their work: Chicago's Kerry James Marshall (the best painting in the show by far), Cosima von Bonin, Gerwald Rockenschaub, John McCracken, Lee Lozano, Peter Friedl, Zoe Leonard, Juan Davila, Charlotte Posenenske, and former Judson dancer Trisha Brown. The very first piece I saw at the exhibition turned out to be Brown's buoyant dance piece staged in the entrance ways of one of the exhibition rooms in which young female dancers performed minimal hand gestures and their bodies swayed to the music of the Grateful Dead's "Uncle John's Band." The overall effect was intense nostalgia mixed with an exhilarating sense of the surreal. In many ways, it was the best introduction to the exhibition I could have imagined.
The results of the curatorial strategy of Buergel and Noack, however, seems to be hit or miss. It reaches its absolute zenith in the smaller space of the documenta-Halle through the bizarre juxtapositions that are created by a wall hanging of a monumental Persian carpet depicting an elaborately patterned garden (circa 1800), Cosima von Bonin's large installation "Relax, it's only a ghost," (which featured, among a series of sculptural objects, gigantic stuffed animals), and Abdoulaye Konaté's wall hangings: a textile work that represents various shades of blue, and four flag pieces that deal with Israel and Palestine. Underneath the flag pieces, and referencing both von Bonin and Konaté's work, was Peter Friedl's inclusion of an amateur piece of taxidermy of "Brownie" the giraffe, one of the zoo animals that panicked and committed suicide during the Israeli siege of the West Bank. The affectionate work by a West Bank veterinarian, with its associations to childhood, seems to be a profound statement about the horror of that conflict.
The room culminates in the installation by Chicago artist Iñigo Manglano-Ovalle that consists of two parts. "Phantom Truck" is a replica of the fictitious mobile biological weapons lab that was used as a pretext for the US invasion of Iraq. Presented in a dimly lit, shadowy corner of the building, the mysterious truck is barely visible at first. Manglano-Ovalle's other half of the installation consists of a sculpture of a black radio sitting on the floor in a room where the outside light from the windows has been filtered by reddish-orange gels. The combined installation brilliantly deals with the act of perception. The two entrances to the Phantom Truck alter the perceptual experience. Somehow the reddish-orange light allows the human eye to adjust to the darkness, making the truck more visible. Manglano-Ovalle's installation was my single favorite piece at Documenta 12.
The curatorial concepts reach an obsessive level in Schloss Wilhelmshöhe. Here a large ornamental photograph by Zofia Kulik is positioned among various Rembrandts, four Kerry James Marshall portraits are juxtaposed with black figures from early historical paintings, Martha Rosler's photomontage of naked woman "Hothouse, or Harem" plays off similar content in an early Persian work, and Charlotte Posenenske's three-dimensional white wall piece, made of sheet-metal, constrasts with the flat surface of the white shades covering the museum windows. Dias & Riedweg's video installation of funk culture in Brazil reinterprets 16th-century Kassal writer Hans Staden's adventures in Brazil. In some cases, it becomes a treasure hunt even to locate the Documenta art works within the museum. In a major show of this magnitude, it didn't strike me as an especially efficient use of time, nor does the payoff always justify the intended point being made.
The biggest contradiction of Noack and Buergel's artistic or curatorial strategy, however, becomes most evident in the area of film. Alexander Horwath, who actually curated the film section of Documenta writes: "The location of film at Documenta 12 is the movie theatre. This is a very simple answer to the recent debates on how to adequately present moving images in the context of art." As a result, film wound up being largely segregated or ghettoized into evening screenings at the Gloria Kino in Kassel. The film program consists of 50 programs, containing works by 94 filmmakers, which are being screened twice over the course of 100 days of the overall exhibition. The program mixes classical Hollywood (John Ford's The Sun Shines Bright), art cinema (Claire Denis's Beau Travail), avant-garde (works by Su Friedrich, Leslie Thornton, Ken Jacobs), Amerindie (Todd Haynes's Velvet Goldmine), and documentary (Frederick Wiseman's High School).
Horwath elaborates: "The programme tries to represent the 'normal case of cinema' in the context of an art exhibition. 'Normality' means something entirely different here than 'mainstream' film or 'everyday' movie-going. Instead, it refers to what should be normal: the entirety of cinema; all types of genres – popular entertainment, avant-garde cinema, documentary, 'arthouse' filmmaking – united by a single frame of contemplation. The idea is to go beyond the distinctions made by the market and beyond the highly selective criteria used by the art world in defining the term 'artists' film.'"This is, of course, laudatory in theory, and I totally agree with the position espoused here. Yet, if the idea behind Documenta 12 was to mix various media and remove boundaries, why should film end up being isolated from the rest of the exhibition, except for the Irish artist James Coleman's Retake with Evidence (2007)? Why was such an enormous film screening space at Neue Galerie given over to what Manny Farber would term "elephant art" – a filmed stage piece of Harvey Keitel lamenting the destruction and carnage around him – except for the fact that the artist shows at Marian Goodman Gallery? Why not show the whole film program there? Or, if you had to show only one work, why not something more akin to "termite art," such as Ken Jacobs's epic Star Spangled to Death?
In a sense, there are now two separate and distinct traditions of moving image media: one shown in independent movie venues and the other that exists within a gallery and museum or "art world" context. For a variety of historical reasons, video rather than film has been a part of the gallery and museum context almost from its inception in the mid-1960s. Film, on the other hand, proved to be an uncomfortable fit within commercial galleries, largely because galleries did not know how to market films to collectors. Even the pop artist, Andy Warhol, who left painting for filmmaking for a five-year period from 1963-1968, failed to situate his films in the art world, where his film works were viewed more as a career aberration rather than as the radical gesture Warhol intended them to be. Warhol even made what is considered to be the first art video Outer and Inner Space (1965), which was ignored at the time, but now must be considered one of his most significant works.
At some point in the 1970s, Larry Jordan, the avant-garde filmmaker, proposed selling the originals of a film to collectors, but this idea never went anywhere. For one thing, they could not be adequately displayed. Unlike video, films never fit into people's homes. They required a projector, a large screen, and some degree of darkness in order for the image to be viewable. Video did not have this problem because TV monitors already existed in virtually everyone's home since the 1950s. In addition, viewing a film tended to be a temporary experience, limited by the act of projecting it, rather than a permanent object like a painting or sculpture. On the other hand, video could be looped and played continuously on a monitor, much like broadcast television. The medium lent itself better to the notion of installation. Video continued to be shown in art galleries, despite the fact that no one could figure out what to do with it and the image quality wasn't very good.
Video, however, served another function. It often provided a form of documentation for the idea-based work of conceptual artists, such as Vito Acconci and Chris Burden in the 1970s, when this type of work became very much in vogue. A conceptual piece may have been created as an implicit critique of art as commodity, but the documentation of an event or action somehow managed to authenticate it, and thus galleries began to sell video as documentation of conceptual art works. As a result, two separate traditions became established. Video was shown in art galleries and museums within the "white cube," whereas most avant-garde films were screened in theatrical venues. They were also shown in theaters within museums, such as the Museum of Modern Art, the Walker Art Center, the Art Institute of Chicago, or the Whitney Museum of American Art. They were screened at independent showcases such as Millennium, the Collective for Living Cinema, Film in the Cities, The San Francisco Cinematheque, Pacific Film Archives, Chicago Filmmakers, or Anthology Film Archives in New York City.
The advent of digital technology, which coincided with a major boom in the art world, altered the situation during the last ten years. In addition, art became so interdisciplinary that it became virtually impossible to maintain past distinctions regarding the notion of separate disciplines. Because of the prevalence of moving-image media within our culture, avant-garde film began to invade art galleries and museums as well. Artists belonging to the avant-garde film tradition such as Anthony McCall, Morgan Fisher, Pat O'Neill, and Jonas Mekas suddenly began showing in art galleries.
McCall provides an interesting illustration of this change. McCall, who made a series of sculptural "cone" films, stopped working in film in the 1970s as a result of his failure to find gallery representation. He now shows at Sean Kelly Gallery in New York City, and his earlier work has been showcased once again, not only in a gallery context, but also in major museum shows, such as the Whitney Museum's "Into the Light" exhibition by Chrissie Iles. Other film artists, such as Matthew Buckingham, Tacita Dean, Eija-Liisa Ahtila, Yang Fudong, and Matthew Barney now work primarily within an art world context. Galleries have found novel ways to sell films and videos to collectors and museums through limited editions. In addition galleries, museums, and international biennials and arts festivals, such as the Carnegie International, the Liverpool Biennial, and the Venice Biennale commission media artists to create work.
In Documenta 12, the real issue has to do with the parallel worlds that continue to exist between artists represented by galleries and those who are not. It's the most false distinction in terms of the medium of film, yet Documenta 12 upholds it through its exhibition practice. This is the one barrier that should have been torn down, but wasn't. Despite utopian statements to the contrary, Documenta 12 ultimately proved itself to be completely conventional in the way it dealt with film. The extraordinarily rich and diverse film program that Horwath and his staff put together seems aimed only at local viewers rather than those attending the exhibition from outside the area. During the two nights I spent in Kassel, for instance, I could have seen Helen Levitt, Janice Loeb, and James Agee's In the Street and Wiseman's High School (both of which I've seen multiple times), along with two other shorts. On the second evening, Johann van der Keuken's feature-length The Long Holiday was playing at the Gloria Kino, but I was already too fatigued from spending ten hours looking at art.
Most of the videos interspersed throughout the main exhibition halls at Documenta 12 create surprisingly little impact. More notable is Harun Farocki's video installation Deep Play (2007) which analyzes a World Cup soccer match from multiple perspectives, suggesting the complex interreationships between the actual event, computer-generated statistical imagery, and police surveillance of the stadium. The Swedish artist Johanna Billing's This is How We Walk on the Moon (2007) depicts a group of musicians (inexperienced sailors) from Edinburgh, as they nervously attempt to navigate a boat on the North Sea. Nedko Solakov's Top Secret (1989) is perhaps the most engaging video piece. In it, Solakov, who also had work at Venice, discusses his previous life as a youthful communist informer in Bulgaria. He creates a secret file of objects, which allow him to reveal personal aspects of his controversial past.
If I were only interested in film and video, Documenta 12 certainly would have been a disappointment, but I've always been equally captivated by the other visual arts as well. Documenta 12 felt extremely erratic at times, to be sure, but I managed to see a lot of stimulating work I might not have seen otherwise. Especially noteworthy examples include: Sheela Gowda's installation containing eight tables of ashes, sculptural forms of truck parts using plant and animal matter by Simryn Gill, Nasreen Mohamedi's drawings (some of which which bear an uncanny resemblance to those of American outsider artist, Melvin Way), drawings by Inuit artist Annie Pootoogook, scroll drawings of buildings by Lu Hao, Nedko Solakov's drawings of his personal phobias, an ambitious wall installation by Congolese artist Bill Kouélany, paintings by Lukas Duwenhögger, and the room of photgraphs by Zoe Leonard. In many ways, this show proved to be a complement to the one in Venice, which luckily turned out to be much more satisfying in terms of film and video.
Posted 4 July, 2007
Comments Off

on Film and Video at Documenta 12