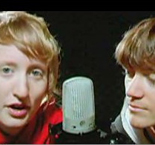 Last week a number of folks on the "filmies" listserv tried to goad me into uploading my early films on YouTube as a way of gaining additional visibility. Karina Longworth at SpoutBlog only yesterday wrote: "Right now, YouTube is the closest thing we have to a comprehensive online archive of 20th century culture." Since virtually everyone seems to love YouTube these days, why would I not want my work to be part of such an important Web-based venture? 
Susan Buice and Arin Crumley were actually planning to put their feature Four Eyed Monsters (aka FEM) on YouTube for free before Spout.com came up with the promotion that gives them a buck for each person who signs up on the Spout site. I just checked and so far FEM has racked up 779,894 views on YouTube, made $37,290, and sold 1133 DVD copies – not too shabby! But what about all those people who've had millions of plays on YouTube, and haven't made a dime? It's a lot like screening your film at 50 film festivals, and then having nothing to show for it after two years, except a ton of debt. FEM initially went the festival route and the filmmakers quickly realized that it was a dead end financially. As my The Guatemalan Handshake post indicates, Buice and Crumley felt like losers when FEM didn't get into Sundance, and the two eventually shifted their energies to the Web.
The pair turned out to be brilliant marketers by exploiting the potential of virtually every social networking Web site (MySpace, Facebook, del.icio.us, etc.). On Chuck Tryon's June 14 blog about FEM on The Chutry Experiment, I expressed concern that the two filmmakers have become so obsessed with promotion that it's preventing them from continuing to do their art. Here's what I said at the time:
"I also wrote a very positive response of Susan Buice and Arin Crumley's Four Eyed Monsters on my blog, encouraging people to support the special promotional showing of the film on YouTube. Buice has been an articulate spokesperson for the marketing and distribution of indie films on the Web, suggesting that the consumption of indie films will be entirely different in five years. It's really amazing to see how much time and energy these young artists have put into grass-roots marketing: the podcasts, interactive map, the DVD sales, the Thursday screenings, the ancillary products, sponsors, and so forth. Yet despite their real genius for promotion, the two filmmakers are still struggling to make this thing work financially. That, in and of itself, is a commentary on the current state of indie films. As my blog review indicates, I really like Four Eyed Monsters. I must confess, however, that the more time I spend on the Web site and the more podcasts I watch, the more I start to wonder whether it's really worth all this effort. After awhile, the filmmakers begin to sound a bit like two carnies working a very large room. I can't help but think maybe they would have been better off going the art-world route instead, which would have allowed them to make more money selling their art work through a gallery, but, more importantly, it would have enabled them to continue to make new work rather than spend so much of their creative energy on promotion. At some point you have to let it go, move on, and stay focused on doing your art work. That's what some of their other mumblecore friends have done, which, in the end, means they're being more creatively productive."
Chuck Tryon responded: "I think you raise an interesting question about the promotion of FEM. In a sense, I see the video podcasts and the website as an extension of the film itself, as part of the story they are telling, but that could be due to the fact that I experienced the film on the web, not on DVD or at a festival screening. So I see the podcasts as feeding into their reflection on communications technologies in FEM." I completely understand Chuck's point about the podcasts and promotions being an essential part of an overall project having to do with new technologies. And if you're interested in the whole project as an artistic activity – and the endless promotion via the Web is part of the story they are telling – that's fine. But the filmmakers often seem to shift their positions. Sometimes it's about this digital dream of using the Web to create a "theatrical jukebox," while at other times it's simply about trying to turn their actual feature film into an income-generating vehicle. I think everyone is interested in how FEM is testing the Web as a alternative distribution model. But isn't FEM's larger story really every indie filmmaker's soap opera?
Maybe I will try putting my films on the Web as an experiment, but I prefer something that offers some type of revenue stream like B-Side or Jaman rather than YouTube, where I struggle to see the obvious benefit other than self-promotion. For instance, I have a one-person show at Anthology Film Archives this winter. My personal bet would be that exposure on YouTube would substantially decrease rather than increase my audience. I also worry about the effect this would have on the two coops (Filmmakers' Cooperative and Canyon Cinema), which are really struggling to survive these days. My point is simply that people are not going to attend screenings, rent films, or buy DVDs when the work is already available for free on YouTube. In fact, the actual sales of DVDs of FEM in contrast to the number of viewings would appear to bear this out.
By chance, Aaron Hillis wrote an article in the Village Voice last week that reiterates what I've tried to suggest. It's entitled: "Internet Killed Video Star: Is YouTube Bad for Experimental Video Art?" His piece, which focuses on the career of Edin Veléz, suggests that YouTube has had a negative impact on more avant-garde works. In discussing the potential benefit of an expanded video program at Lincoln Center, Hillis writes: "It's a frustrating unknown for Veléz, who has seen interest in work like his dwindle to a niche audience, as those who used to seek out experimental work are now content to just press play." What Hillis says about FEM and YouTube as a viable option is pretty similar to my point about the tremendous amount of energy the filmmakers are forced to expend on marketing. Hillis, by the way, is no disinterested bystander in this discussion. Besides being a film critic and well-known film blogger, he's also the Vice President of the newly formed Benten Films, which soon will be distributing the DVDs of many of the mumblecore films, such as Joe Swanberg's LOL and Todd Rohal's The Guatemalan Handshake.
The other day Arin Crumley did a very long podcast interview with Erik Davis of Cinematical Indie. Crumley says that showing the film on YouTube was the most profitable thing the two filmmakers have done to date. Crumley claims that they are $100,000 in debt from making FEM. The debt, by the way, is not from the material costs of production, but what it takes to support two people working full-time on such a project for three-and-a-half years. He admits that it really takes a full distribution company to handle the sheer amount of work, which is one of the drawbacks of the DIY approach. He looks forward to a time where you could create a work and then push a "done" button, which would place it on the Web in "one democratic playing field of videos." The film could then be promoted through email, iChat, and instant messaging. He admits this sounds like some type of digital utopia. 
When asked what he would do if he had another film, Crumley somewhat surprisingly indicates that he would submit it to Sundance. If that didn't work, he would then give it away for free, either through some type of sponsorship, such as the one FEM currently has with Spout, or by trying to entice people to purchase DVDs. He indicates he would target some regional festivals. They could look at it online and determine whether to show it in the festival. He admits that the concept of buying films directly from filmmakers' Web sites is proving difficult. Well, one reason might stem from security issues for credit-card purchases due to people's concerns about identity theft.
Crumley talks about YouTube being what he calls a "long tail" platform or environment in terms of the Web distribution of film and video. He describes this as "the concept that there is a lot of profitability in the collective proceeds of obscurity." He says film and videomakers should be taking advantage of long-tail platforms, such as YouTube. But despite Crumley's utopian belief in these platforms, not everyone is going to be equally as successful, especially without the same expenditure of energy or money on marketing. In fact, mixed in with his ideas about web distribution is the fact that Crumley and Buice are in the process of making deals to have FEM shown on TV in this country as well as pursuing various foreign-sales opportunities. He claims that the prospect of such business deals contributed to them not having the time to continue doing the podcasts. Since Crumley admits he would submit a new film to Sundance, does this suggest that commercial distribution still remains the ideal?
Although I do think web distribution for independent work represents an exciting new challenge, I'm still skeptical of the value of having work on YouTube without any sort of compensation. After all, Crumley and Buice supposedly got into this whole thing because of credit-card debt. If they simply put FEM on the YouTube without all the hoopla, some people no doubt would have found it. But without the Spout marketing promotion and non-stop social networking I doubt I'd be writing this blog. In fact, Crumley discusses how difficult it was even to find a sponsor in the first place – that alone apparently took up a tremendous amount of the filmmakers' time and energy.
Although I concede that there are certain benefits to having work on YouTube (for instance, excerpts for people to sample), not everyone derives the same benefit, especially not the unsponsored or independent content producers, who still aren't making any money from having their work shown there. As a matter of fact, in some cases, it's depriving them of financial gain that they might receive otherwise.
Posted 1 August, 2007
Comments Off

on A Skeptical View of YouTube