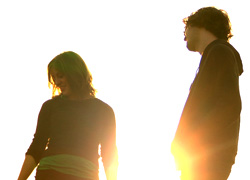 Aaron Katz's Quiet City and Ronald Bronstein's Frownland represent a vivid study in contrasts. Frownland, with its cramped apartments and cast of social misfits, presents a hellish vision of urban life in Brooklyn. Aaron Katz's Quiet City, on the other hand, somehow manages to turn Brooklyn into a semi-pastoral landscape by interspersing shots of nature – from changing autumn leaves and tree branches against blue sky and puffy clouds to spectacular sunsets. Even the subway ride and traffic lights of the city at night are rendered as colorful abstractions. While the film will remind viewers of Richard Linklater's Before Sunrise, along with work by Andrew Bujalski, Joe Swanberg, and David Gordon Green, Katz successfully navigates the terrain of cinematic influences and references by creating a film that embodies a sensibility very much his own.
I've never been a huge fan of Before Sunrise, largely because Ethan Hawke and Julie Delpy still seem too much like professional actors despite Linklater's use of naturalism. As characters, they try so hard to impress each other that it invariably results in missed connections. Jamie (Erin Fisher) and Charlie (Cris Lankenau), the two young protagonists of Quiet City, on the contrary, don't really try at all. They're not obsessed with getting into each other's pants for one thing, but seem more interested in just hanging out and getting to know one another.
The story is remarkably simple. Jamie arrives in Brooklyn to meet a friend, Samantha, who, due to cell-phone problems, ends up leaving her stranded. Jamie runs into Charlie in the subway station, asks for directions to a diner, and the two end up spending the next twenty-four hours together. Although scripted, there's not really much of a plot in the conventional sense. Instead we experience a series of episodic narrative incidents. The two break into Samantha's apartment, have a foot race in the park, and visit a friend, Adam (Joe Swanberg), to retrieve Charlie's hat, but actually forget to take it. They later go to an art opening and a party afterwards.
Neither Jamie nor Charlie appear to have much drive or ambition. We learn at the art opening that Jamie works at an Applebee's restaurant in Atlanta, while Charlie has quit his job and wishes he could find a way to get paid for doing absolutely nothing. Jamie is extremely attractive. She has a certain directness in manner, but often disguises it by raising the inflection of her voice at the end of a sentence, so that what begins as an assertion somehow gets converted into a question. Jamie also has the nervous habit of playing with her hair. Charlie, on the other hand, speaks much less, and manages to be vague about just about everything – the taste of wine or if he's fast runner – but he exudes a certain puppy-like charm. At the diner, it comes out that Charlie's ex-girlfriend used to like to go there. In response to Jamie's questions, Charlie indicates that she's now in Alaska, but later mentions that she previously lived in Florida. Charlie offers to let Jamie stay at his place, adding that "my couch is open." Jamie's first response is to laugh at the blatant implications, but she accepts his gracious offer. Nevertheless, Jamie is pretty flirtatious, even if Charlie appears not to notice.
When they get to his apartment, Jamie offers to give the shaggy-haired Charlie a haircut. Afterwards, he complains about feeling itchy and takes a shower. We fully expect Jamie to join him, but after he finishes, Charlie finds her fast asleep on his bed. He might lie down next to her, but instead ends up sleeping on the couch. The reasons for Jamie's reticence become evident the next morning when she gets a phone call, presumably from her boyfriend in Atlanta. Jamie tells him what's happened and openly admits that she's just slept at some guy's apartment. He hangs up. Jamie calls right back, and makes it clear that "I'm not doing anything wrong," though it's apparent from the tone of their brief conversation that they have issues.
While sitting together on the floor of Samantha's apartment, Charlie confesses to being cowardly. He tells her that he has a tendency to withdraw from relationships rather than break them off – he doesn't want to take responsibility for the other person's feelings. Jamie admits that she's mostly dated people liked him, but that in her latest relationship she's turning into him. As they continue to discuss relationships, Charlie says something about hoping to grow up, so as not to freak out and feel trapped, "and just kind of actually go with it." The camera pans from a side view of Jamie to a reaction shot of Charlie, as she responds, "Well this is my first time feeling like that." He nods his head in agreement. The camera cuts back to Jamie, who stares directly at him.
After Jamie beats Charlie in a foot race at the park, Jamie invites Charlie to her high school friend's art opening later that evening. While in the neighborhood, Charlie suggests stopping at Adam's place to get his hat. There's a very funny scene where Adam at first refuses to buzz them in. Once upstairs, Adam complains that he hasn't heard from Charlie in awhile. It turns out that Adam has gotten engaged after being together with a woman for seven years. The fact that Adam's getting married suggests a level of adult maturity that Jamie and Charlie speculated about earlier. The two return to Charlie's apartment, where Jamie takes a shower – a second opportunity for something to happen. After she finishes, Charlie is now the one who's fallen asleep.
At the art opening, Charlie runs into a hyperactive friend named Kyle (Tucker Stone), who also suggests that he hasn't seen Charlie for several weeks, reinforcing what we've learned about him from Adam. Kyle, in fact, manages to ridicule both Jamie and Charlie. He playfully embarrasses Charlie in front of Jamie by asking whether Charlie's still gearing up to move down to Florida to be with a girlfriend. Kyle tells Jamie, "He's hung up on some girl back in Florida." "No I'm not," Charlie insists, looking at Jamie, but Kyle counters, "You talk about her all the time." It's clear that Charlie wants him to shut up – has he been outed, or is Kyle simply mistaken? Whatever the case, Charlie seems to react with genuine embarrassment.
Jamie's artist friend, Robin (Sarah Hellman), invites the three of them back to her place for an after-party, where we watch the four of them dance to rock music, but we hear non-diegetic piano music instead, which creates a strange effect. As Jamie and Robin lie together in a loft bed, Robin talks candidly about her love life, complaining that she's been having trouble relating to men sexually. She first seems to indicate that she would prefer passionate sex with someone she didn't know all that well, but then later tells a story about asking a guy if she could just lie on top on him. Her story suggests the theme of Quiet City, namely, that people have a desperate need, not for casual sex, but for real intimacy. Following the party, we see Jamie and Charlie riding alone in an empty subway car. The camera frames them from behind, as Jamie's head leans into the fold of Charlie's neck and the two fall asleep. The film ends with a shot of an airplane taking off against an orange-red sky. Although it's left ambiguous, Quiet City suggests that these shared moments of intimacy are, in all likelihood, a temporary solace.
Quiet City primarily works because of the palpable chemistry between the two main performers. At one point, Jamie and Charlie improvise a duet on a small electronic keyboard. Their reactions to what they're playing and the music itself conveys a buoyant energy that carries through the entire film. Katz infuses Quiet City with a warm, golden glow of natural and artificial light that continually illuminates the faces of Jamie and Charlie. He mixes artfully composed wide shots that convey a distinct sense of place with a hand-held camera that often zooms in tight to follow the movement of its characters. It's the most formal and poetic of the mumblecore films I've seen to date, which owes much to the outstanding cinematography of Andrew Reed. Already imbued with a certain nostalgia, Quiet City creates the uncanny sense of the past unfolding in the present, as if its two characters are already looking back through the filter of memory at what we see transpire.
Along with Chris Smith's The Pool and three other films, Quiet City was recently nominated for the Independent Spirit John Cassavetes Award for Best Feature made for under a half-million dollars. Aaron Katz'a two films – Quiet City and Dance Party USA (which I still haven't seen) – will be released together on DVD from Benten Films on January 29.
Posted 5 January, 2008
Comments Off

on Quiet City