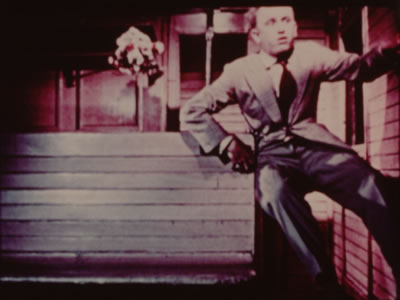 THE FILMS OF J. J. MURPHY, Saturday and Sunday, March 1 and 2 at 7:30 PM at Anthology Film Archives in New York City.
FILMMAKER IN PERSON!
Though he's perhaps best-known for PRINT GENERATION, in which the imagery of a one-minute piece of film, re-photographed fifty times over, becomes entirely abstract, J. J. Murphy's body of work encompasses a number of remarkable and beautiful films, in a variety of styles and modes. His structuralist bona-fides are amply demonstrated by PRINT GENERATION, but an encounter with his other films reveals his remarkable wit and formal range. From the minimalistic simplicity of HIGHWAY LANDSCAPE, and the found-footage inventiveness of SCIENCE FICTION and PREVIEW, to the disarmingly comical yet quizzical beauty of the great SKY BLUE WATER LIGHT SIGN, J. J. Murphy's films are as essential as they are difficult to pigeon-hole.
Anthology Film Archives
32 Second Avenue
New York, NY 10003
I will be screening a program of my early experimental films on these two evenings. For additional information, please see the Anthology Film Archives Web site. Click here.
Posted 10 February, 2008
Comments Off

on Films of J. J. Murphy at Anthology Film Archives