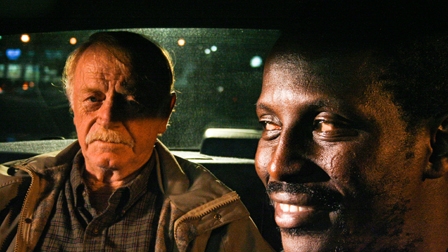 The location of Ramin Bahrani's third feature Goodbye Solo (2009) has shifted from New York City – the setting for his first two films Man Push Cart (2005) and Chop Shop (2008) – to his home town of Winston-Salem, North Carolina. While the film clearly references Abbas Kiarostami's A Taste of Cherry (1997), it actually reminds me of Robinson Devor's Police Beat (2005), which was set in Seattle and co-written with the African writer Charles Mudede. In a similar vein, Goodbye Solo is about a clash of cultures, as a very outgoing Senegalese cab driver named Solo (Souleymane Sy Savane) – like Z, the Senegalese bicycle cop in Devor's film – attempts to navigate unfamiliar personal terrain in trying to adapt to the mores of a new country.
In making a distinctly regional film, Bahrani shows us not only the downtown dominated by César Pelli's famous skyscraper (which looks gorgeous at night), but Winston-Salem's more seamy underside. In other words, we see the city from the perspective of an immigrant, which was also true of Man Push Cart. Shot in a continuous take, the opening scene of Goodbye Solo provides the film's setup. One's of Solo's passengers, a cranky old white Southerner named William (Red West), wants Solo to drop him off on Blowing Mountain two hours away on a specific date. For his trouble, William offers to pay him a thousand dollars – no questions asked. But Solo is inquisitive by nature. As he tries to joke with William, the man's true intentions suddenly dawn on him.
Buried underneath the story of these two contrasting characters, lies a kind of film noir mystery with a ticking clock, in which Solo gets thrust into the role of an unlikely detective. Solo tries to befriend the hard-nosed William. He badgers William with myriad questions and invades his privacy in ways that only a naïve outsider might be bold enough to attempt. Solo invites William home after a night of drinking, and later turns up to crash at his motel room. The cab driver gets information about him through a bartender friend, checks William's medication at the pharmacy, and rummages through his belongings in an attempt to unravel the secret that lurks behind the man's desperate action.
Whereas Solo is warm, open and buoyantly optimistic despite every reason not to be, William is cold, closed, and an utter pessimist. He continually demands that Solo stay out of his life, even as the two develop some type of relationship or accommodation. Just as Z in Police Beat can't understand the behavior of Rachel, the woman with whom he's infatuated, Solo is likewise baffled by William's actions. Z also cannot understand why the prostitute, Mary, would give up her kid to social services rather than to family. Solo criticizes the fact that families don't stay together in America. Solo explains to William that in Senegal your family will always provide for you. Even if you don't have teeth, he tells him, people will feed you the food. William replies coldly, "Why aren't you there now?"
Solo learns that William at one time drove a Harley, has a tattoo, and has returned to town after thirty years. Solo also knows that he loves movies, which is where he takes him on the night when William proposes the deal. Solo's preoccupation with William becomes an obsessive fixation, especially as the date draws nearer. Solo's concerns about William overshadow those in his own life, which appears to be falling apart. Solo separates from his Mexican wife Quiera (Carmen Leyva) and stepdaughter Alex (Diana Franco Galindo), even though Quiera's due to have his baby. He also dreams of being a flight attendant, which is part of the conflict with Quiera, along with the fact that he hangs out with friends and hasn't fixed up the taxi that sits idly outside their house.
For Solo, William represents the mystery of American culture, where family roots have been severed and individualism has replaced a sense of community. Indeed, Solo's relentless pursuit of William becomes a form of projection – a way to avoid his own problems by trying to solve those of someone else. For all his talk about family values, Solo seems less troubled by the fact that his own family is actually splitting apart. Solo's multicultural marriage represents a mini-drama within the larger one he's facing in being an African immigrant trying to assimilate into a southern American city.
At William's motel, Solo confesses to William that he misses his wife and Alex. Solo manages to keep in touch with Alex once she gets a cell phone. He marvels when she takes his picture in front of a hot dog place and later sends it to him via his cell phone. Neither Solo nor William can fathom how such a thing is possible. The screenplay, co-written by Bahrani and Bahareh Azimi (who also co-wrote Chop Shop), is extremely subtle and deceptively complex. It is only very late in the film that we come to understand the parallels between these two men, and why Solo cares so deeply about what happens to William.
Bahrani's direction in Goodbye Solo is remarkably self-assured. He's attuned to the faces of performers – basically nonprofessionals and a character actor (West) thrust into a major role. Red West's owl-like features – mussed hair, overly baggy inset eyes, and wrinkled countenance – serve as a roadmap of his past life. Bahrani's camera holds on the expression of his actors just long enough to convey the depth of their emotions. In a climactic scene, Bahrani uses a series of reaction shots between William and Solo who simply stare at each other – he smartly understands that words would be extraneous here. Many directors have made impressive debut features, only to begin a downward slide in subsequent works, but the 34-year-old Bahrani appears to be getting better and better with each film.
In Goodbye Solo, Bahrani's visual style seems almost effortless. On Blowing Mountain, the sound of wind intensifies to a roar. Along with Solo, we too feel as if we're standing on a mountain top, overlooking a breathtaking landscape shrouded in mist, which gave me a sense of vertigo. The image conjures up the famous German Romantic painting by Caspar David Friedrich, "Wanderer above the Sea of Fog." Bahrani's allusion is richly evocative – personally, politically, philosophically, and metaphorically – as Solo ponders the events that have transpired, as well as his own fate, within the broader context of the natural world.
Posted 5 August, 2009
Comments Off

on Goodbye Solo