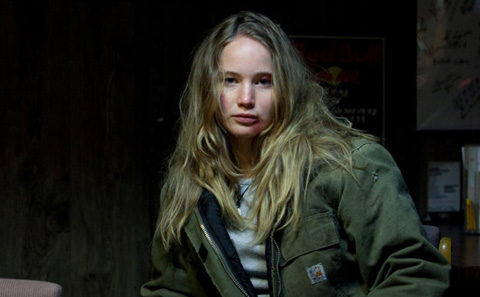 It's not been a particularly great summer for movies, but it's reassuring that there have been three exceptionally strong films by women directors: Nicole Holofcener's Please Give, Lisa Cholodenko's The Kids Are All Right, and Debra Granik's Winter's Bone, which has been playing at the Sundance Cinemas here for the past three weeks. Winter's Bone won the Grand Jury Prize as well as The Waldo Salt Screenwriting Award at the Sundance Film Festival last January. Adapted from the novel by Daniel Woodrell, the screenplay was written by Granik and her producer, Anne Rosellini.
Set in poverty-stricken region of the Ozark Mountains in Missouri, Winter's Bone explores how rural areas have been impacted by hardcore drugs, especially the spread of meth labs. Seventeen-year-old, Ree Dolly (Jennifer Lawrence) lives with her debilitated mother and two siblings, twelve-year-old Sonny (Isaiah Stone) and six-year-old Ashlee (Ashlee Thompson). The family is so poor that Ree can't afford hay for her horse, and has to give it away to a neighbor cousin, Sonya (Shelley Waggener). When there's no food for them to eat, Sonny suggests asking Sonya for some deer meat, but Ree instructs him, "Never ask for what ought to be offered."
Ree is informed by the sheriff (Garret Dillahunt) that her father, Jessup, who cooks methamphetamine, has put up their property as bond collateral and disappeared. If he turns out to be a no-show in a week – one of two ticking clocks in the plot – the family will lose their shack and surrounding timber land. This provides the catalyst for Ree to try to find her dad, setting her on a terrifying journey into the clandestine underworld of drugs that permeates her extended clan and local culture as thoroughly as the Comorra has infiltrated every facet of urban Naples, as we saw so vividly in Matteo Garrone's Gomorrah (2008). Although virtually each event that happens in the film somehow becomes grist for local rumors, there's a strict code of silence that can't be violated.
In such a milieu, what can't be verbalized (lest there be "witnesses," as one character explains) imbues the film with a palpable sense of dread. Ree's attempt to locate her dad leads her to assorted remote kinfolk – each one creepier than the last – who all try to dissuade her from probing any further. Yet, given her lack of choices and what's at stake, Ree is fiercely determined to pursue her goal, no matter what the consequences. As she tries to uncover the mystery behind Jessup's disappearance, his quest starts to feel like a slow descent into hell. Central to the story is the reluctant relationship that develops between Ree and her meth addicted uncle, Teardrop (John Hawkes), who chokes her early on and insists, "Choice is up to the one going to jail, not you!"
Winter's Bone has been compared to another previous Sundance hit, Frozen River (2008), but Granik, unlike Courtney Hunt, is far more concerned with character than the contrivances of plot. Granik manages to sustain the bleak tone and atmosphere of the film throughout, while mixing together elements from multiple genres in ways that never feels forced or obvious. The performances, which include a mixture of professionals and locals, are decidedly understated and uniformly excellent. Jennifer Lawrence's face embodies a grim sense of pain that is haunting. John Hawkes (the sad-sack shoe salesman from Miranda July's Me and You and Everyone You Know) suggests a human time bomb about to go off. When he wields an ax to the front windshield of someone's pickup truck and engages in an armed standoff with the sheriff, it's clear that he's no one to mess with. His final revelation to Ree suggests that the major explosion will occur beyond where the film actually ends.
What's so striking about Winter's Bone is how successfully the film manages to capture the almost tactile feel or texture of rural poverty. Shot with a RED camera, the film has reduced the color palette to a frosted bluish cast. Granik embeds her characters in a world of animals, both live and inanimate. There's even a black-and-white dream sequence in which Ree imagines squirrels fleeing their nests as trees are cut down. Granik and Michael McDonough, her cinematographer, have an eye for detail and composition that references the great photographers of the Depression, such as Dorothea Lange and Walker Evans. Although the film is unrelentingly somber, it's hard not to marvel at the Granik's commitment to portray this backwoods environment accurately and her obvious attraction to such a strong female protagonist.
Other than drugs, Ree's choices are limited, as evidenced by her visit to the local school, where we watch students practicing how to hold babies – the plight of her best friend Gail (Lauren Sweetser) – and a group of ROTC cadets marching in formation around the gym with rifles. Ree actually has plans to join the army, but her father's disappearance becomes an obstacle. One of the key scenes occurs in the military recruiter's office. Ree is torn between staying or joining the army in order to obtain the signing bonus she desperately needs to sustain the "weight" of her two siblings on her young back. The sergeant behind the desk  proves to be a reality check.
The hopelessness and despair that pervade recessionary America – the lack of meaningful jobs and opportunities – have turned rural areas into drug havens to numb the pain. Winter's Bone deftly conveys the sad state of the country at the present moment, making it apparent that it's these downtrodden places that provide fodder for the war machine. The strength of Winter's Bone lies in insisting on the connection between the wars abroad and the one being waged at home. Especially in the scene in the boat, Granik's film manages to capture a sense of its true visceral horror.
Posted 15 August, 2010
Comments Off

on Winter's Bone