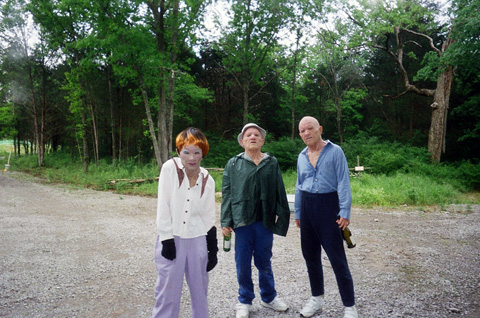 To many critics, Harmony Korine's last feature Mister Lonely served notice that he had finally mellowed. News that he had gotten married, had a baby, and moved back to his hometown of Nashville was supposed to be the confirmation of this. Mister Lonely, his story about a Michael Jackson impersonator, was completely wacko, but it contained much more plot than usual, had big-name actors, and a much larger budget. In retrospect, Korine now expresses impatience about dealing with the logistics of such productions. His latest film returns to a DIY aesthetic with a vengeance. Shot on VHS, Trash Humpers revels in poor quality images that occasionally breakup, roll and drop out, while depicting a kind of unabashed freak show.
J. Hoberman calls Trash Humpers "a gloriously desultory slap in the face of public taste," which seems a fair description. The film has the sensibility of a nightmarish carnival. Wearing geriatric masks, three characters – Korine calls them elderly "peeping Toms" – wander through a poor neighborhood of Nashville on crutches and in a wheelchair. They hump trash cans and trees, defecate, masturbate, light firecrackers, and generally wreck havoc by smashing everything in sight, especially old television sets. After destroying a television set and boom box, they tap dance gleefully in a parking lot at night, as a stream of cars pass by.
A young kid in a suit misses every attempt at getting a basketball through the hoop, as the old folks cackle at each failure. After they sing a song about a "Single Girl," the kid takes a doll, shakes it vigorously and laughs maniacally. He says, "This is how you should do it." The kid then shouts, "I told you I'd kill it, as he beats a doll with a hammer with such delight and enthusiasm that most viewers might be tempted to call Social Services. Equally disturbing is the scene where the elderly woman, "Momma" (Korine's wife, Rachel), sits in a wheelchair and instructs the kid on how to put a razor blade in an apple – every parent's Halloween nightmare.
The Siamese twins, Chang and Eng, make pancakes, as the others chant, "Make it, make it, don't fake it." When the twins serve them, Momma claims the food is poison. The old folks then force the twins to eat the pancakes doused in dish soap rather than maple syrup. Eng gives a speech about how nice it would be to live without a head: "Think how much money you would save on shampoos and hats." He concludes: "And best of all, no one would get dizzy again." Chang and Eng then tell a brief story about their lives, including Eng's refusal to be separated by a doctor after Chang died. After Eng expires – his death is conveyed via a sock puppet – Momma yells, "I said make us laugh, motherfucker! That shit was depressing!"
Three women in skimpy underwear bend over on beds with their rear ends raised high in the air, while the old folks slap and feel their asses, all the time grunting and squealing with delight. The women then massage two of the old guy's crotches while singing "Silent Night." Someone sings a song about three little devils ("Three little devils jumped over the wall, chopped off their heads, and murdered them all"), as we see a naked and headless corpse in a field. A guy with white hair and a beard, dressed in a cocktail waitress outfit, delivers a poem while the old folks set off fire works. In the next scene, he lies in a pool of blood on the kitchen floor. Like the doll earlier, he appears to have been bludgeoned to death with a hammer.
Korine has always been interested in scenes rather than entire films. There's the remarkable one of the young foul-mouthed cowboys robbing, molesting, and gay-baiting the androgynous skateboard hero, Bunny Boy, in Gummo. And when the blue-robed nun falls out of an airplane and flies through the air in Mister Lonely and we hear the incredible whooshing sound of the wind, it offers a visceral jolt that's not easily forgotten. The episodic Trash Humpers, however, tries hard not to offer much in the way of conventional narrative pleasure, even in individual scenes.
Korine likes to be deliberately offensive. For instance, he includes a bad stand-up comic, who wears a neck brace and has his arm in a sling. He excels at telling very unfunny anti-gay jokes. Korine gives the guy enough rope to hang himself several times over. To mistake either the deranged kid in the suit, lessons on how to slip razor blades into apples, or the bad stand-up comic as speaking for Korine is to miss the point of his provocation. Korine is merely serving up the kind of fantasies that viewers might have of poor Tennessee neighborhoods.
Any interview with Korine, such as the one in Filmmaker with Scott Macaulay, who served as a producer on Gummo, is so tongue-in-cheek that even Korine had to laugh several times. I love it when he describes working together with his nearly blind editor in their underwear because of the intense heat. Korine continues: "He's 75 percent blind, and we would just take apart the machines and I would always catch him sticking pencils in the VCR to give the footage these glitches." That's indicative of Korine's special brand of vaudeville humor.
Trash Humpers abounds with references to other films and the art world. Besides many of the ones that Macaulay astutely mentions, Trash Humpers will remind viewers of the photographs of Diane Arbus, but even more of those of someone like Ralph Eugene Meatyard, an optician living in Lexington, Kentucky, who made creepy images of kids in masks in abandoned buildings and suburban backyards. Korine comes out of skateboard culture, and his work has been part of a Modern Gothic sensibility that has been in vogue in the art world since 9/11. He shares an obsession with death and the grotesque that we find in works by Banks Violette, Matt Greene, Sue de Beer, Olaf Breuning, and the sculptor David Altmejd.
Korine and Rita Ackermann currently have a collaborative exhibition based on Trash Humpers, entitled "Shadow Fux," at the Swiss Institute in New York City. In an interview about the show, Korine and Ackermann attempt to invert the normal and the abnormal. Korine, for instance, responds: "Yeah, I mean, I married a woman who can swallow fifteen live goldfish in a single gulp. It doesn't feel like that's anything strange to me, it feels like there is a poetry to it. All that my neighbour does is steal yard furniture, he just goes around stealing it. He's a very old man and that's his hobby."
As Jerry Saltz explains: "Indeed, almost all art that could be called Gothic has an ironic edge: It's aware of its position, even the absurdity of its position, yet it persists with sincere tongue in ironical cheek." Yet despite the film's ironic stance, moments of genuine feeling manage to surface in Trash Humpers. In one of the later scenes, one of the elderly guys (played by the filmmaker) drives through the neighborhood and comments: "But sometimes when I drive through these streets at night, I could smell the pain of all these people living in here. I could smell how all theses people are just trapped in their lives, their day-to-day lives. They don't see much."
In Trash Humpers, the world may be represented as a weird, violent and crazy place, but it's instructive to note that Korine's film ends with a tender lullaby.
Postscript:
Last week, Jim Emerson over at "Scanners" had a post on Trash Humpers. Neither Jim nor his dog apparently cared for the film very much. But I was surprised that he thought that the controversy surrounding Netflix's initial refusal to carry the film might have been a publicity stunt concocted by its distributor, Drag City. Jim writes: "So, maybe there was a bureaucratic snafu. Maybe Drag City made the whole thing up. I don't know. But unless anyone has any proof (like a verified letter from Netflix outlining reasons for rejection, followed by another letter of acceptance), I guess I will have to remain skeptical."
Well, I can't provide legal documentation that would convince him, but I do have a former student, Mitch Bandur, who works at Drag City, and, based on an email I received from him some weeks ago about the incident, I do believe Drag City's version of events – it wasn't a publicity stunt at all. The larger issue has to do with the power and control that the bigger companies like Netflix and Amazon are gaining over distribution, especially over tiny distributors. In terms of Netflix, lately I've noticed that my "saved" queue (availability "unknown") is getting to be larger than my regular queue. To me, that points to the simple fact that it's getting harder and harder to view the indie films I really want to see.
Posted 16 January, 2011
Comments Off

on Trash Humpers