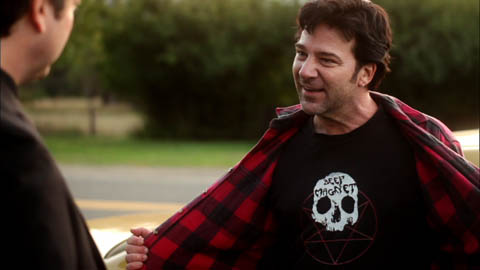 Todd Rohal's richly inventive debut feature The Guatemalan Handshake (2006) was overlooked by the Sundance Film Festival at the time. In retrospect, this seems like an inexcusable oversight. Lacking a distribution deal after playing at Slamdance, Rohal took a single 35mm print on the road for two years. At the end of the journey, according to IndieWIRE, he reportedly buried the copy in the desert and burned the film's promotional materials as a form of catharsis. Rohal's new film The Catechism Cataclysm (2011) played at last year's Sundance Film Festival, but, unfortunately, that's no longer an assurance of a lucrative distribution deal. Yet The Catechism Cataclysm, which had a very brief theatrical run at the IFC Center in New York City, deserves a better fate. The film has also played VOD and will be released on DVD next month.
The Catechism Cataclysm reiterates Rohal's gonzo approach to narrative. The new film very much takes aim at notions of storytelling. Father Billy (Steve Little) begins the film by telling a story to a Bible Study group about an elderly woman who mistakenly thinks her car is being stolen and pulls out a pistol, only to discover that she's having a senior moment. Several of his parishioners are puzzled: What is the moral of the story? Father Billy claims such questions ruin it. When confronted by his superiors about his failure to make his sermons more pertinent to his congregation, he's given a sabbatical to find himself. In response, Father Billy concocts a plan to renew his faith by embarking on a canoe trip with his old idol, Robbie (Robert Longstreet), whom he has badgered with endless emails after locating him on the Internet.
The Catechism Cataclysm tells the story of two contrasting characters: Father Billy, an immature and unhappy young priest, and his sister's old boyfriend, Robbie Shoemaker. In high school, Robbie was a writer and death metal musician, whom the younger Billy worshiped, but his sister's boyfriend, it turns out, doesn't remember him. Father Billy mistakenly believes that Robbie is a musician in a major band, when, in fact, he's merely a spotlight operator. That seems not to matter to Father Billy, who persists in his fantasies about Robbie's super cool lifestyle. When he pesters Robbie for stories about his escapades, the roadie tells him about a couple of relationships that seem anything but romantic.
The Catechism Cataclysm takes the buddy film to its outer limits. It plays up the homoerotic nature of the genre by immediately having the two characters sit in adjoining bathroom stalls after eating greasy food at the diner where they initially meet. Father Billy, for instance, tests Robbie's ability to detect the difference between simulated and real passing of gas. Father Billy's bible, which he has been using as an autograph book, falls into the toilet after he takes a dump. The film's obsession with bodily functions exploits a kind of juvenile male humor that seems perfectly appropriate to the buddy genre and male bonding.
When the two men rent canoes, they meet two female Japanese tourists, who are enacting their own fantasy of being Tom Sawyer (Koko Lanham) and Huck Finn (Miki Ann Maddox), along with their guide, a black man, of course, named Jim (Rico A. Comic). Leslie Fielder's famous essay, "Come Back to the Raft Ag'in, Huck Honey!," originally published in the Partisan Review, forever changed everyone's perceptions of American literature by emphasizing the homoerotic strain in Twain's classic novel, as well as establishing it as a major literary theme. Rohal also manages to insert references to John Steinbeck's Of Mice and Men, connecting the controversies of that novella to his use of similar material in the film.
Stories within stories abound in The Catechism Cataclysm. When Father Billy insists that Robbie tell him another tale, he recites one about a Mexican worker named Miguel who gets trapped inside a concrete pillar support underneath a highway while pouring concrete. A Latina woman, Maria, finds him and they fall in love, even though they can communicate only through a very tiny air hole. Father Billy wants to know, "And then what?" When that's all there is, he criticizes Robbie's fable for not having an ending, and offers his own version, which includes Miguel getting such a huge erection that it smashes through the cement. "It's not an amazing boner story," Robbie chides the priest, who seems obsessed with penises and inadvertently makes eyes at Robbie. "Don't wiggle your eyebrows like that," the roadie tells Father Billy, "It's a come on. Do you want to come on to me?"
As the canoe trip continues, more stories get told. Once Father Billy and Robbie get lost and then stuck on shore, they meet up again with the Japanese women and Jim, at which point The Catechism Cataclysm veers off in even stranger and unexpected directions. In a mind-bending twist, the film suddenly switches genres, with references to David Cronenberg's Scanners (1981). There were a number of weird indie movies released this past year, including Michael Tully's Septien and Calvin Reeder's Lynchian-inspired The Oregonian. Ironically, both feature the actor Robert Longstreet, who had a breakthrough year as an actor by also appearing in Jeff Nichols's Take Shelter. Longstreet's inspired performance as Robbie, an aging hipster with unfulfilled dreams, is a big part of the charm of The Catechism Cataclysm, while Steve Little somehow manages to portray a case of stunted development and regression with uninhibited, almost giddy comic intensity.
According to an interview on Twitch, Rohal originally planned to shoot from an outline, but the actors wanted a full script, which he then wrote quickly. But, as usually happens these days, the script transformed in the process of shooting. Rohal explains: "Steve and Rob met the day before we started shooting. Steve's been a member of the Groundlings for years and thinks incredibly quickly on his feet. I could simply give him a seedling of an idea and he'd run with it to some far-out places. And Rob is just totally natural in front of a camera. He's the easiest man in the world to talk to, an actor who doesn't stop thinking or creating for his character. He would riff on the script over the phone to me, I'd write down those ideas and integrate them into the next draft."
Todd Rohal's sheer fascination with the wonders of storytelling, disregard for conventions, irreverent sense of humor, and idiosyncratic penchant for the absurd shines through once again in The Catechism Cataclysm. The incongruous mix of religion and death metal makes for an intriguing character study, but it's Rohal's willingness to take narrative risks that ultimately makes the film such a pleasure to watch.
Posted 22 January, 2012
Comments Off

on The Catechism Cataclysm