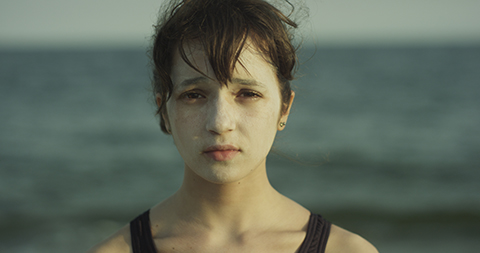 Like Daniel Patrick Carbone's Hide Your Smiling Faces (2014), Eliza Hittman's It Felt Like Love (2014) feels like a memory piece. Fourteen-year-old Lila (Gina Piersanti) lives with her dad (Kevin Anthony Ryan) in the Gravesend section of Brooklyn, but hangs out at Rockaway Beach over the course of a summer. In the opening shot, her body is framed from behind against the waves of the ocean. When she eventually turns around, her face is covered with a thick layer of suntan lotion so that she looks like a mime or a sad clown.
Lila's friend, Chiara (Giovanna Salimeni), a member of her dance group, is both older and more mature. She's already had sex and has a horny new boyfriend named Patrick (Jesse Cordasco), with whom she flaunts her sexuality. Lila, on the other hand, is like Frankie from Carson McCuller's novel, The Member of the Wedding, someone who desperately wants to be included. When she spies a handsome hunk named Sammy (Ronen Rubinstein), whom Chiara describes as willing to have sex with anyone, Lila becomes obsessed with him. If this sounds like the plotline of Todd Solondz's Welcome to the Dollhouse (1995), in some ways, it is. Solondz, however, creates ironic distance from his protagonist, Dawn Wienerdog, whereas Lila is so naked and vulnerable that it's terribly painful to watch her misguided quest unfold.
Lila tries her best to mimic Chiara, whose sexual boasts she repeats as her own to her younger next door neighbor, Nate (Case Prime), with whom she would very much like to experiment. When she suggests they play a game of "Truth or Dare," he becomes very nervous. She tells him, "Come on. Use your imagination."  He responds, "It's just not the kind of game you play with two people. It's just more fun with a group, you know?" When she later sees him together with a girl his own age, Lila becomes jealous, especially when Nate confesses that they just made out. He nevertheless becomes her confidant, after she fabricates a relationship with Sammy and then doggedly pursues him.
When Lila turns up at the pool hall where he works, Sammy asks, "How do I know you again?" "The beach," she tells him. "That's right. You look different," he responds. As she later meets him to retrieve her sunglasses, he flat out asks, "Can I ask you something? Do you want something from me?" Lila answers, "What would I want, anyways?" as she then leers at his muscular back after he wades into the water and removes his shirt. Sammy, who is in college, suspects what it is, but her attention only feeds his narcissism. Seeing him strut around arrogantly is enough to make most viewers hate guys in general.
Sammy's friends are no better. As Lila hangs with them while they get high and watch porn, she offers naïve commentary. She suggests that she's actually considering porn as a career option: "The hours are really good and so is the pay. And I like sex a lot. Like a lot a lot." Her words are not lost on a mean guy named Devon (Nick Rosen). Meanwhile, Patrick refuses to commit to Chiara because she's slept with more guys, and he needs to get even. At her sweet-sixteen party, Chiara introduces a new boyfriend and refuses to tell Lila what happened.
As Lila becomes more isolated, she becomes even more aggressive in her pursuit of Sammy. She convinces Chiara to accompany her to a party, where she drinks too much, vomits in the bathroom, and then makes her move when Sammy passes out after having sex with a woman in his bedroom. When Lila pretends to Chiara that she slept with Sammy, the older girl convinces her to go to the clinic (where we learn what happened to her mom). Undeterred, she shows up at Sammy's house, as he sits around with his pals. They want to know why she's back there, but Devon supplies the answer, which leads to a disturbing scene that rivals anything in Abel Ferrara's Bad Lieutenant (1992)
Hittman has created a powerful coming-of-age film about female sexual identity. She and her cinematographer, Sean Porter, use a fluid camera and narrow depth of field to isolate characters in the frame by placing one in sharp focus, while allowing the other to become more blurred. It's an intriguing strategy for directing our attention and especially for creating Lila's subjectivity. At the same time, Hittman and Porter frame their characters so tightly that they seem to be constantly eroticizing the young bodies that populate the film. Their strategy is an attempt to replicate the sexualized way that teenagers view each other and the world.
In an interview, the director explains: "I wanted to make a film that represented how people feel when pressured to function and behave as though they are satisfied, happy and romantic. When I was in high school girls actually pinpointed when they were going to lose their virginity and to whom. It was a very aggressive approach, sometimes degrading. Girls are eager to get 'it' out of the way and don't often even know what 'it' is."
In her debut feature, Hittman manages to get outstanding performances from her cast of non-professionals (mostly dancers and rappers), especially Piersanti. But it's Hittman's assured command of visual storytelling that makes It Felt Like Love such an impressive feat, even if, in depicting the dark side of a hyper-masculinized adolescent world to which young women easily fall prey, the result is clearly not a pretty picture.
It Felt Like Love screened at Sundance and numerous other major festivals and opened theatrically at the IFC Center in New York City in March. The film will have its Madison premiere at the UW Cinematheque on Friday, May 9 at 7 PM.
Posted 29 April, 2014
Comments Off

on It Felt Like Love