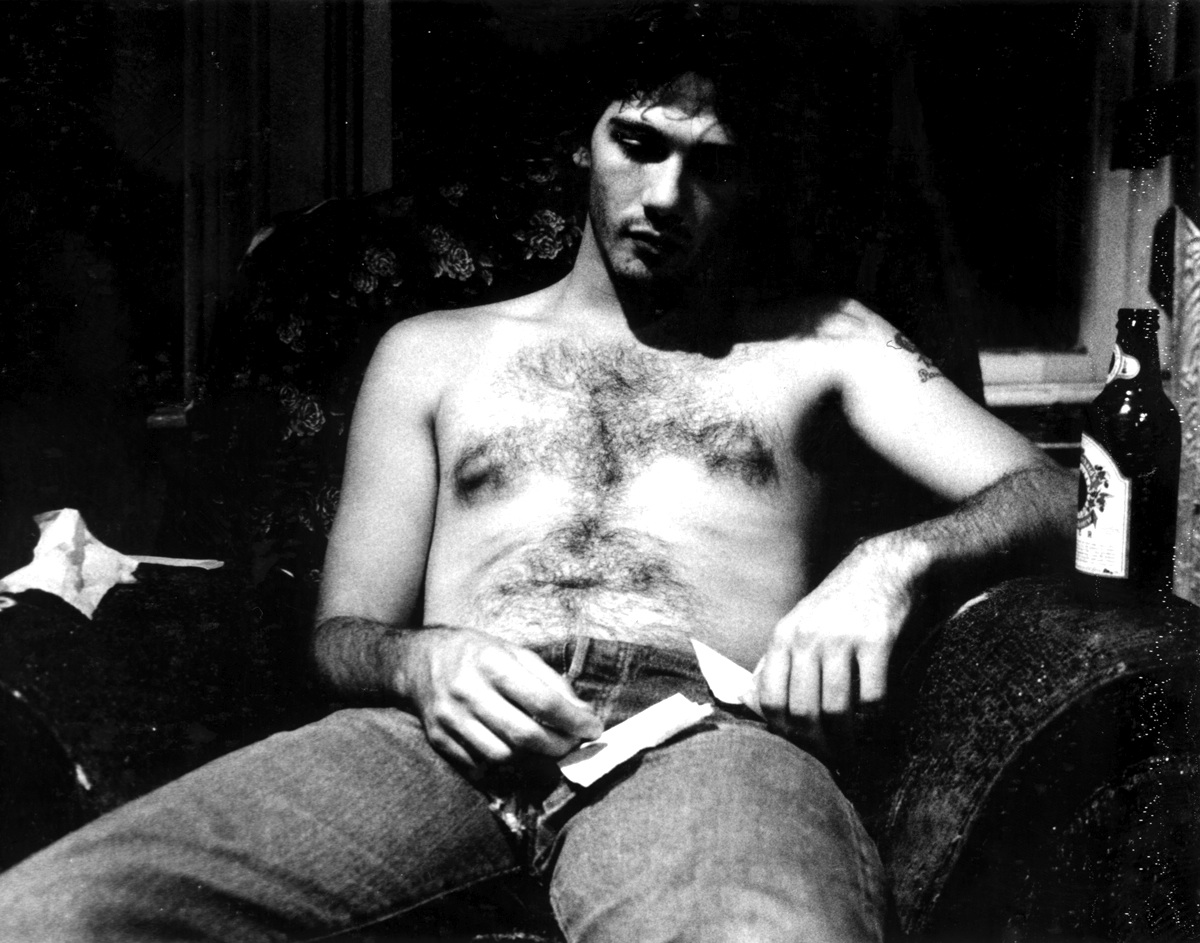 Unavailable for a number of years now, Gus Van Sant's first feature Mala Noche (1985) will be re-released theatrically by Janus Films within the next couple of weeks. Originally shot in 16mm format, the film has been restored and blown up to 35mm. Mala Noche premiered as the concluding film in the Spotlight Film and Video Series I curated at the Madison Museum of Contemporary Art this spring, thanks to the generosity and efforts of Sarah Finklea at Janus, the film's U. S. distributor. Mala Noche is a landmark film in the history of American independent cinema. Its re-release simply reconfirms the status of Gus Van Sant as one of the very best indie directors.
Set on skid row in Van Sant's home town of Portland, the regionally-flavored Mala Noche is based on a novella by local poet Walt Curtis. It presents the story of a hapless store clerk, Walt (Tim Streeter), and his infatuation with a young Mexican illegal immigrant named Johnny Alonzo. It's the story of unrequited love as well as the clash between different cultures, as exemplified by the huge gulf that separates these two individuals. Through his voiceover narration, Walt exudes an air of gringo superiority, despite the fact that he's clearly down and out himself. While continually declaring his love for Johnny, Walt seems unaware of the contradictions of his own veiled bigotry. Walt's sexual desire for Johnny in turn makes him an object of derision to the young macho Mexicans, especially when he prostrates himself in front of Johnny and his sidekick, Roberto, like a groveling dog. Walt persists in pursuing Johnny throughout the film, only to encounter rejection, humiliation, and hostility.
Walt ends up instead having vicarious sex with Roberto, who becomes Johnny's surrogate, not only in terms of their relationship, but also in terms of the narrative structure itself. The main plotline of Mala Noche – Walt's romantic pursuit of Johnny – gets sidetracked into what initially seems like a subplot when Johnny mysteriously disappears forty minutes into the film. As a result, the film focuses more on the tensions of this equally doomed relationship. Walt defines the film's structure in sexual terms: "Roberto's cock fucks Johnny, fucked me. That's about as close to Johnny as I'll ever get unless I had the money. Poor boys never win. Who fucks whom. Mala Noche." Power relations in various forms – racial, sexual, and cultural – remain at the core of film. After his first sexual encounter with Roberto, Walt complains: "Chingalo, my ass is sore! It's true. I think he tried to use his cock like a weapon on me. Macho fucking prick!"
Mala Noche begins with a wide shot of a train moving through the rural landscape. Inside one of the pitch-black box cars, we get high-contrast shots of Johnny Alonzo (Doug Cooeyate) and Roberto (Ray Monge) as they journey to Portland, Oregon. After hand-written titles, there's an epigraph: "If you fuck with the bull, you get the horn." Matted home-movie images of derelicts on skid row follow, as well as of shot of a beer bottle being tossed into a puddle in the gutter. Walt's narration begins: "Working in the store Sunday all day, I want to drink this Mexican boy, Johnny Alonzo from LA near Riverside" Walt aggressively teases Johnny about the hickeys on his neck. Johnny's response is to steal from the store, thereby establishing the dynamic of their relationship. When Walt sees Johnny on the street after work, he tries unsuccessfully to befriend him. Walt confides his feelings about Johnny to a female friend, who offers to invite them to dinner. For Walt, his love for Johnny represents an affirmation of his gay identity and beat sensibility. He tells her: "I don't care. Even if it jeopardizes working at the store, I have to show him that I'm gay for him, to show him how I feel." Johnny's later response is to blow cigarette smoke in Walt's face, but Walt succeeds in getting Johnny, another friend, and Roberto to come for dinner.
The dinner becomes an occasion to learn about the abuse experienced by illegal aliens, as the Mexicans describe a friend being beaten by the cops on their journey north. On the way home, Johnny drives like a madman. Walt offers to give Roberto fifteen dollars if he can sleep with Johnny, who adamantly refuses. Johnny retreats to his hotel, leaving Roberto and Walt locked out, so they are forced to go to Walt's place for the night. As the sound of trains and church bells can be heard on the soundtrack, Walt takes off his clothes and slides down next to Roberto, who has already gone to bed. As Walt caresses his body, the camera causes the image of Roberto's face, bathed in light and shadow, to spin around. Roberto maneuvers behind to penetrate Walt. Roberto steals ten dollars from Walt's pants pocket on the way out. Acknowledging the Mexican boys need money, Walt nevertheless reflects: "I hope they got it, though I was upset that I'd been fucked, violated, and lost the money too. For a few moments thinking about it in the morning, of the Mexicans gloating over having fucked the gringo puto [faggot] and got his money too, talking about it and laughing, my ass sore."
In the middle act, Johnny and Roberto continue to harass Walt, who attempts to ingratiate himself with them. Walt takes home movies – as the stark black and white suddenly switches to color – even though Johnny doesn't want to participate. Walt also watches helplessly from the store as a cop chases after Johnny and Roberto. Johnny returns with a gun, and later crashes Walt's car into the guard rail while speeding recklessly down a rural road. Johnny also fires the gun out the window, and he and Roberto later steal Walt's car keys and then the car. Undaunted, Walt continues his amorous pursuit of Johnny by climbing up the fire escape of their hotel, but winds up frightening a young Chicana woman instead. "No, I'm not the immigration," he tells her, totally missing the point. While searching for Johnny, Walt finds Roberto, who tells him that Johnny and his other friends have left. Walt later turns his attention to Roberto, who maintains his distance. As we watch Roberto walk down the street, Walt responds: "Fuck it, do I need them that badly? Am I that desperate? Of course, I am."
Walt's efforts to befriend Roberto also fail miserably, but Walt attends to Roberto when he becomes ill. As Walt caresses Roberto's head, we get flashbacks of Johnny and Roberto, before Roberto demands that Walt buy him a milk shake. Once Roberto recovers, Walt tries to help him get work. Later that night, the two get stoned and roll together on the bed before Walt goes down on him. Walt later tries to be playful, but Roberto retaliates roughly. Walt takes Roberto for a driving lesson, but the car ends up in a ditch. Completely flustered, Walt yells: "You drive like you fuck." Roberto retaliates by flirting with a woman outside the store. One night, however, the police shoot Roberto, when he brandishes the gun. The impact sends his body crashing through a window to the wet ground below, where Walt eventually holds Roberto's lifeless body in his arms.
Shortly afterwards, Johnny finally turns up one rainy night and explains that he was picked up by immigration and deported back to Mexico. As the two drink together, Johnny asks about Roberto, only to learn that he's been killed. Johnny initially thinks it's a joke, but then turns on Walt. On the way out, Johnny uses his knife to inscribe the word "puto" on Walt's door. Walt drives around town with his female friend looking for him, and finally spies Johnny standing on a corner. Walt asks Johnny to come by the store to see him. As Walt watches Johnny in the rear-view mirror, his woman friend applies lipstick. The car disappears down the street, as an upbeat song by the Neo Boys, plays on the soundtrack. The credits roll over color home movie footage of the cast smoking dope and clowning for the camera.
Originally shot for a mere $25,000 and using a cast of non-professional locals, Gus Van Sant's Mala Noche represents an impressive debut feature. John Campbell's grainy cinematography at times recalls the look and ambience of film noir. It creates a poetic realism that captures the grittiness of life as it's lived by those on its margins. The store, in which Walt works, serves as a major focal point, as various derelicts make cameo appearances as they parade in and out. Mala Noche feels more like a filmic prose poem than a plot-driven narrative. Walt's obsessive insistence on his own gay identity and sexual desire drives the film forward, but Mala Noche is essentially episodic rather than dramatic, deliberately fractured rather than fluid. Van Sant abstracts and fragments the narrative through the use of canted angles, striking compositions, and synecdoche.
The film works as an accumulation of poetic images: packs of cigarettes, money exchanging hands, a gush of exhaled smoke, an assortment of pills in a hand, clear liquid filling a glass, the texture of wet streets, accelerated billowing clouds, a shot of headlight of a moving car, vintage advertising, or water boiling in a pot. An especially good example of Van Sant's approach is the first sex scene between Walt and Roberto, which contains a series of abstract closeups of their clasped hands, faces, and bodies writhing together. Mala Noche is ultimately a meditation on light, especially in how it illuminates male bodies and faces. It recalls early Larry Clark photographs, Jean Genet's Un Chant d'Amour, with some Jack Kerouac-inspired riffs thrown into the mix, but Van Sant still manages to establish his own distinct visual style.
Like Charles Burnett's Killer of Sheep (1977), the brand new remastered 35mm print of Mala Noche is simply not to be missed when it begins its threatrical run on June 1 at the IFC Center in New York.
Posted 25 April, 2007
Comments Off

on Mala Noche