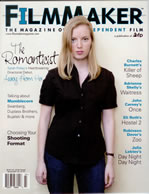 I had not intended to write about the late Adrienne Shelly's Waitress because I personally find it impossible to separate her film from the tragedy surrounding Shelly's senseless murder last November, following an argument with a nineteen-year-old construction worker in the building where she had an office. For one thing, it totally colors the film's ending, giving it a poignancy that left me feeling devastated. The film has already grossed over $2.5 million in its first three weeks, and it's even playing on two screens at Sundance 608 here in Madison. Waitress has received a 90% critical rating on the web site Rotten Tomatoes and 97% from their "Cream of the Crop." Internet ads are starting to appear involving animated pieces of pie. It's now becoming clear that Fox Searchlight's marketing goal is to turn Shelly's film into this year's Little Miss Sunshine.
The Spring issue of Filmmaker magazine has an article by Karina Longworth that provides a lot of background on the film's production and subsequent sale at this year's Sundance Film Festival. The film was handled by Shelly's producing partner, Michael Roiff, who reportedly fell in love with the script and put up the money. According to the article, he then hooked up with sales agent Andrew Herwitz, a former acquisitions person from Miramax, who brokered the deal with Fox Searchlight. There are two disturbing quotes from Herwitz in the article. Talking about Sundance, Herwitz reportedly explained: "There's great interest in seeing Keri [lead actress Keri Russell] – people love her. But the tragedy of Adrienne's death has created a different kind of story. I think certainly, the amount of press the film has gotten is fueling distributor interest." In relation to the film's optimistic ending given the dark circumstances surrounding the production, Herwitz is later quoted as saying: "It's excruciating on one level to see this film, and realize that the filmmaker was very happy, and to have her life taken away – it's horrible. But that, for better or for worse, has become part of the lore of the film, and I think there's a way to use that irony in a very real way." Fox Searchlight's campaign initially created a trailer that portrayed the film as a comedy at the expense of Shelly's contribution, but, according to the article, plans are now in the works to "highlight the auteur in future promotions."
Adrienne Shelly's considerable reputation in indie circles rests largely on her feisty performances in Hal Hartley's The Unbelievable Truth (1989) and Trust (1990). In terms of Waitress, I also find it hard to separate Shelly's protagonist, Jenna, from the lead character she herself played in Trust, especially because some of the line readings in Waitress mimic the idiosyncratic dialogue that has become one of stylistic features of Hartley's work. In Trust, Shelly played a pregnant teenager knocked up by her jock boyfriend, Anthony, who promptly dumps her once he finds out. After her father refuses her request for money, she slaps and inadvertently kills him, thus setting in motion a Bressonian journey of spiritual growth and self-discovery once she encounters an angry computer guy named Matthew Slaughter (Martin Donovan). A romance develops between the two outcasts. They even consider marriage, but Maria eventually opts to have an abortion because it has forced Matthew to take a job he can't stomach and because their relationship is changing him for the worse. In the end, Matthew threatens to blow up a computer factory, but the two of them achieve a more spiritual form of love before he's whisked away in a police car. One of the ironies of Trust is that Matthew's abusive father resents his son because his wife died while giving birth. Hartley plays up the Oedipal conflict by having Maria wear the mother's dress throughout much of the film.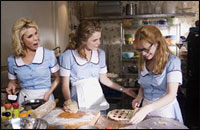 In Waitress, a film set in the rural South, Jenna (Keri Russell) is also the victim of an unwanted pregnancy, but abortion doesn't seem to be a viable option this time. Her husband Earl (Jeremy Sisto) is a wife abuser, who's jealous that the baby will replace him. Jenna consequently resents the baby and displaces her emotional feelings onto the pies she bakes. Utterly lacking in self-confidence except for her baking skills, she schemes to win a pie-baking contest as her only hope of getting out of the relationship. Jenna meanwhile falls for her handsome gynecologist, Dr. Pomatter (Nathan Fillion). The only complication preventing their running off together, which takes up most of the middle act, is the fact that he's also married. According to the conventions of the romantic-comedy genre, these two people are clearly meant for each other. In a final twist, however, Jenna chooses to leave both husband and lover, through a redemptive revelation following child birth, and a plot device involving the pie shop's grumpy owner, Old Joe (played by Andy Griffith).
Throughout the movie, I kept wondering who the target audience was for this movie, but by the time it was over, that part had become abundantly clear. It's no wonder that the theater reportedly was packed on Mother's Day. Fox Searchlight made sure of that by creating a special gift-bag promotion for Mother's Day, which included (among various items) a Sara Lee Simple Sweets six-inch pre-baked pie, at 100 theaters nationwide. The film's politics are not my own to be sure, but, let's face it, there are many parents in the world who love their children a great deal more than their partners. The film is now being sold with the marketing tag line: "If only life were as easy as pie." Yes, that's the irony of the movie all right, and no doubt what Mr. Herwitz seems to have had in mind. Despite its portrayal of thwarted ambition, loveless and compromised relationships, and casual extra-marital affairs, Waitress ultimately provides a kind of light-hearted fairy tale with an upbeat ending, much like Little Miss Sunshine and My Big Fat Greek Wedding. That grim reality has had the final say is what makes Waitress feel so heartbreaking. But that's now part of the marketing strategy, which will no doubt succeed in taking Shelly's small, personal, and somewhat whimsical film and turning it into dollars at the box office. Because I've always been a big fan and consider Adrienne Shelly to be a somewhat iconic figure in the history of independent cinema, I guess part of me finds that to be very sad as well.
Posted 26 May, 2007
Comments Off

on On the Marketing of Adrienne Shelly's Waitress