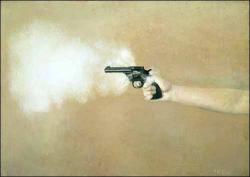 1. What is Painting? (MoMA). Curator Anne Umland's feminist-inflected exhibit provides an alternate reading of the challenges to painting's authority over the past forty years. It begins with an assassination attempt, Vija Celmin's "Gun With a Hand" (1964), and takes us step by step into the present, as represented Wade Guyton's Warhol-inspired "Untitled" (2006) and the hard-edge geometric abstraction of Sarah Morris. Along the way, the show deliberately avoids the usual suspects. It's amazing to see how rediscovered artists such as Lee Lozano and Lee Bontecou seamlessly fit into the context of the show, or how various others, like Jackie Winsor or Dorothea Rockburne, expand our notions of painting. There's one Warhol. The terrific eight-panel portrait of Lita Hornick paid for Lonesome Cowboys (1968).
2. Raymond Pettibon (David Zwirner). I thought Pettibon's graffiti installation was one of the big flops at the Venice Biennale this summer, but his new show at David Zwirner, entitled "Here's Your Irony Back (The Big Picture)," is a hard-hitting political attack on the US involvement in Iraq. Pettibon's comic book-inspired drawings and collages contain incredibly rich graphics – the show's a virtual textual and visual overload – that combine political agitprop with caustic wit, while refusing to pull any punches. It may be the best single one-person show of Pettibon I've seen. The last time I looked, all 97 pieces were available for viewing online.
3. Neo Rauch (The Met). The twelve newly commissioned paintings by Neo Rauch at the Met entitled "para" succeed despite the cramped quarters of the show. And the two additional works in the larger room next door made a total of fourteen. Neo Rauch's best work employs elements of narrative, while defying easy reading. "Waiting for the Barbarians" creates a frightening sense of expectation, in which the flatness of the turquoise sky and the red and green texture of the house roof play off other elements that suggest a small town just after a carnival. A strange pall hangs over its inhabitants. Two women reach for a rifle, while a funeral pyre contains a human figure wearing an animal head. In this work and the others, Neo Rauch manages to turn the trappings of socialist realism into something more akin to magic realism.
4. Rembrandt (The Met). How can Rembrandt possibly be rated behind these other shows? Two reasons. The organization by patron reminds me of the nutty treasure hunt concocted by the two curators at Documenta 12 this summer. At this point in history, when Artforum is the size of a telephone book as a result of gallery ads (which dwarf the art criticism inside), we don't need to be reminded of the connection between art and money. It's great on one level that The Met carted out their entire collection of Dutch paintings for the show. While it serves to place Rembrandt within a historic context, it unfortunately also lessens the impact. The incandescent Rembrandt portraits are, well, Rembrandts, but those five Vermeers secretly stole my eyes.
5. Sol LeWitt (Paula Cooper). Even in passing on, Sol Lewitt hasn't lost a step. He's only getting better, which turns out to be – who would have guessed? – one of the hidden benefits of his conceptual strategy. This monumental sculpture entitled "A Cube with Scribble Bands in Four Directions, One Direction on Each Face" (2007) was one of the unexpected surprises, proving that, as much as you might think you know the guy's work, Sol LeWitt is never quite as predictable as he ought to be. This piece of intense graphite scribbles changes depending on your perspective and just might be the most auratic Lewitt in recent memory.

6. Charles Burnett's My Brother's Wedding (IFC Center). How I managed to get the last two tickets for the 8:40 PM Saturday screening a half-hour before makes me wish I had also bought a ticket for Powerball that day. The new version of My Brother's Wedding (1983) has been re-edited from 115 down to 81 minutes. No, it's not as strong a film as either Burnett's masterpiece Killer of Sheep or his later To Sleep With Anger, but it's nevertheless an important transitional work which provides important thematic connections. The film captures a sense of what it's like to live in South Central, Los Angeles as much as Killer of Sheep. When someone knocks at the door or a couple shady-looking dudes turn up at the local dry cleaners run by Pierce's family, the sense of danger is palpable. This is balanced by comedic moments I hadn't associated with Burnett previously. In the question and answer session afterwards, Burnett turned out to be as sensitive in person as his films. How many times have you seen a guy change a baby's diapers in a movie? It was about as shocking as when Paul America turns around and takes a pee in Warhol's My Hustler. My Brother's Wedding, along with Killer of Sheep, is scheduled for DVD release on November 13. Mark your calendars.
7. Jules de Balincourt (Zach Feuer Gallery). I've been a fan of Jules de Balincourt's work from his very first New York show in 2003 at LFL. He mixes the Mission-school aesthetic of Chris Johanson with the primitiveness of Tal R to create a style very much his own. The range of his talent is on view in his latest solo show "Unknowing Man's Nature," which juxtaposes geometric abstraction, outsider-like representation, digital-inspired imagery, maps, and large squiggly expressionist patterns with a palette that runs the gamut – from pink and baby blue to bright acidic orange and green. A large painting like "Think Globally, Act Locally" proves how good de Balincourt really is as a painter. Some of my other favorites in the show are the wide shots of moody landscapes, such as "I'm Just a Fire in the Night," the small cluttered painting of a room filled with safari trophies called "Global Hunter, or the small "Untitled" painting of people awkwardly sitting around a fire that suggests we're in Kay Donachie territory.
8. Mark Bradford (Whitney Museum). While critics continue to rave about Rudolf Stingel, I've seen his work at Venice four years ago, a whole solo show at the MCA in Chicago, and now this entire floor of the Whitney. Mirror floors, Styrofoam, carpet, decorative wallpaper, photorealism, interactive silver walls in which viewers draw their own graffiti – okay I get how he questions what constitutes painting, but the show at MoMA said the same thing only much better. And if the bad art in the "Summer of Love" exhibit made me temporarily regret ever having been a hippie, it was redeemed only by the small section of psychedelic posters of the Exploding Plastic Inevitable and the Warhol-related photos. Mark Bradford's three large canvasses on the first floor turned out to be the real highlight. The surfaces of the silver canvasses were composed of elements of collage – fragments of decayed posters – other than paint, resulting in imagery that suggests urban topography.
9. Collier Schorr (303 Gallery). The fact that this gutsy show consists of drawings and some photographs rather than her usual obsessively staged photographs of young men gives it an unpredictable element. This exhibit turns out to be a variation of the same theme, but filtered this time through the prism of her photographer father, who documented a young man with a fixation on a 1967 Corvette about to go off to war. Though Schorr claims not to be able to draw, these are pretty good renditions of a young man who never made it back. What is most interesting about her drawings are the representative elements she chooses not to depict – her use of negative space – that makes them an elusive attempt to recapture childhood memory.
10. Abel Auer and Dorota Jurczak (PS 1). I was grateful for an opportunity to see the work of these two Hamburg-based artists in a show organized by Alanna Heiss. Auer's landscapes have an element of kitsch or bad Teutonic folk paintings done with an over-the-top color palette that bears affinity to other Modern Gothic work. His drawings in this particular show are much stronger and weirder than the paintings. They are nicely complemented by Polish-born Dorota Jurczak's careful but macabre etchings and paintings rooted in Eastern European symbolism. All of her pieces remain remarkably self-contained in contrast to the more effusive style of Auer. 
Other noteworthy shows include: Ryan Trecartin (Elizabeth Dee), Eva Struble (Lombard-Fried), Matt Keegan (D'Amelio Terras), Henning Bohl (Casey Kaplan), Ingrid Calame (James Cohan), Jonathan Pylypchuck (Friedrich Petzel), Huma Bhabha (ATM Gallery), Jim Drain (Greene Naftali), Laura Letinsky (Yancey Richardson) and Ugo Rondinone (Matthew Marks).
Posted 24 September, 2007
Comments Off

on New York Top Ten Art Shows