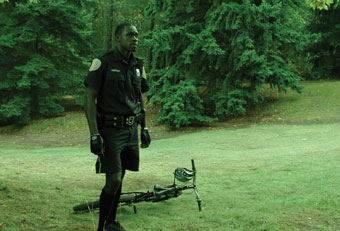 One of the best as well as most underappreciated independent films of the past several years is Robinson Devor's Police Beat, which played at the 2005 Sundance Film Festival, received a modest theatrical release, and finally came out on DVD only this past summer.
The script was written by Devor and Charles Mudede, who writes about crime, among other subjects, for Seattle's alternative newspaper, The Stranger. Like Maya Deren and Sasha Hammid's avant-garde classic Meshes of the Afternoon (1943) and such indie films as Lodge Kerrigan's Clean, Shaven and Darren Aronofsky's Pi, Police Beat revels in extreme subjectivity, exaggerated by the use of an anamorphic lens. The film deals with the relationship between the inner mental state of its conflicted protagonist, Z (Pape Sidy Niang), an immigrant bicycle cop from Africa, and the harsh reality he encounters on a daily basis. In this case, we are presented with a crime film, in which Z merely goes through the motions in his investigations of disturbing and horrific acts that occur around Seattle – someone decapitates a large bird in the public park, a gruesome knifing, a suicide, or a man suddenly devours raw meat in a supermarket – while his own anger remains largely repressed.
Police Beat opens with a bloated corpse floating in the water. As Z stares at the body, it's clear that he is far more preoccupied with his own doomed interracial love affair with a woman named Rachel, whom we see him kiss in a brief flashback. She has decided to go on an extended camping trip with her male roommate (Jeff), cancelling her planned dancing lesson with Z, while continuing to lead him on. Z wonders, "Who teaches that kind of understanding?" While investigating an incident in which an elderly woman claims to have been attacked in her yard and struck on the head, Z fantasizes a scene in which Rachel visits her grandfather, who suggests that both she and Jeff have no respect for Z's feelings. Z tells the victim, "Your tree is dead. And if it is not chopped down, it will continue to harm and disturb the living." It's a lesson that he might apply to his own mad infatuation. While later getting a massage from Mary, Z remarks, "Lovesickness is pain. It has physicality. It's as real as a lump."
The voiceover narration, which is in Z's own native language of Wolof and translated into English subtitles, conveys his growing sense of personal anguish, self-doubt, and alienation. When Rachel doesn't respond to his numerous phone calls, he stands on a train overpass and rants, "Comes from Africa! Has green card! Two car payments left! Desires to be a fast reader! Takes an American Presidents class! Plans to purchase apartment building in Federal Way! Most women would find that to be an attractive man." Throughout Police Beat, Z struggles unsuccessfully to decipher and adapt to the confusing mores of his adopted country. When Rachel finally calls and tells him she misses him around halfway through the film, Z literally jumps up and down while skipping rope in a puddle against the backdrop of the city skyline, but his temporary exuberance is only a setup for an even greater letdown. He later concludes that both relationships and the world are "cruel."
In the film's only real subplot, Swan, Z's white police partner from Alaska, has also lost his bearings. He falls for a prostitute from Wisconsin named Mary, and proceeds to engage in unprotected sex and drug use. Z can't comprehend Swan any better than either Rachel or Mary, who chooses to give up her young child to social services rather than (as Z suggests) to leave him with a family member. There are scenes in which Z rides in the back of a police car with other officers. Z dreams of moving up from being a bicycle cop to having his own patrol car. His superior offers encouragement, but counsels Z to be more observant and careful in his reports so that they will stand up in court. Is Z being turned into an informer? As the film progresses toward its conclusion, Swan gets busted for his illegal activities. Z complains about the humiliating manner in which his partner is arrested, but Mary accuses Z of turning in Swan. Z never denies it.
Z serves as a kind of moral reference point in the film. He loses patience with a bicyclist, who rails against the evil policies of George Bush and threatens to kill him. This offends Z, who tells him, "If you don't know about the law, I will tell you right now. Threatening the life of the president is threatening my life too." This shows Z's conservative nature, but also how out of touch he really is with the local denizens. In a recent interview in the Canadian film magazine CineAction, Mudede explains this aspect of Z's character: "What I wanted to show is that actually my experience, as an African, of Africans, is that they're very conservative. They actually think Europeans are kind of wild and crazy and have no regard of tradition, of history, of customs. And in that sense, you have this guy who comes into this country, and he's looking around him, and he is really trying to adjust to a new and more flexible kind of moral reality." At one point Z attends the lindy dance session that he originally had bought for Rachel, but, caught up in the spirit of dancing, he kisses his female partner, managing to provoke a minor ruckus.
Z, however, becomes so obsessed with his love relationship that it starts to feel as if he's becoming as unhinged as the rest of the characters in the film, especially after Rachel acknowledges her infidelity. At one point, he even says, "She does not understand she has said such amazing things to a man with a gun," suggesting that Z might himself be capable of committing a heinous crime, especially when someone is toying with his feelings. He laughs and vows, "Rachel, I will destroy you." A sense of foreboding and tension builds as Z investigates a new crime scene and imagines hugging Rachel, but the film ends on an ambiguous note.
Devor has expressed little regard for mainstream conventions, telling Tom Charity in cinema scope, he didn't even bother to shop the script in either New York or LA because "I knew I would never get financing there." According to Devor, "Somebody said they liked the film because it wasn't a traditional three-act structure character arc. It definitely isn' that. Let's face it, it really was an experiment." Police Beat manages to hold the viewer's attention largely through Z's impassioned interior monologue, the semi-surreal and often filtered images of cinematographer Sean Kirby, the poetic and inventive text of Z's police reports, episodic structure, and superb musical score. These elements help to turn Police Beat into an engaging mood piece and fascinating character study that ends up being much closer to the spirit of international art cinema than a classical Hollywood narrative. A film like Police Beat makes a strong case that authentic indie films continue to be made despite what industry spin doctors and their apologists would have us believe.
Produced by the non-profit Northwest Film Forum, the low-budget and regionally flavored Police Beat is one of the most insightful films made about the recent immigrant experience by allowing us to perceive American culture and, hence, ourselves through the pained eyes and naked vulnerability of a true outsider.
Posted 3 February, 2008
Comments Off

on Police Beat