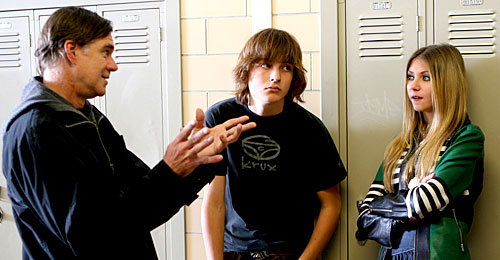 In a recent interview in the New York Times, Gus Van Sant discusses his adaptation of Blake Nelson's teen novel into the film version of Paranoid Park. According to Van Sant: "I wrote it quickly, in two days. I outlined the parts I wanted, wrote it out script style, transposing in some ways, not even rewriting. I would take the descriptions and make those scene headings, and then I would take dialogue and make it dialogue. It was almost like Xeroxing the story. Then I shifted it around and got rid of some of the parts."
I was intrigued enough by Van Sant's comments that I decided to read the novel in order to better understand its transposition to the screen. It turns out that Van Sant's description of the process is pretty accurate. As one might imagine, the novel provides a great deal more exposition, especially about the interior panic of its unnamed protagonist once he accidentally kills a train guard. In the book, he's sixteen or slightly older than the actor (Gabe Nevins) who plays him, as well as a lot more forthcoming and articulate about his feelings. In Nelson's novel, the teenager has a revelation about himself while lying in bed one night: "I was a bad person." He explains: "Character is fate. My English teacher had written it on the board at the beginning of school. I had a bad character, I was a bad person, and now my fate had caught up to me."
The book follows a diary-like format. Although I was somewhat confused by scenes of Alex at the beach in the film, the novel makes it clear that he's at his Uncle Tommy's beach house, where he's writing the story over winter break. We learn more about the other characters as well, especially Macy. Nelson's protagonist describes her as having had a crush on him in sixth grade. In one scene that's not in the film, she wants him to help her friend buy a skateboard for her boyfriend – an idea that he finds idiotic. The narrator comments: "It was so ridiculous about girls. They get these schoolgirl crushes on you, and you can do no wrong. Then they stop liking you and they want to boss you around, like you were once their boyfriend, which you never were. You never even liked them." He changes his mind, however, and helps them buy a skateboard at a store downtown. He and Macy eventually get closer, especially when she intuits that he harbors a dark secret. In fact, he starts to fall in love with her by the end.
Even though Van Sant's film is decidedly non-linear, he also takes the liberty of shifting scenes around. In the film, for instance, the sex scene with Jennifer does not occur after they go ice skating, but actually happens earlier. The order of the interrogation scenes are also reversed in the film. Van Sant has Detective Lu interview Alex first, then later as part of a larger group of skateboarders. In the novel, Detective Brady pushes his individual questioning much further than in the film by asking the teenager to imagine what he would do if he had committed the crime. Detective Brady shows up a third time and drives the narrator downtown. He discusses his breakup with Jennifer with the detective, and spots Scratch's friend, Paisley, among a group of street kids Brady asks him to identify.
Van Sant also eliminates still another scene in which the protagonist returns to Paranoid Park with several friends, including Jared. He's recognized by Paisley, who confronts him about Scratch and the police crackdown. A group of her street friends then chase after him and start to beat him up, before the narrator gets rescued by Detective Brady. He decides to bare his soul to Brady, but discovers that the detective has lied to him about his own parents being divorced.
Like the work of Dreyer, Van Sant's elliptical rendering of the novel benefits from subtraction – less somehow ends up being more. Alex becomes more inscrutable as a result of Van Sant choosing to remove exposition as well as certain suspenseful and dramatic scenes, while sticking to the surface. Even the breakup between Alex and Jennifer is presented without dialogue. In my previous post, I suggested that Van Sant focuses on the face of Alex throughout Paranoid Park. The real surprise, for me, has to do with the fact that this idea derives from the book's epigraph. It's from Dostoevsky's Crime and Punishment: "Young man," he went on, raising his head again, "in your face I seem to read some trouble of mind." Because Gabe Nevins's face is not transparent, Van Sant's close scrutiny of it, and its lack of disclosure, only serves to imbue the teenage protagonist with an even greater sense of mystery.
Posted 17 March, 2008
Comments Off

on Adapting Paranoid Park