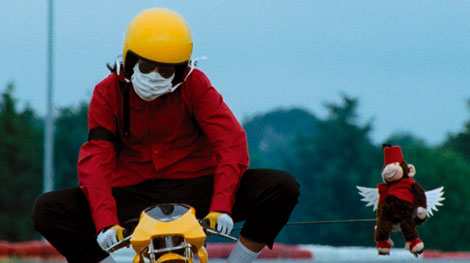 It's a sad comment on the state of indie film distribution and exhibition that most viewers have had to wait an entire year before seeing some of the films that played at last year's Cannes Film Festival, in particular, Harmony Korine's Mister Lonely (2007). Korine's first feature in eight years opened theatrically yesterday through IFC First Take and is currently available on cable through VOD.
When asked about the commercial prospects for Mister Lonely, Korine gave his usual tongue-in-cheek response: "I remember thinking Gummo would be embraced by the public in much the same way as Bambi was when it first came out. I am always wrong about such things." Korine has actually received more positive press than ever before – generally favorable reviews in the New York Times and Village Voice. His picture also graces the cover of the latest issue of Filmmaker, which features an informative interview with Korine by Michael Tully. In the intervening years, Gummo (1997) has been grudgingly acknowledged for the brilliant piece of filmmaking it is – as if anyone has forgotten the venomous attacks the film engendered upon release. The inclusion of Gummo in my book on independent screenwriting was in some ways a critical provocation – an effort to describe the associational, non-causal structure of the film – in the face of such hostility.
Much has been made of Korine's substance-abuse problems and long road to recovery, suggesting that Mister Lonely presents a poignant, more mature side of the once bad-boy filmmaker. Korine's personal breakdown, stint in rehabilitation, and subsequent comeback have been mentioned in virtually every article that appeared prior to the film's release. And indeed it does seem relevant to Korine's twin story of unrequited love between two celebrity impersonators and the faith of a group of nuns in their ability to fly. Sadly, both love and faith fail to save these characters from "a world that's patiently waiting to take us away."
Celebrity status came early to Korine. The self-taught filmmaker wrote the screenplay for Larry Clark's Kids while a nineteen-year-old skateboarder. He made Gummo at twenty-three, an amazing accomplishment that was recognized by notable filmmakers, such as Werner Herzog, Gus Van Sant, and Bernardo Bertolucci, but not by most critics and moviegoers. Korine's smart-aleck put-ons in interviews turned much of the media establishment against him. His appearances on David Letterman, while now staples on YouTube, were a form of exploitation, taking advantage of a young artist who made the fatal mistake of letting all the attention go to his head. Speaking about this, he told Dennis Lim, "It's one thing to understand it intellectually, but another to live through it."
Korine hasn't lost his ability to embellish personal events in his life. In an interview with Lim in last Sunday's New York Times, he talks about a fisherman's wife walking an "invisible" dog and comments, "I mounted this leash on the wall and I heard it bark. I swear to you." You have to admit it's pretty comical when street magician David Blaine ends up being cast in the role of the straight man. In an interview with indieWIRE, Eric Kohn asks Korine whether he fabricated the story about "traveling with an Amazonian tribe called the Malingerers and searching for a mythological fish." Korine answers, "Of course, this is the truth. In fact, I'm planning another trip back there soon. One of the members just gave birth to a twelve-pound baby with a fully grown tooth, and I am the godfather. Apparently, the child has been given my name." Not since Andy Warhol, has anyone used the celebrity interview for such subversive ends.
Reportedly made for $9 million, and partially financed by French fashion designer Agnès b, Mister Lonely sounds even crazier than it actually is. A lonely Michael Jackson impersonator (Diego Luna) runs into a Marilyn Monroe wannabe (Samantha Morton) in a Paris café. She impulsively invites him to a Scotland commune of other impersonators – "a place where everyone is famous" – where she lives with her husband Charlie Chaplin and daughter, Shirley Temple. Other impersonators residing there include: Madonna, Sammy Davis Junior, Abe Lincoln, Buckwheat, James Dean, the Three Stooges. the Pope, Queen Elizabeth II, and one storybook character, Little Red Riding Hood. Set up as a utopian refuge, problems soon arise. The sheep wind up getting a livestock disease and have to be slaughtered. Chaplin becomes jealous over Marilyn's obvious affections for Michael – she hugs him in the swimming hole – and becomes extremely abusive toward her. Marilyn tells him, "You know Charlie, sometimes when I look at you, you seem more like Adolph Hitler than Charlie Chaplin." The impersonators decide to put on a talent show, which flops, leaving them all distraught. The situation with Marilyn ends in tragedy, causing Michael to return to Paris, where he abandons his life as an impersonator.
Korine creates another parallel story line involving a priest named Father Umbrillo (played by Werner Herzog), and a group of blue-robed nuns in Panama. Umbrillo is as much a dictator as Chaplin. In an early improvised scene, he scolds a poor man who turns up at the airport each day with flowers for his wife, who has left him. Umbrillo insists that the man admit his sins and repent, reducing him to tears. While airlifting food to a village, a nun suddenly falls out of the small plane – a truly dazzling sequence that by itself would make the film worth seeing. The subsequent shots of the nun falling through the air, coupled with the eerie sound of the wind, makes it seem as if we've suddenly entered a dream. The sound cuts out at one point; the nun prays, and a miracle occurs, as she eventually lands safely. Even her stagger upon trying to walk conveys the intensity of the experience, which far exceeds its seeming reference to popular culture. The plot thread involving flying nuns mirrors and reinforces the main plot with the impersonators.
Like many young independent filmmakers, Korine has an ambivalent relationship toward the script (which he co-wrote with his brother Avi). He told Tully: "I guess I have the script as just an outline, but the script is just words on paper – it's just a start, a jumping-off point, at least for me. Everything is about the feel and about creating an environment. What I try to do, and what I've always tried to do, is, in some ways, mimic [the characters'] story [in the filmmaking]. Create a kind of universe. These characters are like chemicals, and you want to take those chemicals, put them in a bottle, shake them up, and then document the explosion." Later in the same interview, Korine reiterates his lack of interest in straight narrative: "I'm starting to realize that when you play with narrative, or conventions of storytelling, it upsets a certain kind of person. Which I understand, you know, because you become interested in watching things with a beginning, a middle, and an end. Things that don't necessarily shift in tone. But I don't really make those types of movies."
The types of characters and situations toward which Korine gravitates involve incongruities. You don't have to look beyond Gummo's Bunny Boy – a skinny, androgynous skateboarder with large pink rabbit ears – to find a more striking example. Mister Lonely begins and ends with a shot of the Michael Jackson impersonator. He wears a surgical mask and rides a clown bike in slow motion with a stuffed monkey with wings attached to the vehicle. This scene becomes emblematic of the film, but there are many other examples. For instance, Jackson performs to rap music in an old-age home, exhorting the elderly, "Don't die. Live forever." At the commune, James Dean hangs out with Little Red Riding Hood. As he rides a pony, Buckwheat, who sports a gigantic Afro, expresses his love of chicken breasts – "naked women" and "naked chicken." The Pope proposes getting drunk for the sake of the soon-to-be-slaughtered sheep. He and the Queen later share a bed. The foul-mouthed Abe Lincoln blames the Three Stooges for the problems they're having in setting up the talent show. He later can't understand why the Stooges should go on stage before Madonna. A group of them decide that the Pope stinks, leaving Buckwheat to wash his back in an outdoor bathtub. When the Queen appears to speak following their performance, Korine makes her look more like the Infant of Prague, which is exactly the kind of silly joke that's at the heart of Korine's sense of humor.
Just as Korine employs Ron Orbison's "Crying" to express the sadness of the dead cat Foot Foot in Gummo, he uses Bobby Vinton's "Mister Lonely" as another pop song to convey the tragic feelings of estrangement felt by both the Michael Jackson and Marilyn Monroe impersonators, which they're unable to bridge. That Korine would use Michael Jackson as a lead character is risky in and of itself these days. But it shows that Korine genuinely identifies with Jackson's desire to stay a child forever and never grow up. When Michael Jackson tells his agent of his desire to quit being an impersonator, he counters, "Why do you want to be like everyone else. They're all miserable."
In a celebrity culture, ordinary folks are miserable because only fame really matters. Most people are rendered insignificant otherwise, and the culture makes us want to be other than ourselves, which is precisely what the Michael Jackson impersonator says in voiceover at the beginning of the film. Korine tackles issues of personal identity head on in Mister Lonely, which is best expressed in the lyrics of the title song: "I've been forgotten, yeah, forgotten, Oh how I wonder how is it I failed." It's hard not to read this and the entire film as a personal statement. Who could imagine Korine would make a film that is so naked and heartfelt that it has the raw emotional feel of a suicide note. And if you allow yourself to succumb to its considerable magic – thanks largely to the sensitive and spirited performances of both Luna and Morton – it might even leave you a bit teary-eyed.
Posted 3 May, 2008
Comments Off

on Mister Lonely