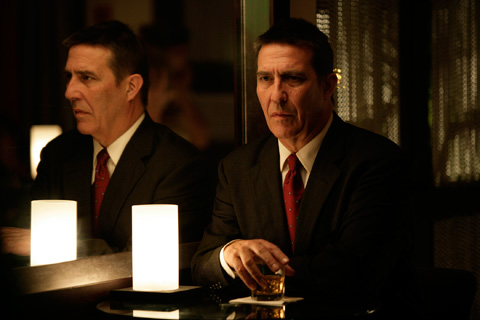 Since Todd Solondz's breakout second feature Welcome to the Dollhouse (1995) grossed nearly $4.8 million, the trajectory of his career has been decidedly downward, with each new film grossing half of the previous box office, culminating in Palindromes (2004), which promptly put his once promising career in limbo. As a result, the script for Life During Wartime floated around for a number of years, while Solondz struggled to obtain financing. Life During Wartime, his latest comeback effort, screened at a number of prestigious showcases, such as the New York Film Festival, Telluride, and Toronto, and won Best Screenplay prize at Venice. The film is being distributed by IFC, showing on VOD, and recently played locally at Sundance Cinemas for a week.
At the end of Happiness (1998), Helen, a tortured writer, offers to set up her sister Joy, the family scapegoat, with Allen, a sexual pervert, who makes obscene phone calls and happens to be her neighbor. Life During Wartime begins with a teary-eyed, sepia-toned restaurant scene between Joy (Shirley Henderson) and Allen (Michael Kenneth Williams) on their anniversary – one that's nearly identical to the scene that began Happiness. Allen, rather than Andy, now gives her a reproduction Gainsevoort ashtray. The scene introduces what becomes a mantra in the film, namely whether it's possible for its characters to "forgive and forget." But when the waitress recognizes Allen from his voice, she refuses to forget and promptly spits in his face.
Virtually every scene in Life During Wartime verges on hysteria, mixed with delusion and denial. The above scene cuts to Trish Maplewood (Allison Janney), the ex-wife of a convicted pedophile, Bill Maplewood (Ciaran Hinds), who's now serving time in prison for molesting a couple of his oldest son's friends. Trish is on a blind date with Harvey Wiener (Michael Lerner), Dawn's father from Welcome to the Dollhouse. Short, pudgy, older, and recently divorced after thirty-five years, Harvey is hardly a catch. He's moved from New Jersey to Miami to be with his son Mark (Rich Pecci), whom he calls "paranoid with a good heart." Harvey doesn't want Mark to be "misinterpreted," but anyone who has seen Palindromes knows that Mark has been suspected of molesting a young girl. Mark, a systems analyst, peaked in graduate school and now has become even more robotic in his demeanor.
Solondz claims that viewers don't have to know the references to appreciate Life During Wartime. I can tell you from watching it with people unfamiliar with Happiness, Welcome to the Dollhouse and Palindromes that viewers will miss many of the film's nuances and in-jokes. Like an episodic television series, the film resonates in an entirely different way when you actually know the back story of the various characters. Trish is clearly desperate. Despite recognizing that Harvey is "so not her type," except for the fact that he's a big booster of Israel, she immediately falls in love with him. And when she returns home from the date in a swoon, she speaks as inappropriately to her twelve-year-old son Timmy (Dylan Riley Snyder) about her sexuality, as her ex-husband Bill did to her older son Billy in Happiness.
Through Trish and Harvey, Life During Wartime connects the two dysfunctional families, the Jordans and the Wieners, creating a mashup between the characters from Welcome to the Dollhouse and Happiness. We thus meet all three Jordan sisters: Joy, Trish, and eventually Helen (Ally Sheedy), who has severed ties with the rest of the family. She now lives in California, where she given up poetry for the "purity" of screenwriting, and taken up with "Keanu" [Reeves] even though "Salman" [Rushdie] remains a close friend. Their mother, Mona (Renee Taylor), is bitter about being dumped by their father. She cries at the airport when she picks up Joy, who has temporarily separated from Allen because of his assorted misdeeds.
Andy (now played by Paul Reubens), who committed suicide in Happiness, returns several times as a ghost to haunt Joy in her dreams and actual life. If this doesn't begin to feel like a hall of mirrors, all of the actors have been recast, with Allen (originally played by Philip Seymour Hoffman) now played by a black actor from the television series The Wire. We also know from Palindromes that Harvey's daughter Dawn also committed suicide, and learn via Trish that Harvey's ex-wife Marge is "horrible," which hardly comes as a surprise.
Like Happiness, Life During Wartime has a multiple-plot structure. Timmy Maplewood, who is about to have his bar mitzvah, is preparing his speech "on becoming a man." In this film about deception, Trish has told Timmy his father is dead, but he learns the truth from a school friend, who has discovered on the Internet that his dad is actually a child molester. Timmy laments to his Mom, "I could have helped him." Like so many of Solondz's characters, Timmy suddenly turns on Trish with a vengeance, as he screams, "I hate you" and "Fuck you, bitch" – just as Andy shouts at Joy, "Eat shit, you fucking cunt," once she again denies him.
When Timmy later comes into her bedroom for a sex talk, Trish gives him the worst possible advice that will have major implications later on. Dressed in a dark suit, Bill seems like a refugee from film noir as he incongruously navigates the Miami sunlight upon his release from prison. He later tracks down Billy at college in Oregon, demanding to know whether he's gay. Their heart-to-heart talk is as painful as the one they had in Happiness, where Bill admitted that the real object of his desire was Billy, who refuses to forgive his dad, even though, on the basis of his research interests, he's obviously headed down a similar path. Solondz's world view is an overdetermined one, where characters seem destined to repeat past mistakes.
Trish and her family are coping with the aid of anti-anxiety medications. Like Debra Granik's Winter's Bone or Mary Sweeney's Baraboo, the war abroad impacts the one at home. It's Timmy's classmate who first connects pedophiles with terrorists, which proves to be a skewed but interesting analogy. In an interview, Solondz responds to the question of his obsession with pedophilia: "The whole thing about pedophilia is that I don't have any inherent interest in it but rather in how it functions as a metaphor for that which is most demonized, most ostracized, most feared and loathed."
One of the most intriguing scenes occurs when Bill gets picked up by an older woman named Jacqueline (Charlotte Rampling) in a Miami bar. In need of a lay, she claims to be a monster and insists, "Only losers expect to get forgiveness." Bill counters that people can't help it if they're monsters, and suggests – continuing Solondz's wartime theme – that the real enemy lies within. In their exchange, she comments, "What are you, a shrink?" Yes, but a terribly messed up one, as is evident in the way (typical of Solondz's heterosexual sex scenes) that Bill mechanically and dispassionately pounds away during sex. When she catches him rifling through her purse afterwards, he asks for forgiveness. Jacqueline responds tersely, "Fuck off, prick."
Like Andy, Allen will later haunt Joy's dreams as well. He tells her, "War's evil, but what you did was worse." By the end, even Timmy has had it with the abstract principles of freedom and democracy, as these maladjusted characters create their own personal hells. Masterfully shot with a RED camera by veteran cinematographer Ed Lachman, Life During Wartime strikes me as Solondz's most stylized film, with its discordant colors, inventive mise-en-scène, and clever use of music, such as a collaboration between Devendra Banhart and Beck. Bill's recurring dream involves several repeated pans over a park landscape with a pond to an out-of-focus figure, whose identity is only revealed the final time.
Todd Solondz loves to provoke viewers. Yet Life During Wartime might be one of the best films to register the effects of 9/11 on the American psyche, even if the fire power of his self-loathing characters indiscriminately turns all of them into casualties of their own private demons.
Posted 17 September, 2010
Comments Off

on Life During Wartime