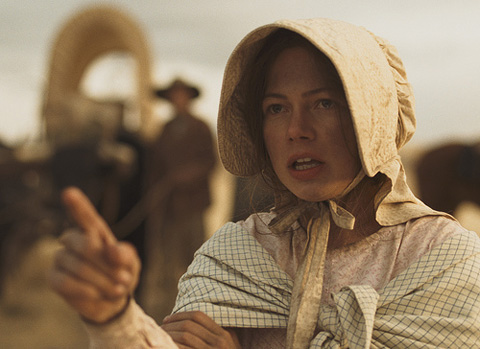 As a filmmaker, Kelly Reichardt is obviously on a roll. Following the critical successes of Old Joy (2006) and Wendy and Lucy (2008), expectations were enormously high for her latest film Meek's Cutoff (2010), a period piece shot on 35mm with a budget much larger than usual. The film played at Venice, Toronto and twice at the New York Film Festival this past weekend. I'm glad I bought tickets to attend both of the NYC screenings because Meek's Cutoff, which has been picked up for distribution by Oscilloscope Laboratories, turns out to be the best American indie film I've seen so far this year.
Meek's Cutoff represents both a continuation and a departure for Reichardt. Jon Raymond, the gifted writer with whom she collaborated on her two previous efforts, came up with the idea and wrote the screenplay for Meek's Cutoff, a "covered-wagon western" set in 1845. Despite Reichardt's reluctance to discuss the new film in terms of genre, it's impossible not to see the film as a revisionist western of sorts. In place of the hypermasculinity that characterizes the typical western, women play a crucial role in Raymond and Reichardt's story. Whereas Old Joy and Wendy and Lucy tackle smaller themes – a relationship between old friends headed on different paths and a down-and-out young woman forced to decide what to do about her dog – Meek's Cutoff is a pioneer tale about the settling of America.
Meek's Cutoff tells the story of three families who have hired a mountain man named Stephen Meek (Bruce Greenwood) to lead them through the Cascade Mountains to the Willamette Valley on the other side. His shortcut – the "cutoff" of the film's title – causes them to get lost in the vast desert area of Oregon. Whether it's deliberate or the result of sheer incompetence we're never quite sure, but the settlers express misgivings that Meek might be leading them astray for political reasons having to doing with immigration into the new territory. We learn this information early on as Emily Tetherow (Michelle Williams) and her older husband Solomon (Will Patton) walk through the dark night carrying lanterns.
Meek not only turns out to be an unreliable guide, but an insufferable blowhard, full of tall tales that make him instantly unlikeable. Meek has the strange habit of asserting one thing, but also suggesting that the opposite might be equally probable, which is to say that his judgments amount to useless double talk. The only blatantly clear aspect of Meek is his unbridled racism, especially regarding the indigenous American Indian tribes. This will come into bold play when a Cayuse Indian on horseback begins to shadow the settlers, as they traverse the harsh terrain alongside three covered wagons hitched to oxen.
After the settlers manage to capture the Cayuse, Meek assaults him and wants to kill him on the spot, but the rest decide the Indian could be useful in finding the water they so desperately need. In confronting the "Other," the settlers attempt to communicate with the Indian (played by stuntman Rod Rondeaux), but, of course, language proves to be an obstacle and neither party can understand each other. As the settlers' situation worsens, they begin to rely on the Indian to help them gain their bearings, but he proves to be an enigmatic figure. Emily tries to befriend the prisoner, but he spits out the food she gives him. After she mends his moccasin, he takes to carrying her sewing basket with him as they journey on. The Cayuse marks symbols on the rocks they pass. Is he sending messages to his tribe, or is it merely part of his religion? Thomas Gately (Paul Dano), whose wife Millie (Zoe Kazan) is starting to lose it, becomes convinced the former is the case, but Solomon persuades the group otherwise.
Raymond's spare script actually contains very little dialogue. The film's emphasis is on the daily labor of the characters, especially the women. With domestic chores to do, there's little time for small talk or camaraderie. There is wood to collect, fires to make, dishes to scrub, clothes to knit, garments to wash and hang out to dry in the blazing sun. What's striking about Meek's Cutoff is the complete lack of sex involving any of the characters, but then again Reichardt's major features River of Grass (1995), Old Joy, and Wendy and Lucy are among the chastest films in recent American indie cinema. Facing scorching heat and a scarcity of water, it's understandable why survival rather than sex should be the main preoccupation of these settlers. Shot in 1.33:1 aspect ratio, Meek's Cutoff is full of wide shots of the barren landscape, which serves to reinforce the formal space or distance between the characters. Chris Blauvelt's extraordinary cinematography shifts from intense blue hues at the film's opening to a warmer and washed out palette as the settlers and earth become parched from lack of water.
Characterization in Meek's Cutoff is minimal. William White (Neal Huff), for instance, is devoutly religious. When he collapses from illness, the Cayuse stares at his shaking body and begins a medicine chant. Neither religion provides a cure. William's wife, Glory (Shirley Henderson), is a bit on the ditsy side. She provides some of the only humor in the film, and even manages to get the other women to laugh at one point. If Solomon proves to be the most level-headed person of the bunch, Emily is the most compassionate and doesn't hide her dislike of Meek from the very start. When he claims she must be flirting with him, Emily gives him a cold stare and insists he must not know anything about women. Meek proceeds to describe the female sex as "chaos" and the male sex as "destruction." But when Meek gets out of line, it is Emily who stops him in his tracks.
Meek's Cutoff unfolds at its own slow temporal pace, with shots lasting long enough for viewers to scrutinize what's occurring within the frame. Reichardt's film employs the type of narration we find in art cinema. Reichardt remarked after the Friday screening that until the film's premiere screening at Venice she considered Meek's Cutoff to be a "desert poem" rather than a western. And indeed, her work is profoundly poetic rather than narrative in its attention to small details and in its richly evocative qualities. Reichardt once again shows a mastery of visual storytelling. With the exception of Greenwood, her actors tend to be absorbed in physical actions, facial reactions, and communicating through body movements rather than dialogue. Michelle Williams and Will Patton, in particular, excel in giving restrained, naturalistic performances.
At least so far, Reichardt has proven to be the real deal as an indie filmmaker by not making films that can be read as industry calling cards. Even the release of Meek's Cutoff was apparently delayed because Reichardt was teaching at Bard College and insisted on editing the film herself. In this tough economic climate, I try not to judge anyone because most indie filmmakers are struggling to survive these days. But Kelly Reichardt, as both Dennis Lim and Scott Foundas acknowledged in introducing her film at the festival, has somehow remained true to the vision of an independent cinema. Even though her budgets keep growing, she has not compromised her artistic integrity one bit.
Rather than wrapping up the minimal narrative with a sense of closure, Meek's Cutoff ends with a question. Yet I found it amazing that audience members afterward really wanted Reichardt to interpret the film for them. They didn't seem to understand that the film deals with the experience of being lost and living with uncertainty. Maybe the Cayuse knows where there's water, but he makes no effort to communicate with the settlers. As a captive, why should he? Throughout the film, he speaks a language we can't decipher, which somehow seems a key element in Reichardt's new film. In the Q & A session at Toronto, according to Mark Olsen of the Los Angeles Times, the director commented: "We all know what happens, how it ends, there's a golf course on the other side. You know, the bigger ending."