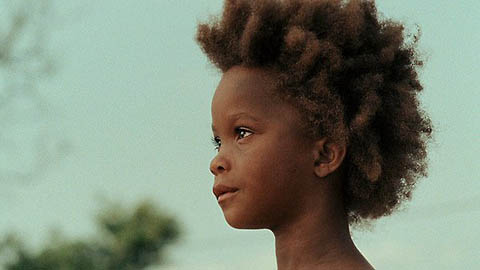 No independent film this year has received more fanfare than Beasts of the Southern Wild (2012), which was directed by Benh Zeitlin and made in collaboration with a collective of artists based in New Orleans. The film won the Grand Jury Prize at Sundance as well as the Camera d'Or for Best First Film at Cannes this spring. Based on a play by Lucy Alibar, who co-wrote the script, Beasts of the Southern Wild feels like less of a conventional narrative than a visual poem in the tradition of Terrence Malick. Shot in southern Louisiana, the film recalls the devastating effects of Hurricane Katrina, but its scope is much broader. It is about one's attachment to place, a mythic exploration of the defiant human spirit and the precariousness of life in the face of threats posed by the natural world.
The film centers on a six-year-old named Hushpuppy (Quvenzhané Wallis), who lives in a flood plain called "The Bathtub." The area is separated from the mainland by a government-built levee, which has isolated the area even more and aroused contempt in those who remain there. Even though they realize that they're extremely vulnerable and ultimately doomed in the event of a major flood, the eccentric residents remain steadfast in their refusal to abandon their homes and primitive way of life. Indeed they have created an entire mythology to sustain themselves. The folks in the Bathtub scorn and ridicule those protected by the levee. They believe that they are strong, even heroic, while they consider the others to be wimps.
Hushpuppy lives in an enchanted world close to nature. For her, everyday is a holiday. She feels sorry for the folks on the other side of the levee, who don't have many holidays, eat fish that comes in packages, and exist in the shadow of ugly oil refineries. Hushpuppy lives with her father, Wink (Dwight Henry), an irascible and very ill drunk, whose cruelty to his daughter is a way of preparing her for the time when he will no longer be there. Hushpuppy's mother has already abandoned the family. According to the little girl, who narrates the film, her mother just swam away one day. Wink has created additional folklore surrounding Hushpuppy's mom, whose beauty was powerful enough to ignite the burners on the stove.
Hushpuppy's conflicted relationship with Wink is mirrored in the fact that they live in separate ramshackle trailer houses until she burns hers down. When she is forced to move in with Wink, he draws a strict boundary line. Because Hushpuppy has become a huge burden – "you're killing me," he complains bitterly at one point – he tries to get rid of her, but the two of them nevertheless share a strong bond – his cruelty toward her is actually a form of caring. Wink indoctrinates Hushpuppy with tactics geared toward survival. He slaps her, throws things at her, and gets her to flex her muscles and repeatedly shout "I'm the man." When a neighbor tries to show her the proper way to eat a crab using a utensil, Wink irately insists that she "beast" it instead, which is his term for eating it with her hands.
Early in the film, Hushpuppy picks up a chicken and a crab, puts them to her ear and listens intently. She claims to understand what they're saying, but admits that they sometimes speak in code. A bizarre lecture by her teacher causes Hushpuppy to identify with prehistoric beasts known as aurochs. These large boar-like creatures with tusks posed a threat to the early cave dwellers. As a result of global warming, the aurochs eventually get released when the icecaps melt, and, through special effects and the film's own brand of magic realism, eventually confront our young heroine as well.
Beasts of the Southern Wild is told through Hushpuppy's naïve and innocent point of view. Hushpuppy is convinced of her own self-importance and that in a thousand years scientists will know about her life. She believes that everything, even the smallest part of the universe, fits harmoniously together. But she is eventually forced to readjust her world view once the inevitable flood wipes out their neighborhood, causing residents to exist on makeshift boats amidst an ecological disaster. Wink concocts a plan to take revenge against the levee, but the residents of the Bathtub are eventually taken against their wills to a government shelter. Because the rag-tag interracial group of adults and children cannot be civilized, their only recourse is to flee back home.
The politics of the film are a curious mixture of anarchism, subcultural resistance, and what could easily be interpreted as a Tea Party-like hostility toward government. There's no denying, however, that the film's sentiments stem from a deep love of the environment and this particular place. The film operates on the level of myth. What's amazing about Beasts of the Southern Wild is its epic sweep. In the mold of Tom Sawyer and Huckleberry Finn, Hushpuppy becomes a pint-sized embodiment of untamed and rugged individualism. This adorable little girl, with her white rubber boots, short pants, and hair illuminated by golden light, is clearly a force to be reckoned with. She's been conditioned by her situation to be as tough as nails and ultimately proves to be unafraid of the giant aurochs.
Quvenzhané Wallis gives such an extraordinary performance that it's impossible to take your eyes off her. It seems downright uncanny that the face of a young child can register such a wide range of emotions, while Dwight Henry manages to convey a remarkable depth of intensity. It's not surprising that Henry refused to abandon his store during Katrina, or that scenes in the film were rewritten based on Henry's own personal experiences. Yet it's Wallis in the form of Hushpuppy who steals our hearts.
It's hard to think of another low-budget independent film in recent years that has quite the ambition of Beasts of the Southern Wild. Who would dare to conceive of such a complicated film, especially one that relies on special effects, unless you had unlimited capital and the backing of a major studio? Who would cast a six-year-old nonprofessional as the film's lead, alongside the owner of a local bakery? Given the high degree of difficulty, you have to wonder how Zeitlin and his cohorts were able to pull off this impressive feat, and still live to tell about it.
Posted 5 August, 2012
Comments Off

on Beasts of the Southern Wild