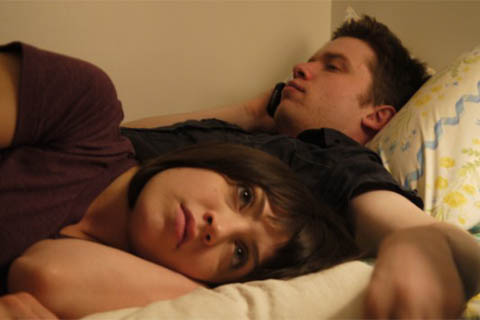 In discussing his new film, Yellow (2012), Nick Cassavetes recently made headlines at the Toronto Film Festival after he told an interviewer: "Love who you want. Isn't that what we say? . . . If it's your brother or sister it's super-weird, but if you look at it, you're not hurting anybody except every single person who freaks out because you're in love with one another." The provocative title of Dan Sallitt's The Unspeakable Act (2012), which deals with a similar subject matter, turns out to be something of a smokescreen. The topic might be loaded – as evidenced by the intense reaction that Cassavetes's comments managed to elicit – but Sallitt's Rohmer-inspired film is actually a very sober look at the issue of sexual desire between siblings.
The Unspeakable Act begins with seventeen-year-old Jackie Kimball (Tallie Medel), riding her bicycle through the tree-lined streets of what looks like a suburban Midwestern neighborhood, but turns out to be the Midwood Park section of Brooklyn. We hear her voiceover narration: "In the spring of 2011, at the age of eighteen, my brother Matthew got his first real girlfriend. I had somehow thought that he and I had an unspoken agreement that we belonged to each other, which was really pretty stupid of me." Family tension soon becomes evident when her mother (Aundrea Fares) and sister, Jeanne (Kati Schwartz), fail to greet her as they busily prepare dinner in the kitchen, and Jeanne then explodes over Jackie's complaints about having to help.
Shortly after this, Matthew arrives with his new girlfriend, Yolanda (Caitlin Mehner). Jackie initially monopolizes Yolanda, leaving the others to stand in awkward silence. In the midst of superficial banter during dinner, Jackie excuses herself to vomit in the bathroom in a wide shot that frames her enclosed by vertical lines. As Jackie and Matthew later smoke cigarettes together, Jackie demands to know whether he really likes Yolanda better than her. Matthew answers that he hardly knows Yolanda, but he really wants to have normal sexual relationships. Jackie answers: "Yeah, I know. You want to grow up and have mature adult relationships, not immature stunted ones like ours." She ends up crying in his arms.
At the heart of The Unspeakable Act lies the complicated relationship between Jackie and her older brother. The surprise is that Jackie refuses to hide her feelings for Matthew. For her, it's a given fact and something of a badge of honor; for him, it's clearly a source of great personal conflict. The Princeton-bound Matthew is intensely shy and introspective, but he's also very sensitive to the feelings of his sister. Although Jackie worships Matthew, no one else does, so it's obvious that Jackie's deep affection for Matthew bolsters his self-esteem. Not surprisingly, he and Yolanda, after sleeping together, break up soon afterward. As he tells Jackie, "My theory is she didn't really want to be in a relationship; her theory is different."
Considerably shorter than her mother and siblings, even physically, Jackie seems not to fit into the menagerie that constitutes her family. Mrs. Kimball appears depressed, speaks little, and has retreated into writing a journal. She idolizes her oldest son, Will, who lives in Paris, and spends a great deal of time writing long letters to him. Mrs. Kimball's spirit appears to have been broken long ago. Jackie alludes to her mother's past drug addiction, but character motivation for Sallitt, for the most part, is buried, and, as in real life, an elusive proposition. Jeanne, on the other hand, goes to community college and spends a lot of time with her boyfriend, Charles, whom we only see from a distance as he picks her up in his car. It is little wonder that Jackie would gravitate toward Matthew, who's smart like her, and whom she insists is the "best person" she knows.
The Unspeakable Act might be the only film with a series of therapy sessions that is not really a psychological film. None of what is uncovered in the various sessions really explains Jackie either. Sallitt appears to be much more interested in philosophy than in psychology. Like Eric Rohmer, he believes in a dialogue-driven cinema based on language. Sallitt appears to be more interested in surfaces than in subtext. If most dramatic films use the latter to provide the undercurrent of energy behind scenes, while someone like John Cassavetes exploits repeated tonal shifts to propel scenes forward, Sallitt employs spoken language as a means for characters to give voice to their feelings. In a sense, language empowers characters like Jackie, who have a way with words.
In All the Ships at Sea (2004), the only other Sallitt film I've seen, a young woman, Virginia (Edith Meeks), returns after being expelled from a cult. She spends time at lakeside cottage with her older sister, Evelyn (Strawn Bovee), a Theology professor. After Virginia interrogates Evelyn about Catholic religious doctrine, she explains her own beliefs, which reflect those of the cult. As Evelyn sits and knits against a backdrop in which we can view two men fishing on the water, Virginia's strong conviction and verbal dexterity bludgeon Evelyn into a personal crisis of faith. In a sense, Jackie's insistence of her love for Matthew also overwhelms him. Toward the end of the film, he acknowledges her tremendous power, suggesting how easy it would be for him to succumb.
Every move Matthew makes to escape from Jackie causes her to experience a deeper personal crisis. Before he leaves for college, the two of them attend a concert in Prospect Park with another couple. Matthew and his nerdy pal, Tony (Mike Faist), argue about the significance of contemporary writers. Tony mocks Matthew for favoring Don DeLillo over Thomas Pynchon. Jackie, on the other hand, simply relishes the experience of the outdoor concert as a kind of date. As Matthew questions her about her fantasy of the two of them as they sit on a park bench, he asks Jackie whether it includes kids. It doesn't, but she laments, "You certainly know how to kill the mood."
After Matthew leaves for Princeton, Jackie experiments with sex with a classmate named Tristan (Colin Summers). In the name of openness, she shares the details of her sexual escapades with Matthew via email. When Matthew comes home from school for vacation, however, Jackie disses Tristan to be with her brother. But when Matthew finally threatens to withdraw his affections from Jackie, the thought of this becomes utterly unbearable and she panics, which leads to the film's conclusion.
Brooklyn-based Tallie Medel seems perfectly cast as Jackie. There is no sense of mystery about what she thinks or feels. She's blunt and outspoken almost to a fault; her candid remarks come at a velocity most people would find disarming. Or as Jackie puts it to the therapist, Linda (Caroline Luft), "Yes, I have this bad habit of embarrassing everyone by just blurting things out." Yet Jackie, as played by Medel, is also incredibly vulnerable, because she doesn't have the normal defenses most people do when it comes to her innermost thoughts and feelings.
If Medel is key to the film's success – and her performance here proves she's a rising young star — the supporting actors deserve enormous credit for their comparatively understated performances. The acting in Sallitt's film strikes me as a type of stylized realism. The performers don't seem like actors at all, but are more like real people. Even though the dialogue is scripted rather than improvised, they exhibit very little affect – the level of artifice has been toned down considerably. Sky Hirschkron, for example, plays Matthew as a character who needs to reflect before nearly every measured response. When Jackie comments about that the fact that he never cries, Matthew responds, "If I cried too, this house would be like washed away." Hirschkron says the line so matter-of-factly that we suddenly glimpse the immense sadness of this character.
Sallitt is also a well-known film critic, who has written eloquently about improvisation in Joe Swanberg's films. In discussing Silver Bullets(2011), he writes: "Even more noteworthy is the way that all these improvisations refuse to sacrifice the integrity of the characters' positions for easy effect. The feelings underlying the characters' stances are sufficiently complex that the characters naturally waver or double back on themselves under the pressure of relating to each other, and yet are sufficiently consistent that the duels lead to standoffs, to silences that require effort to dislodge." It strikes me that perhaps the same thing could be said about the characters' responses to each other in The Unspeakable Act.
Sallitt's film is much more formally rigorous than any of those by Swanberg. The camera doesn't move. The careful framings by cinematographer Duraid Munajim create rectangles within rectangles, indicating how trapped Jackie is by her feelings for Matthew. The film's palette is determined largely by the colors of the Kimball family's large green and yellow Victorian house. Sallitt holds on shots longer than most directors. Characters often exit the frame, but Sallitt sticks with a shot as long as possible before cutting to the next one. He avoids non-diegetic music, which allows scenes to play without additional emotional resonance. In terms of framing, shot duration, and the long silences between characters, Sallitt appears just as much interested in the negative space as he is in the positive.
The mystery and surprise of The Unspeakable Act is how such a cerebral film can be so emotionally affecting. It is currently playing the festival circuit and screened at BAMcinemaFest this past summer, but this low-budget indie gem deserves to be seen more widely. This impressive feature provides strong evidence that Dan Sallitt is one of the most underappreciated major American indie writer/directors out there.
Posted 26 September, 2012
Comments Off

on The Unspeakable Act