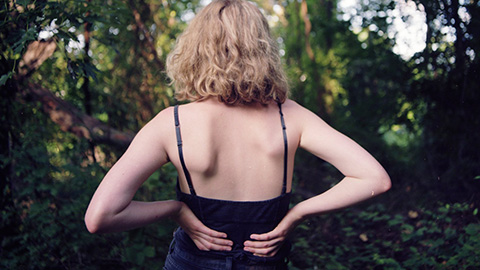 Matt Porterfield gained prominence in indie film circles with Putty Hill (2011), a second feature that was shot using a short outline after financing fell through on a more ambitious scripted project. A mixture of documentary and fictional elements, Putty Hill used an episodic structure, off-screen interviewer, and improvised acting to explore the reactions of family and friends to a drug overdose in a working class neighborhood of Baltimore. Porterfield's new feature, I Used to Be Darker (2013), was scripted by Porterfield and writer Amy Belk. The film is about the corrosive effects of divorce, how it impacts everyone involved, including the children who also wind up being its victims. I Used to Be Darker premiered at the Sundance Film Festival in January, was picked up for distribution by Strand Releasing, and will screen as part of the prestigious BAMcinemaFEST on June 21.
I Used to Be Darker (the enigmatic title comes from Bill Callahan song lyrics) tells the story of a runaway teen from Northern Ireland named Taryn (Deragh Campbell), who flees to the beach resort of Ocean City, Maryland and gets pregnant. She turns up unexpectedly at the Baltimore home of her aunt and uncle, Kim (Kim Taylor) and Bill (Ned Oldham), only to discover that they are in the process of getting a divorce. What's unusual about Bill and Kim is that they are actually hip musicians rather than your typical straight middle-class couple. It's hard not to like the two of them, even though our sympathies lie more with Bill than Kim, largely because he's the one getting dumped.
During a brief argument in which Kim is packing books, it becomes clear that the pressures of making a living have curtailed Bill's musical aspirations, while Kim hasn't given up the dream and continues to play with a local band. They know how to play the blame game. Kim suggests that once she's gone, Bill will become more productive again. Bill tells her: "I just don't write songs anymore. I pay bills. I pay for my daughter's education. I pay for your health insurance." Kim responds, "Well, not anymore." Right after this, there's a message on the answering machine from Taryn, announcing that she's coming to visit.
When Taryn arrives, she ends up staying with Bill, partly because Kim is moving to a new place. Her cousin, Abby (Hannah Gross), is upset with her mom and is barely speaking to her. She tells Taryn, "Welcome to my personal hell!" The tension between Bill and Kim is palpable, especially when her fellow band members help to cart away her musical instruments. Bill's reaction is to sit and play a song on his guitar before he calmly gets up and smashes it. Later, as the two of them attempt to discuss Taryn's situation, Bill complains about having to shake hands with the men who took her instruments away. He tells Kim, "Yeah, you know, I think I'd probably rather take a punch in the face than to feel that handshake again."
The beauty of the scene is that, even without the dialogue, it still manages to convey their discomfit through gestures: the way Kim nervously fidgets with her drink or periodically looks away from him, as well as Bill's syncopated hand movements as he slouches in his chair. Even more revealing, however, are the musical interludes that are interwoven throughout the film, providing an emotional outlet for the characters (Taylor and Oldham are actual musicians). Taryn and Abby attend a punk concert, which gives vent to their pent-up anger. Music becomes a means for the characters to communicate and to express emotions that would otherwise remain under the surface.
Part of the power of I Used to Be Darker stems from the extraordinary performances Porterfield is able to draw from his nonprofessional cast. Campbell adeptly conveys a confused sexuality that has obviously gotten Taryn into her current predicament. It has the potential to complicate her life even more when she flirts with her aunt's new band mate, Nick (Nick Petr). Taryn talks in clipped fragments delivered in a sing-song, heavy Irish accent. When Bill first confesses that he and Kim are in the process of separating, Taryn responds: "Can't believe it. Had no idea . . . I'm such an idiot."
Although Taryn is the lens through which we view the impact of divorce, Bill and Kim's separation is felt most acutely by Abby, whose sullen disposition suggests that she's extremely depressed about the situation. In one telling scene, her frustration is evident when she attempts to make waffles for breakfast only to discover that her mom took the waffle iron with her. When this finally becomes apparent, Abby dumps the batter into the garbage. She then takes out her anger on Taryn.
Oldham portrays Bill as someone who's trying valiantly to hold things together. When he finally drops Taryn off with Kim, he informs her that Abby has split for New York and insists that she take responsibility for her sister's kid. In arriving unannounced at Kim's new place, he makes a discovery that leads to more heated conflict. Taylor's sad eyes, low-key demeanor, and soulful songs, such as Days Like This, suggest the emotional pain that Kim is also experiencing. As she and Taryn look at her photo album together, the teen asks, "Does it suck being a mother? Kim responds in a voice barely above a whisper, "No, it's hard, though, especially when the person you'd die for doesn't want to talk to you."
In his previous films, Porterfield mined cinematic realism through use of nonprofessional actors, improvisation, found locations, and long extended takes. There's a great deal more cutting in I Used to Be Darker, despite his continued predilection for highly formal framings and a languid pace. Porterfield often keeps his camera at a distance from his characters, suggesting a more observational approach. There's a scene early on where, in a wide shot, Bill takes a dip in the backyard pool. He slowly swims off-screen. The camera holds on the undulating water for several seconds until he comes back into the frame again. Much credit for the film's visual strength is no doubt also due to Porterfield's talented cinematographer, Jeremy Saulnier, who also shot Porterfield's other two features.
Porterfield felt that not having a script in Putty Hill made it a better film than his first feature, Hamilton (2006), because it made him more open to the possibilities of the moment. But having an 89-page script for I Used to Be Darker also had benefits. In an interview in Filmmaker, he suggests that "this imposed structure gave the actors more to work with and also push against, which elevated the level of performance." Porterfield comments: "I feel lucky to have made Putty Hill first, because it liberated me from feeling absolute loyalty to the page. Several times during the shoot, when things we'd written weren't working, I'd throw the script out and improvise with the cast. And the results were always better than we'd imagined.  Moving forward, I'd like to adjust the balance a little more, to give myself more time to work and play with the actors on location while still adhering to a pre-determined structure."
This has been a great year so far for independent cinema. I Used to Be Darker played at the Wisconsin Film Festival back in April as part of an impressive program of new low-budget independent films that included Dan Sallitt's The Unspeakable Act, Joe Swanberg's All the Light in the Sky, and Frank V. Ross's Tiger Tail in Blue. Even though the script for his new film was co-written, Porterfield has indicated that he considers I Used to Be Darker to be his most personal and collaborative film to date. It's also his best.
Posted 20 June, 2013
Comments Off

on I Used to Be Darker