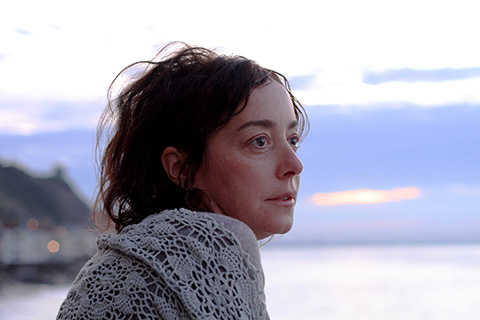 Considering how many feature films Joe Swanberg has made at this point in his career, All the Light in the Sky (2013) might be easy to overlook, especially following the recent success of his commercial breakthrough, Drinking Buddies (2013). Inspired by and starring Jane Adams, who will forever be identified with Joy, the inveterate family loser in Todd Solondz's Happiness (1998), All the Light in the Sky tells the story of a middle-aged actress, Marie, who finds herself moderately successful but also very much alone. The visit of her twenty-five-year-old niece from New York, Faye (Sophia Takal), an aspiring actress, causes Marie to experience a minor mid-life crisis when she suddenly realizes that her life is on a downward slope.
Marie's small Malibu house perched atop the rocks above the Pacific Ocean serves as a kind of metaphor for the precariousness of her situation. As often happens to female actors when they hit a certain age, Marie is starting to get passed over for parts in major studio films, and has to settle for appearing in low-budget indies that have start dates but sketchy financing. The film opens with a shot of Marie waking up to a self-help video. Without a partner to assist her, she struggles to get into a rubber wetsuit in order to paddle out into the ocean on a surfboard for morning exercise. We soon see that neither exercise nor a steady diet of blended health drinks can fully stave off the inevitable passage of time.
Marie is thrilled to see her niece. When she asks Faye about her boyfriend, the younger woman indicates that things are "the best" and the two are planning to get married. Although Marie doesn't appear to react, this revelation invariably causes her to ruminate on her own life choices. After taking a dip in the ocean, the two women have intimate discussions about female bodies and sexuality. As they change out of their wetsuits, Marie laments that her breasts already sag and suggests that Faye should enjoy her firm ones as long as she can. Marie later confesses that she has always been used to being the object of male desire – "the image that starts the ball rolling" – a point that has been underscored when Faye's boyfriend (Lawrence Michael Levine) gets her to expose her breasts while talking to him on Skype the night before.
When friends come over, Marie and an older stoner named Dan (Kent Osborne) seem to hit it off, especially when he plays the role of handyman by fixing her wobbly toilet seat and putting up a coat rack. Meanwhile, when they all use a friend's hot tub, a young director (Ti West) comes on to Faye, but when she indicates that she has a boyfriend, he immediately loses interest, and she later watches him make out with another young woman (Lindsay Burdge). The socially awkward interaction between Marie and Dan seems promising at first, but it results in a one-night stand, as Marie skips out while Dan is still asleep, only to forget her car keys.
All the Light in the Sky is more episodic than plot-driven. It consists of a series of incidents that have thematic links. The intimate conversations between Marie and her niece, however, turn out to be the film's most compelling material. To Marie, Faye has everything – her youth represents her power – but the younger woman already worries what will happen when she loses that weapon. Marie, on the contrary, knows only too well what it's like to walk into a room and seem invisible. Marie insists that it's different for guys. She attributes it to biology that her neighbor friend, Rusty (Larry Fessenden), is drawn to young women who are Faye's age. Marie confesses to Faye that she always assumed that she would have kids, but concedes that she never met a reliable man whom she thought would make a good father.
At one point, Rusty and Faye sit on the beach watching the sun set at magic hour. He reflects on the fact that the surrounding houses overlooking the ocean are sheer folly – he predicts they'll be gone in ten years due to global warming. Yet he's content to live in the moment and enjoy it while he can. If this makes the film sound overly didactic, it actually feels quite the opposite – like we're simply eavesdropping on two people conversing. Once Faye leaves to return home, Marie and Rusty have dinner together. Afterwards, the two of them lie together on the sofa, and he amuses her by doing Jack Nicholson imitations. When Marie takes umbrage at a number of his actions and comments, he accuses her of being on a "pity-party tear." She rejects his attempt to turn their friendship into something more.
There's something so casual about All the Light in the Sky that it feels invented on the spot. Much of the film's strength derives from the performance of Jane Adams, who, though her character tries hard to remain upbeat, allows occasional flickers of sadness to appear in her eyes. Adams, who shares writing credit, describes the process of making the film in an interview in Entertainment Weekly: "We sent emails back and forth for a long time with ideas – and text messages even. Joe wrote an outline and sent it to me and we made a few adjustments and then he showed up with two actresses, Lindsay and Sophia, and we just started improvising and shooting. It was an exciting process."
All the Light in the Sky is easily Swanberg's most thematically integrated film, yet it might also be his most effortless. The flow of conversations seems as natural as the tide we watch going in and out, or the subtle changes in the bright California sunlight that illuminates so many scenes. Swanberg's film seems to go beyond simple naturalism by confusing the boundaries between the artifice of performance and real life. It involves a delicate sleight of hand that Swanberg has managed to pull off masterfully. Swanberg shot the film himself, which no doubt contributed to the intimate dynamics of the production.
Swanberg has cleverly added an additional element. In researching a role for a film (this one?), Marie interviews a solar engineer (David Siskind), who measures sunlight with a pyrometer.  He later describes the sun as a "middle-aged star," which, like all things, ultimately goes away. Her conversations with him contextualize Marie's own situation within the broader context of flux and change in the natural world. The film's spectacular final image encapsulates the entire film. In wide shot, Marie is rendered as a tiny figure against the ocean and vast expanse of sky, as she paddles out on her surfboard, while birds periodically fly through the frame.
I first saw All the Light in the Sky when it played at the Wisconsin Film Festival last April. It was recently picked up by boutique distributor, Factory 25, and is currently playing at the Cinema Village in New York City. Joe Swanberg has been on a roll this year. He has a new film, Happy Christmas (2014), which is scheduled to play in competition at Sundance in January. And, judging by the success of Lena Dunham's Girls (2012-), Noah Baumbach's Frances Ha (2013), and even the new film by the Coen brothers, Inside Llewyn Davis (2013), I think it's fair to say that Swanberg's influence as a filmmaker has never seemed greater.
Posted 22 December, 2013
Comments Off

on All the Light in the Sky