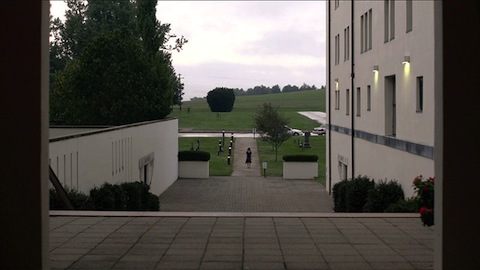 Paul Harrill's debut feature, Something, Anything (2014), seems like an unlikely independent film. For one thing, it is shot in a fairly conventional style. In addition, it doesn't deal with either hip or edgy subject matter. Instead, the film is set in the American South – Knoxville, Tennessee, to be exact – and concerns a kind of spiritual journey by a straight, young middle-class protagonist, Peggy (Ashley Shelton), who transforms into a very different person (Margaret) during the course of the film. Harrill's sensitive and engaging character study reminds me of two other indie films, Hal Hartley's Trust (1991) and Todd Haynes's Safe (1995), in how Peggy's life seems to be going along smoothly and then suddenly falls apart in ways that prove both deeply moving and sad.
Something, Anything begins with a close-up of dark red nail polish being applied to one of Peggy's fingernails, an image that becomes a metaphor, not so much for glamour but for a kind of artificial veneer. Harrill sets up the story with an economy of means. When her boyfriend, Mark (Bryce Johnson), pops the big question at dinner, Peggy's response is strangely shy and reserved, but he immediately places a diamond engagement ring on her nail-polished finger. By the end of the opening credits, the two get married and she becomes pregnant. Eight minutes into the film, Peggy has a miscarriage, which radically alters her life in ways that even she does not fully understand.
Socrates's adage that "the unexamined life is not worth living" might seem like a truism, but the unfortunate fact is that most people lead unreflective lives. In Hartley's Trust, for instance, seventeen-year-old Maria gets pregnant by her high school boyfriend, Anthony. She fully expects Anthony to go to college on a football scholarship and then take over his father's construction business. But when he dumps her, Maria's life gets turned upside-down, which sets her on a spiritual quest. Peggy is a lot like Maria, but older and even more vulnerable. After her traumatic experience, she finds herself alienated from her husband and soon separates from him. Her parents think her move into a small apartment of her own is merely temporary and offer to pay for a trip to Europe. Peggy's female friends don't get it either, and in fact, clearly sympathize and side with Mark.
Peggy works as a realtor, but a number of experiences selling houses during an economic recession cause her to question her choice of a profession. After her boss at the realty company gets her to be complicit in something a bit shady, she abruptly quits her job. Peggy takes a low-paying position shelving books at the local library, which provides her with her own monastic retreat from the world. She cancels her cell phone, dumps all her cosmetics, sells her nice clothes and donates the money, and begins to read the Bible for inspiration.
Peggy receives a short note from the older brother of one of her high school friends, a guy named Tim (Linds Edwards), who turns out to be a monk. Peggy's curiosity about the life of a monk mimics her own attempt to find some type of meaning in her own life. She impulsively drives three-and-a-half hours to the Abbey at Gethsemani, a Trappist monastery, in Kentucky, only to discover that Tim has recently left. Before she heads back the next day, a kind monk slips her Tim's address. This potential romantic plotline, however, is a bit of a red herring because the film is more about Peggy trying to find herself rather than someone else. When she finally becomes reacquainted with Tim, who's into music, she introduces herself as Margaret, suggesting her own change in identity. When Peggy eventually asks him what she should do about her situation, Tim advises her to return to her husband.
Characters in numerous films develop personal crises, but what seems especially poignant about Peggy's plight is how ill-equipped she is to deal with the fallout. In this sense she's a lot like Carol White in Safe, someone who has no real personal support network (other than a couple of superficial friends), and thus when she tumbles, she goes into a similar kind of free fall. Harrill proves adept at capturing what it's like to be someone as lost as Peggy, a Southern woman who tries hard to have a conventional life – to be married and have a family – yet finds herself unfulfilled.
Like Haynes with Safe, Harrill refuses to psychologize his protagonist. Peggy might be going through a struggle of personal identity, but he doesn't provide us with any type of backstory that would explain her character. Harrill talks about this aspect of the film in an interview with Darren Hughes on Mubi: "For me to identify the crisis she's going through—for me to label it, or explain it in the terminology of psychology – well, at that point I've done three things. First, I'm telling the audience how to understand the character, which I think disrespects the audience. Second, I've taken away some of the character's mystery. And finally, I've basically said, 'I have all the answers, I understand all of this, everything about these characters.' That's a lie."
Part of the success of Something, Anything stems from Harrill's highly nuanced script, which he developed from improvisations with various actors during the lengthy auditioning process. Shot over the course of a year, Harrill's film relies heavily on the subtext of the various interactions of the characters. The understated performances by the cast turn out to be a major part of the film's strength. Ashley Shelton shines as the confused, but inner-directed protagonist, while Linds Edwards displays an utterly convincing sincerity that gives him an endearing quality.
Harrill and his cinematographer, Kunitaro Ohi, opt for conventional coverage of the action by choosing to use mostly medium and close-up shots that keep the story focused on the characters. Yet a couple of individual shots stand out. As Peggy approaches the Abbey, the composition of the shot – a small solitary figure set against an architectural-like background – will no doubt remind viewers of Antonioni's Eclipse (1962) and Resnais's Last Year at Marienbad (1961). In another scene, Margaret observes the magic of synchronized fireflies at a national park. The scene, which was recorded in natural light rather than through computer generated effects, is one of the film's wondrous highlights. Harrill's film feels highly personal and contains an undercurrent of sadness that feels heartbreaking, even though the film ostensibly ends on a more ambiguous but hopeful note.
One of ten films selected for the highly competitive 2013 IFP Narrative Lab, Something, Anything co-premiered at the 2014 Wisconsin Film Festival (where I saw it) and the 2014 Sarasota Film Festival. The film will have its NYC premiere as part of BAMcinemaFEST on June 26.
Posted 19 June, 2014
Comments Off

on Something, Anything