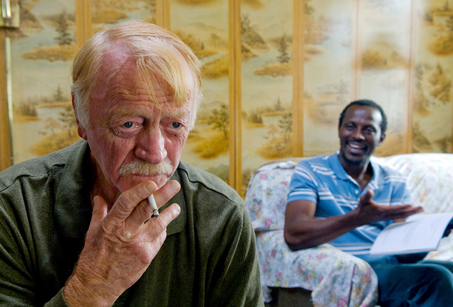 Most people do their "best films" lists at the end of December. That makes sense, but, in my case, it doesn't seem to work out that way. I have too many other projects in the works, so that even maintaining the blog is a pretty challenging endeavor. But beyond that, because I'm based in Madison, Wisconsin rather than in either New York City or Los Angeles, it now takes considerable effort on my part to view the important independent feature films that surface within a given year.
Most of them aren't playing at my local cinemas. They play at film festivals, or on VOD, or I have to wait to see them when they are finally released on DVD, or sometimes I'm lucky enough to catch them when I'm in NYC to visit museums and art galleries, where an alternate universe of film and video is also on display (such as Cyprien Gaillard's mesmerizing Desniansky Raion, which I saw on separate occasions at the New Museum and White Columns this past year).
Three of the indie films on the list below – Goodbye Solo, Treeless Mountain, and The New Year Parade – played at the Wisconsin Film Festival last spring. Bob Byington's Harmony and Me is scheduled to screen at this year's upcoming festival in April. Only two of the films – Goodbye Solo and The Girlfriend Experience – had commercial runs locally. But that's also true of many of the best international art films as well.
I'm certainly a huge fan of global cinema, and indeed found great pleasure in viewing such films as 35 Shots of Rum, Revanche, Three Monkeys, Hunger, The Headless Woman, Gomorrah, Tony Manero, Tokyo Sonata, Somers Town, and Police, Adjective, among others. And from the studios, I was impressed by Kathryn Bigelow's The Hurt Locker. Yet, due to the main focus of this blog, my list remains confined to American indie films.
If there's one trend among the best indie films of the year, it is once again naturalism and some flexibility toward the script. The second appears to be a move toward globalism and a renewed interest in regionalism. While So Yong Kim's Treeless Mountain and Lee Isaac Chung's Munyurangabo were shot in Korea and Rwanda respectively, the other films were set in Austin (two of them), Winston-Salem, Vermont, Philadelphia, San Francisco, and St. Petersburg, Florida. That alone seems pretty remarkable, especially when Hollywood has tried to make it appear as if Los Angeles somehow reflects everyone's reality.
This is a rough time to be an independent filmmaker. Three films on the list – Severed Ways: the Norse Discovery of America, Munyurangabo, and Loren Cass – took a couple of years after being finished to have a theatrical release. Now that digital technology has made it so much easier and cheaper to make feature films, the biggest challenge continues to be how to connect them with an audience. Most commentators lament the lack of commercial support. The fact that the studios and their subsidiaries virtually have abandoned indie cinema may turn out to be a blessing in disguise, but only provided that some new and better digital exhibition and distribution model can emerge from the ashes.
In any event, here is my personal list of the best indie films of 2009:
(Click on the titles below for extended commentary).
1. Goodbye Solo (Ramin Bahrani)
2. Treeless Mountain (So Yong Kim)
3. Harmony and Me (Bob Byington)
4. Severed Ways: The Norse Discovery of America (Tony Stone)
5. Beeswax (Andrew Bujalski)
6. Munyurangabo (Lee Isaac Chung)
7. Medicine for Melancholy (Barry Jenkins)
8. The New Year Parade (Tom Quinn)
9. Loren Cass (Chris Fuller)
10. The Girlfriend Experience (Steven Soderbergh)
If the new list seems more obscure than last year's, I think this partially has to do with the fact that indie films are opening in more alternative venues such as Film Forum (Treeless Mountain and Beeswax), Anthology Film Archives (Munyurangabo,) or even The Museum of Modern Art (Harmony and Me). As a result, these films haven't received nearly the level of publicity they deserve.
Posted 8 February, 2010
Comments Off

on Best Independent Films of 2009