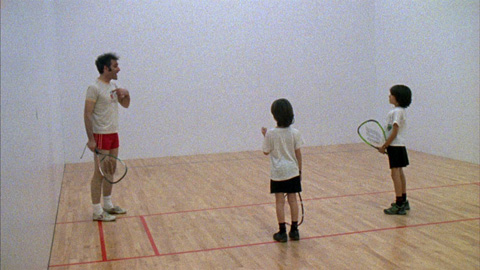 I've posted my "best film" list for the past three years now in February rather than December like other critics and bloggers. The reason is simple. Because I'm based in the Midwest, I always want to be sure I've seen all the major indie films that might be worthy of consideration. As I keep complaining, despite my best efforts, that's not an easy task these days. So it takes me a bit longer to catch up with all the films I want to see. That said, as it turns out, I could have posted this earlier because none of the additional films I watched ended up making the list.
Some "best film" lists have strict rules. One blog limits indie films to budgets of under $1 million. The budgets on my list vary a great deal, but most of them (with the exception of Life During Wartime, Greenberg and Winter's Bone) are pretty miniscule. On the other hand, there are many films made for a pittance that I wouldn't consider independent – they're really industry calling cards. I have little personal interest in such films. Another list insists that a film play at least three times. That might work in New York City, but here we're often lucky if a film like Manoel de Oliveira's The Strange Case of Angelica plays even once. It did in January at our Cinematheque, and I was grateful for an opportunity to see it. To my great surprise, Trash Humpers played for a week. The two other people at the screening I attended left after ten minutes. At least people had a chance to see the film, but that's often not the case, which continues to be the major problem for alternative cinema.
I liked quite a number of international art films this year: Fish Tank, Everyone Else, Mother, White Material and The Strange Case of Angelica, among others. But again the focus of this blog is American indie cinema, not because of chauvinism, but because that happens to be my main research interest. There are plenty of other Web Sites out there that cover other types of films.
My list surprised even me this time around, which I guess is part of the fun of the exercise. For the record, I've seen every film at least twice. In fact, I never write about a film on the basis of a single viewing. No film seemed to benefit more from a second look than Guy and Madeline on a Park Bench. Trash Humpers, while a polarizing film for audiences, also resonated more on a second viewing. Less than half of the films on the list had brief commercial runs in town (Madison, Wisconsin). Three of them played at the Wisconsin Film Festival.
I saw some excellent films and videos in art galleries and museums in NYC this year. Standouts include: Ryan McNamara's dance piece, I Thought It Was You, Tommy Hartung's stop-motion animation The Ascent of Man, and works by Kalup Linzy, Dani Leventhal (all seen at Greater New York at PS 1). I also admired Mika Rottenberg's Squeeze at Mary Boone in conjunction with Nicole Klagsbrun Gallery.
In any event, here is my personal list of the best indie films of 2010:
(Click on the titles below for extended commentary).
There were many extraordinary film performances this year: Greta Gerwig (Greenberg), Zoe Kazan (The Exploding Girl) , Jennifer Lawrence (Winter's Bone), and Ronnie Bronstein (Daddy Longlegs).
For purposes of comparison, you might want to check out my lists of "Best Indie Films of 2009," as well as the "Best Indie Films of 2008."
Posted 23 February, 2011
Comments Off

on Best Independent Films of 2010