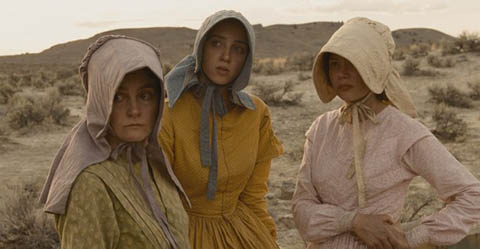 Although the overall quality of this past year's independent films remained strong, most still had difficulty finding an audience. Of the films on my list, Martha Marcy May Marlene grossed the highest amount, at nearly $3 million; Take Shelter and The Future made less than their budgets.
Todd Solondz claims his films don't make money any more and is struggling to release his latest effort, Dark Horse, while Hal Hartley is looking to raise funding on Kickstarter. Even Spike Lee got tired of waiting to find financing for his latest commercial film, and wound up self-financing it. Everyone keeps talking about new distribution models, but let's face it: the theaters are, for the most part, empty when independent films actually do have theatrical runs. DVD appears to have died as well, as we know from the fiasco involving Netflix. I believe that only 6 of the 10 films on my list played in my home town of Madison, Wisconsin.
No matter how cheap films are to make these days, filmmakers can't continue to lose money. VOD doesn't seem to be the answer either. Ti West literally wrote a letter to fans begging them not to pirate his latest release, The Innkeepers. He claims he hasn't made any money from his films. Joe Swanberg seems to have found a viable model, but it appears to involve sheer quantity. Frank V. Ross, a filmmaker whose work I greatly admire (Hohokam, 2007 and Audrey the Trainwreck, 2010) told me he doesn't ever expect to realize any return on his films.
On a personal level, I've struggled to keep up with this blog because I've been consumed with completing my latest book, The Black Hole of the Camera: The Films of Andy Warhol (University of California Press, 2012), which has taken up so much of my time. It's due out this spring. Publishing, however, isn't all that different from making movies these days. Unless you're a celebrity author, you can't expect to get rich on book sales, especially writing academic books.
I saw a number of inspiring films from outside the USA: Melancholia, Uncle Boonmee Who Can Recall His Past Lives, and Certified Copy, to name a few, but I also missed a number of important films that I hope to see shortly. Ironically, I saw some terrific American indie films this past year that I can't include them because they didn't have a theatrical opening: Alex Ross Perry's The Color Wheel, Dustin Guy Defa's Bad Fever, Sophia Takal's Green, Gregory Kohn's Northeast, and Mark Jackson's Without. I've written about four of the five already. I saw Alex Ross Perry's film at the Wisconsin Film Festival last April, and intend to write about it at some point this year.
To be honest, it's difficult to write blogs about films that many folks simply haven't seen, but I remain committed to doing so if it can bring more attention to independent work. I have to say that no blogger has been more supportive of my efforts than Mike Everleth at Bad Lit, whose site I consider essential reading for anyone interested in alternative film.
If there was one major theme that emerged this year, it was the feeling that the end of the world is imminent. Melancholia might serve as the model, but Take Shelter, The Future, and Bellflower share the same vision of impending doom.
I saw Meek's Cutoff twice when it played to the New York Film Festival in October of 2010. I found myself driving to the theater when it played here in town many months later. I felt under a spell like in a Miranda July film. Once the first image appeared, however, I suddenly understood why I was there. It was without a doubt my favorite film of the year. Jon Raymond, the film's gifted screenwriter, has a new novel coming out this spring, entitled Rain Dragon. Jon (who co-wrote the screenplays for Old Joy and Wendy and Lucy as well) is a terrific writer. I strongly recommend that you order his book. It's already listed on Amazon.
In any event, here is my personal list of the best indie films of 2011:
(Click on the titles below for extended commentary).
Two of the filmmakers on my list have been included in this year's upcoming Whitney Biennial: Kelly Reichardt and Matthew Porterfield. I try never to miss a Whitney Biennial, if at all possible.
There were many extraordinary performances this year: Michael Shannon (Take Shelter), Jacob Wysocki (Terri), Robert Longstreet (The Catechism Cataclysm), Michelle Williams (Meek's Cutoff), and Elizabeth Olsen (Martha Marcy May Marlene). Austin Vickers (Jess + Moss) is a natural. For purposes of comparison, you might want to check out my lists of "The Best Indie Films of 2010," "The Best Indie Films of 2009" as well as "The Best Indie Films of 2008."
For the record, I always post my list in February.
Posted 24 February, 2012
Comments Off

on Best Indpendent Films of 2011