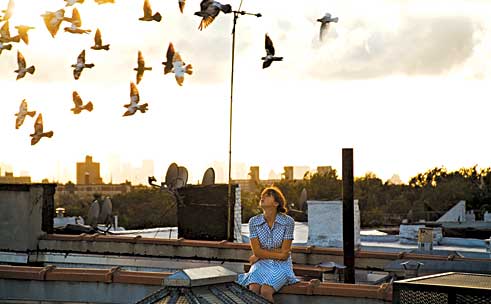 Bradley Rust Gray pushes cinematic naturalism to the brink in his intriguing second feature The Exploding Girl, where very little happens and the real interest lies almost entirely beneath the surface. Gray is mining territory that has been explored previously by films such as Andrew Bujalski's Funny Ha Ha (2005) and Aaron's Katz's Quiet City (2007), but also So Yong Kim's In Between Days (2006), a film that Gray co-wrote with his wife and creative partner, Kim, who also co-produced and co-edited The Exploding Girl.
Mumblecore films, to which Rust's new film invites comparison, tend to be highly verbal films about relationships, whereas The Exploding Girl employs words sparingly. It uses temporality – the passage of time – rather than language to suggest the awkwardness of youthful interactions, especially when it comes to matters of the heart. Mumblecore films, for the most part, deal with characters who consider themselves hipsters. The Exploding Girl, on the other hand, focuses on a pair of nerdy college kids. Mumblecore films are populated by nonprofessional performers, mostly friends of the filmmaker, whereas Gray uses professional actors here.
Indeed, the performances of Zoe Kazan and Mark Rendall are key elements to the success of Gray's film. Kazan, in particular, is as amazing in The Exploding Girl as Michelle Williams is in Kelly Reichardt's Wendy and Lucy. In fact, it's hard to take your eyes off her, as she finds inventive ways to fill dead time. The writer Jon Raymond, who co-wrote the screenplay for Wendy and Lucy, talks about Michelle Williams being able to express the inexpressible. He told an interviewer: "To me, the incredible thing she accomplished, and which I can only imagine is like the black belt of acting, was somehow to express the idea that she was, in fact, withholding expression. Somehow, she managed to give the impression of blocked feelings, which to me seems almost impossible. How do you express that you are not expressing something? It seems really hard." Zoe Kazan also earns a black belt in acting for her portrayal of a character with bottled-up feelings in The Exploding Girl. In fact, she won the best actress award at the Tribeca Film Festival last spring.
The plot of The Exploding Girl is extremely slight. The story centers on a young student named Ivy (Kazan), who returns home to Brooklyn from college in upstate New York over break, along with an old school chum named Al (Rendall) who ends up staying at her house. In the car, Al, who attends a different college, asks Ivy whether her boyfriend Greg (Franklin Pipp) is planning to visit her. Greg isn't, but Al's reaction suggests that it's actually a loaded question. It soon becomes obvious from Ivy and Greg's cell phone conversations, that their relationship consists mostly of reporting what they're doing at the moment, and, for Ivy at least, it seems to involve moping around and waiting for him to call her. So it comes as no surprise when Greg dumps Ivy as she stands on the street in the midst of heavy traffic.
Ivy has epilepsy, which partially accounts for her fragility. She has to be careful not to drink too much or get stoned or overly stressed, but she's also so repressed and depressed that her passivity becomes pretty exasperating. Not that her handsome and overly polite pal Al, who's into biology and has the face of a sad clown, is any better at expressing what he feels either. Under the guise of their close bond – they go back to eighth or ninth grade – he confides in her about his crushes, and asks her advice about wanting to kiss another woman. Yet it's obvious in the hushed and sincere tone he uses when speaking to her that the two have feelings for each other beyond friendship, even though they might need a sinking ocean liner for it to register.
Ivy's mother (Maryann Urbano) runs a dance studio. Other than when the three of them play a game of cards, she seems more preoccupied with her own life than with spending time with her daughter. Al's parents aren't much better. They've rented out his room (or at least that's what he claims), and his parents never come up again. Gray uses the art-cinema technique of burying the motivation of his characters. Babies, real or imagined, surface several times in the film. Along with Ivy's mom, Ivy and Al visit her cousin, who has a new baby, which Ivy holds, while Al stares with wonder and touches the baby's tiny hand. Later, after a party where Al gets very stoned and the two share a milkshake, he asks Ivy whether she wants to have babies. She explains that, given her medical condition and need to take medication, it would be more complicated for her, which leads to this exchange:
IVY: Why? You want babies?
AL: Yeah.
IVY: You want my baby?
AL: Yes. (Ivy laughs) I didn't mean it like that.
At the rooftop pigeon coop toward the film's end, he shows her a couple of baby birds. Ivy gushes and wants to touch them. Is this an indirect way of trying to bring up sex?
In terms of the film's use of buried motivation, there seems to be one skeleton in the closet that's never brought up, namely: What happened to Ivy's father? If The Exploding Girl is the b-side of In Between Days (both titles come from songs by The Cure), as Gray has indicated in several interviews, I would hazard a guess that this might be the key to unlocking Ivy's character. In Kim's film, In Between Days, the absence of Aimie's father remains the main source of her pain and confusion. Why is Ivy so depressed? Why is she in a relationship with a guy like Greg, who is clearly cheating on her behind her back? The answer actually isn't in the text, so to speak, but part of the pleasure of watching films like In Between Days, Old Joy, Wendy and Lucy, and The Exploding Girl remains filling in the missing blanks.
The Exploding Girl is deliberately underwritten – the screenplay is a mere 60 pages for a film that's 79 minutes long. Gray calls the process of making the film "exciting because we made it out of nothing, like making cookies with ingredients you find in your cupboard." According to an interview with Ramin Bahrani in Filmmaker, Gray wrote the character of Ivy based on conversations with Zoe Kazan after she agreed to be in his film, while Al's character derived from things Grey had learned about Rendall from an actress friend of his. Thus, there's a close connection between actor and role in the film. As was already evident in In Between Days, Gray has mastered how young people communicate (or don't) with each other, especially via cell phones. As Ivy walks down the street, Greg calls her:
IVY: Hello?
GREG: Hey . . .
IVY: Hi. Hey.
GREG: Hey.
IVY: Um, I called you last night.
GREG: Yeah, I was with my parents, and . . . we're going to lunch now.
IVY: Oh . . . (her phone rings) Oh, hang on a second. Shit, I have another call. Um, can I, can I . . . can you hang on?
She gets another call, which turns out to be from Al.
GREG: Ah, yeah.
She talks briefly with Al, and then returns to Greg.
IVY: Hey . . . Greg?
GREG: Hey, yeah, sorry I can't talk long now. I'm with my parents. I just . . .
IVY: Oh . . .
GREG: You know, wanted to check in.
IVY: Okay.
GREG: I miss you.
IVY: Yeah, me too.
GREG: Ah, okay, so I'll call you later. Okay?
IVY: Yeah, yeah, okay. I'll have my phone on. (Pause) Okay, bye.
GREG: Bye.
In other words, the whole purpose of Greg's phone call is to tell Ivy that he can't talk to her.
Rust differs from mumblecore directors in being far less oriented toward dialogue and in relying instead on visual storytelling. Gray cites Hou Hsaio-hsien as a major influence on this piece. The Exploding Girl embodies a cinema of observed gestures, silence, and intricate sound design rather than plot and action. Gray uses a longer focal-length lens to compress his images spatially. It allows him to embed his characters within documentary-like shots taken on the street, which add to the film's realism. Even though Gray includes a fair number of closeup shots, especially of Ivy, he and his cinematographer, Eric Lin, often place obstacles between the characters, such as framing Ivy behind the doctor's shoulder during her checkup or filming her through passing traffic while she's in the bookstore.
The most visually exhilarating scene occurs on a rooftop when Al takes Ivy to see his friend's pigeon coop, where she finally breaks down, while pigeons swirl in formation overhead. The film is also book-ended by the trip from upstate to Brooklyn, where the moving landscape is reflected on Ivy's sleeping face, and the return ride back, where Gray relies on the power of the camera to capture those subtle moments that are somehow beyond words.
The Exploding Girl, which is being distributed by Oscilloscope Laboratories, will be shown as part of the Wisconsin Film Festival in April.
Posted 19 February, 2010
Comments Off

on The Exploding Girl