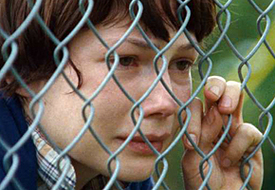 A colleague recently suggested that last year hadn't been a very good year for independent films, but I beg to disagree – 2008 was a great year for independent films. The problem is that if you live outside one of the major urban centers, most likely, you haven't seen the best of them.
Chris Smith's The Pool finally opened  at Sundance Cinemas  Madison yesterday and will run for a week, while Kelly Reichardt's masterful Wendy and Lucy is scheduled to play at Sundance Cinemas March 6-12. Gus Van Sant's Paranoid Park and Harmony Korine's Mister Lonely did have brief theatrical runs at the Orpheum Theatre, but were available via VOD first. Kent Mackenzie's restored and re-released The Exiles played for one night at the UW Cinemathque, while Chop Shop and Shotgun Stories screened at the 2008 Wisconsin Film Festival. Antonio Campos's Afterschool is scheduled to be shown at this year's festival, but I'm not sure about the local fate of either Frownland or Ballast at this point.
The issue certainly isn't the quality of independent films, but the difficulties indies are having in finding commercial distribution. After January's Sundance Film Festival, Manohla Dargis of the New York Times wrote: "Films with no-name actors are a tough sell, as is anything considered too arty, brainy, bleak or dark, which is why much of the best work produced today either goes without American distribution or is released by smaller companies that don't require huge returns." I think that's an accurate summation of the current state of affairs.
Whereas theatrical openings used to be a necessity in order to get a more lucrative DVD deal, that's no longer the case. Unless the film does extremely well theatrically, smaller DVD companies are not in a position to offer very much in terms of up-front money. Why? Illegal downloads and piracy are two obvious factors. As the world economy continues to tank, there's the notion that everything – books, music, movies – should be available for free. This makes it difficult for independent filmmakers and musicians as well as non-celebrity authors to be compensated for their labors. The business models are shifting in all these areas, so it will be interesting to see how this situation eventually will play out.
Whatever the case, on this weekend of both the Independent Spirit Awards and the Academy Awards, here is my personal list of the best indie films of 2008:
(Click on the titles below for extended commentary).
1. Wendy and Lucy (Kelly Reichardt)
2. Paranoid Park (Gus Van Sant)
3. Mister Lonely (Harmony Korine)
4. Ballast (Lance Hammer)
5. Frownland (Ronald Bronstein)
6. The Exiles (Kent Mackenzie)
7. The Pool (Chris Smith)
8. Afterschool (Antonio Campos)
9. Shotgun Stories (Jeff Nichols)
10. Chop Shop (Ramin Bahrani)
If my list were extended to include international cinema, I definitely would have added such gems as José Luis Guerín's structural narrative In the City of Sylvia (click here for commentary), Jia Zhang-ke's Still Life, and Carlos Reygadas's Silent Light. The first two played at the 2008 Wisconsin Film Festival, while Reygadas's film will play at this year's festival in early April.
Posted 21 February, 2009
Comments Off

on Best Independent Films of 2008