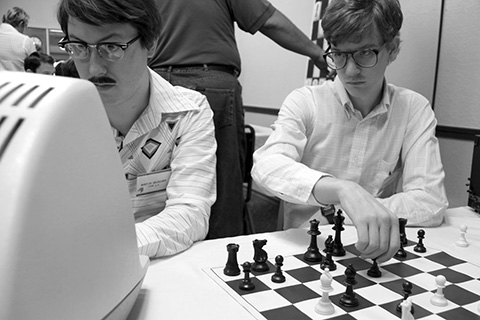 Andrew Bujalski's Computer Chess (2013) represents a radical departure for this indie writer/director. Bujalski has been associated with mumblecore ever since Funny Ha Ha (2002) won recognition at the SXSW Film Festival in 2005 (even though the film actually debuted three years earlier). His first two films helped to define a film movement that captured the awkward social interactions of his own generation, as his characters attempted to navigate interpersonal relationships consisting of mixed signals and crushes on friends in a time of diminished economic expectations. In 2013, technology has become the new religion, controlling virtually every aspect of our lives. While it has been amazingly transformative – there is no question we are addicted to the minicomputers we carry around in our purses and pockets – it is also largely replacing jobs formerly done by humans, which has relegated many younger people, such as the ones who populated Bujalski's earlier films, to marginal economic status. By going back in time to the period of the early 1980s, Bujalski explores the world of nerds just as they are on the verge of taking over the culture due to their skills at computer programming.
In re-creating the early years of personal computing, Bujalski has lovingly managed to capture the look and feel of a time we easily forget – before email, texting and Skype. In discussing the future of artificial intelligence, the videographer (Kevin Bewersdorf) at one point suggests it could eventually be used for dating, an idea that causes the programmers to chuckle at the unlikely prospect. Bujalski has a knack for nailing these nerdy characters with their baggy polyester clothes, overly large eye glasses, tie clips, and retro haircuts. His eye for detail includes a professor named Tom Shoesser (Gordon Kindlmann), who arrives late, along with a wife and baby who seem like strange appendages. Computer Chess could easily be described as a study in gray and white. The lack of contrast in these images suggests a world that looks surprisingly like Eastern Europe during communism, an effect that Bujalski achieves through shrewd art direction and by shooting in a documentary-like style with a Sony AVC 3260 camera. Like Harmony Korine's Trash Humpers (2010), Bujalski finds an odd beauty in the degraded image of early video, complete with breakup, lens burns, cheesy split-screen effects, negative images, awkward superimpositions, dropout, Academy aspect ratio, and various glitches.
Computer Chess is a complex ensemble piece, with so many characters and plot threads that it is initially hard to get one's bearings. The film centers on a weekend computer chess tournament held at a budget motel. The competition is portrayed as a kind of three-ring circus overseen by its nerdy ringleader, chess whiz Pat Henderson (played by film critic and scholar Gerald Peary), who is eagerly waiting to challenge the winner. Much of the film involves the competition between various computer chess teams, but, in some ways, this is the least interesting material. It is the peripheral sideshows and characters who manage to steal the show. Mike Papageorge (played by Bujalski's school chum Myles Paige from Funny Ha Ha), appears on a panel early on, where he's identified as an independent programmer. He frowns during the session, and when finally called upon, he tells Pat: "I find the programming of my fellow competitors to be almost as boring as this discussion." Despite his bravado, it turns out he cannot afford a hotel room. His efforts to find one represent some of the most humorous incidents in the film.

There is also the lone female contestant on the MIT team, Shelly Flintic (Robin Schwartz), who becomes a veiled object of ridicule for Henderson and the other contestants, as well as an object of desire. Mike Papageorge is the first to attempt to crash her room, but it turns out that she's sheltering her team's computer, which is so large that it takes up much of the floor space, providing her with an excuse for not letting him stay there. Shelly, who wears a heart pendant around her neck, is so painfully shy and nervous that she can barely speak. The same could be said for Peter Bishton (Patrick Riester), a program assistant from the Caltech team, who, in many ways, helps to hold the multi-strand narrative together. Peter will later get Shelly to help him run experiments when his team's computer, Tsar 3.0, takes on a life of its own by performing poorly against other computers, but not against humans.
Meanwhile, a group of spiritual seekers are also holding their own encounter therapy sessions in another part of the same hotel. Overseen by an African guru named Keneiloe (Tishuan Scott), the couples undergo group therapy by groaning loudly, fondling loaves of bread, and becoming reborn as free people. One of them, Dave (Chris Doubek), runs into Peter outside the motel and engages him in conversation. When Peter explains the tournament, Dave muses, "Computers play chess against computers. Wow!" He's a bit too over solicitous. Although Peter looks about sixteen, Dave asks suggestively, "Are you married?" As he leaves, he remarks, "Hey, we got the same color eyes, man," a discovery he's made about his own wife during the encounter session. We are not surprised when he later invites Peter to his room where he and his wife, Pauline (Cyndi Williams), are ripe for swinging. She asks Peter, "Have you ever tried LSD?" She compares Peter to Columbus, but she and Dave worry that he's not living up to his potential. Cats also seem to have a run of the motel, which Mike Papageorge discovers as he wanders the hallways. When management finally finds him a room after he tries to sleep on the couch in the lobby, it turns out to be full of cats, causing him to have an allergic reaction. He ends up sleeping under a table in the conference, which leads to his own bizarre engagement with the encounter group.
There are other equally eccentric characters. Early on, two guys who are not in the competition, John (Jim Lewis) and Freddy (Freddy Martinez), claim to be there to watch "them get ready for the end of the world." One of the contestants, a British chap named Les Carbray (James Curry) of the Alliance team, extols the virtues of three Scotches as the secret to coding. Soon afterwards he smokes joints in John and Freddy's room. John raises the "military" aspect of the game of chess and talks about government interest in the programming being done by these computer geeks. This induces a sense of paranoia in the stoned Les. He asks John, "Are you trying to recruit me? Are you from the Pentagon?" His sidekick, Freddy, comments, "It's like my uncle said: 'War is death, hell is pain, chess is victory.'" As the movie goes on, it gets weirder and weirder, especially when Mike Papageorge returns home to get money, and the film suddenly switches to higher contrast, grainy 16mm color film. Soon after, Peter's teammate, Beuscher (Wiley Wiggins), shares some startling revelations. Computer Chess culminates in a final scene involving Peter in which we suddenly enter the realm of science fiction.  
Computer Chess has far more plot than is found in Bujalski's previous films, even though the earlier three features were scripted. For his new one, he only used an eight-page outline. When asked about the difference in approach, Bujalski explains in Cinema Scope: "So in that sense, it was surprisingly similar, because whether you're working from a worked-out script or just a couple of paragraphs, you still have to make sense of it with the actors; that process is still the same, of talking it through with them and finding out what works for them. In fact, really the only difference was that I had to be better prepared because there wasn't as thorough a document to rely on if my mind went blank. So I had to have a slightly better sense of what we were doing."
Computer Chess is wildly inventive, especially in how it cleverly connects the various plotlines that initially appear to be a series of tangents. Bujalski has always been a humorist. The early days of computing and a computer chess tournament provides him with a minefield of awkward social interactions, especially in the form of the film's two young characters, Peter and Shelly. But, with Computer Chess, Bujalski has moved beyond naturalism into a kind of madcap surrealism that is closer in spirit to Miranda July than it is to Joe Swanberg.
Note: I saw Computer Chess at the 2013 Wisconsin Film Festival in April, where the director was also in attendance, along with Gerald Peary. It's now available on DVD from Kino Lorber, which is good because it takes a second viewing to appreciate the film's nuances.
Posted 29 December, 2013
Comments Off

on Computer Chess