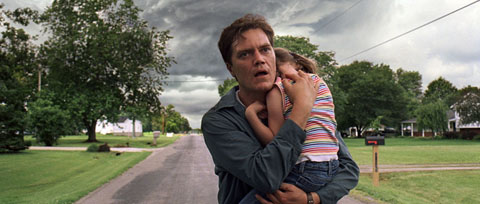 The suspense/horror genre has gained new prominence in indie cinema lately. This appears evident not only in films such as Ti West's House of the Devil (2009) and The Innkeepers (2012), and Calvin Reeder's Lynchian-inspired The Oregonian (2011), but also in films that employ elements of the genre, notably Todd Rohal's The Catechism Cataclysm (2010), Mark Jackson's Without (2012), and Jeff Nichols's Take Shelter (2011). Horror also seems to have crept back into our daily lives with a vengeance, taxing our psyches' ability to grapple with catastrophes – both natural and human-made – that inundate us each day. Add to that an economic recession and the fact that ordinary people's security nets are being pulled away ruthlessly. As a result, it should hardly be surprising that Jeff Nichols's angst-ridden Take Shelter would strike such a responsive chord.
Nichols's regionally flavored first effort, Shotgun Stories (2008), was a study of bitter hatred stemming from a family feud. His new film Take Shelter focuses on a construction worker in rural Ohio named Curtis (Michael Shannon), who is desperately trying to provide for his family as he begins to suffer hallucinations and nightmares that may be apocalyptic premonitions or merely demons inside his head. The film allows us to view Curtis's torturous plight through its impact on his wife Samantha (Jessica Chastain) and deaf child Hannah (Tova Stewart), as well as his best friend, a hot-headed co-worker named Dewart (Shea Whigham). The fact that his mother began suffering from paranoid schizophrenia at a similar age adds a complicating factor regarding the nature of Curtis's shaky mental state.
Take Shelter begins with tree branches swaying in the wind. Curtis stands in his driveway and surveys a clouded sky. As lightning flickers through the overcast sky, the ensuing drops of rain contain a viscous brown substance. Nature is just as much a character in Take Shelter. The great expanse of Midwestern sky appears ominous and threatening early on, as bad weather interrupts Curtis's construction job at a gravel pit and causes Samantha to teach Hannah how to say "storm" in sign language. As Dewart and Curtis talk in the car after work and drinks, Dewart tells his friend: "You got a good life, Curtis. Serious. I think that's the best compliment you can give a man. Take a look at his life, and say, 'that's good.' That guy's doing something right." Curtis responds, "Well, it ain't always so easy."
Curtis's remark is a gross understatement. As he stares at his sleeping daughter and Samantha appears bedside him, the parents worry over the fact that Hannah is unable to play with the other kids. Amidst more rain and lightening, Curtis has a hallucination in which the family dog attacks him. Concerned for Hannah's safety, he puts the dog outside and later gives it away to his brother. As his own condition deteriorates, Curtis has terrible nightmares involving Hannah's safety. In one instance, the furniture levitates and crashes in his living room. Curtis wets his bed, experiences a seizure, and spits blood. His behavior becomes more erratic. He ploughs money he doesn't have into remodeling and expanding an old storm shelter to protect his family. In response, his brother warns him, "You take your eye off the ball one minute in this economy and you're screwed." Yet Curtis proceeds to put his pal Dewart in an awkward position and jeopardizes his job and health insurance, which is crucial to Hannah's impending ear surgery.
Marital discord develops between Samantha and Curtis over his actions. She loves him deeply and is concerned for his well-being, but he's clearly starting to unravel. The slow fuse in Curtis that's been burning beneath the surface finally explodes at the local Lions Club dinner. His fury feels as if a scary Frankenstein-like monster has suddenly been unleashed, as Curtis admonishes his neighbors with a fire-and-brimstone tirade that's downright biblical. Forced to decide whether to stay with her husband, Samantha develops her own plan to salvage their increasingly desperate situation. Take Shelter is like watching a Greek tragedy slowly unfold, but, to his credit, Nichols manages to keep us riveted right until the film's unpredictable end.
Nichols's Take Shelter has the ambition and grandeur of an American epic, in which the bonds of a working-class family get tested and pushed to the limits. It's a truly remarkable second feature that, like Lars von Trier's Melancholia (2011), left me utterly shaken when I first saw it opening weekend in New York City. A great deal of the power of Take Shelter derives from the film's striking imagery, David Wingo's haunting score, and the performances of Jessica Chastain and Michael Shannon. Shannon, who was fantastic in Shotgun Stories, is even more mesmerizing here. Much of Curtis's character is conveyed through gesture. His pained face somehow becomes a map of worried intensity, which is reinforced by his wooden jaw, bowed head, and a faraway look that appears when he's talking. If there was a better acting performance last year, I didn't see it.
As in Shotgun Stories, Nichols uses the natural landscape to full effect, especially in how weather contributes to the film's overall mood and atmosphere. He told Scott Macaulay in Filmmaker that Take Shelter is "a movie about skies," which necessitated shooting it on super 35 mm film. It's against that threatening and turbulent sky and Adam Stone's majestic cinematography that Curtis wages his battle – a human figure dwarfed by the natural world. He's also at the mercy of an economy that can be equally brutal to those most vulnerable, such as someone like Curtis suffering from mental problems, or his daughter, Hannah, who needs expensive surgery. It is no wonder that Curtis clings to his family with such ferocity. He secretly knows that, without them, he'll never be able to survive.
Posted 23 February, 2012
Comments Off

on Take Shelter