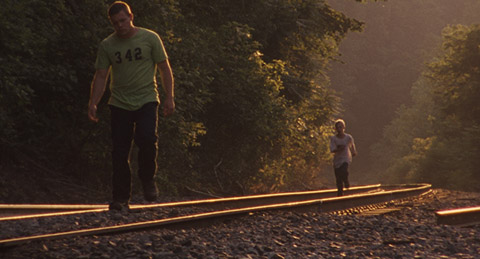 Andrew T. Betzer's debut feature Young Bodies Heal Quickly (2014), a bizarre road movie about two brothers on the lam, might not be the most legible film, but it more than compensates through its weirdness, unpredictability, and sheer visceral impact.
The film begins with a toilet sitting atop a tall sculptural contraption. We see a musclebound guy wearing a red wrestling helmet, identified in the credits as Older (Gabriel Croft), struggle to escape over a barbed-wire fence. After he and his brother, Younger (Hale Lytle), a cute kid with short blond hair and striking blue eyes, demolish a car with baseball bats, Older shoots a BB gun at two young heavy-set women as they ride ATVs. The women retaliate by attacking him viciously, but Younger comes to the rescue. A constable (Judson Rosebush) finds Older's red helmet at the crime scene, which propels the brothers on their road odyssey.
The two brothers are a study in contrasts. The brooding Older has the muscular build of a mixed martial arts fighter, whereas the scrawny ten-year-old Younger, who is half his brother's age, somehow manages to maintain a buoyant personality despite the dark events that occur. On their first stop they visit their sister (Kate Lyn Sheil) and her family. Older enjoys upsetting his twin sister by scaring her chickens with loud blasts from an air horn. After he deliberately sprays her with foam while opening a can of beer, she shouts, "Just get the fuck out. Just take your shit and go! Please, I don't want you near my kid."
At a beach resort, Older drinks beer and sets off flares on the boardwalk the first night, creating spectacular shots of him illuminated by radiant red light, which slowly fades as he walks away from the camera toward the water. The next morning, Younger sees his brother's body on the beach and a French cleaning maid (Julie Sokolowski) responds to his call for help. Once they manage to get him back to a hotel room, the maid administers to Older, while Younger imagines himself being on the receiving end of her affections.
The maid and Younger bond while Older recuperates. As they ride a bus, she laments in French that a compatriot hotel chef has turned her into a sex slave by threatening to kill her with a meat cleaver, while Younger stares innocently out the window. The chef (Alexandre Marouani) engages Younger in a hilarious conversation about the quart of milk he buys at a store. The milk turns into a sexual metaphor as Younger waits patiently outside the room while the maid makes it with Older. The violent chef turns up, forcing the two brothers to hit the road again.
Older eventually drives the car into a ditch. Carrying their belongings in large black garbage bags, the two brothers walk to a deserted beach mansion where the cantankerous caretaker of the property turns out to be their estranged father (Daniel P. Jones). An older guy with long shaggy hair and a gray beard who speaks with an Australian accent, their dad lays down the ground rules – they must be punctual and can't use the inside bathrooms – and begins to boss them around.
The discovery that this man is their father is a bit disconcerting, especially when it's revealed that the former military medic sells Nazi memorabilia on the Internet. He asks Younger, "Does this bother you?" When it doesn't, Dad tells him, "Good. . . because it's only history. And history, good or bad, can't hurt you." The father snaps photographs of the young boy modeling a Nazi t-shirt. But this is nothing compared to what is in store for the brothers when Dad takes them to a Vietnam War reenactment camp, forces the two boys to dress as Viet Cong, and proceeds to engage in war games.
Betzer appears to be uninterested in realism or conventional storytelling. His film is far more reliant on images than on its sparse dialogue. He prefers ambiguity by often withholding exposition, such as never letting the viewer know the destination of the road trip or the identity of Dad, who is not introduced to us in a way that conveys his relationship to the two brothers clearly. The filmmaker prefers to keep the viewer guessing. In a sense, this makes the ensuing events appear much more mysterious. Betzer told an interviewer: "When I write a script, it's a little more wordy, and as I go along I like to strip away when I find an opportunity to be able to sum up what's going on with an image or a succession of images rather than words."
In the beginning of the film, for instance, Betzer employs what amounts to synecdoche as an economical way of depicting Older's escape from prison. There are no sirens or prison guards. An image of his efforts to escape over the barbed wire fence proves sufficient in terms of narration. By the same token, the chef at the motel is depicted as sleeping with a raw whole chicken next to his bed, followed by a shot of him chopping it up with his meat cleaver in the kitchen, and then playing a trumpet in bed. We never see him working in the restaurant of the hotel where he works, but he nevertheless wears a chef's uniform.
Some scenes occur in long takes, such as the constable's slow walk into and out of the woods to retrieve Older's helmet at the crime scene. Another example is the extended shot of Older lighting flares on the boardwalk. Other scenes are constructed through elliptical editing. For instance, when Younger sees his brother passed out on the shore, he runs and calls for help. Betzer cuts from a shot of a young French cleaning maid watching a boardwalk attraction to Older lying prone by the ocean. We then see a shot of the maid and Younger running down the sandy beach. Later on in the film, the father pulls up a box crab trap, checks it, and then pushes it back into the water. The scene cuts to the dad and the two boys sitting at a table eating crabs with small hammers, during which Older and Dad get into a heated argument about whether crabs can swim.
In Young Bodies Heal Quickly, Betzer explores the hyper-masculinized world of violence and power relations, which Older initially embodies, but which find its greatest expression in his father, who embraces violence and brutality, yet prides himself on being a medic. At the re-enactment camp, the father and Older watch the spectacle of a woman, dressed in a black Viet Cong outfit, having sex in the field with one of the American soldiers. Dad might insist that history can't hurt you, but we are all the products of our own personal histories, and what we see in Betzer's film is the result of that blatant denial, which makes his highly personal and idiosyncratic film so affecting, as well as deeply disturbing to watch.
Shot in super 16mm by Sean Price Williams, who has been the cinematographer on so many great indie films – from Ronald Bronstein's Frownland (2007) to Alex Ross Perry's Listen Up Philip (2014) – Andrew Betzer's Young Bodies Heal Quickly played at Tribeca and has been picked up for distribution by Factory 25. It is scheduled to be released theatrically sometime in February.
Posted 4 January, 2015
Comments Off

on Young Bodies Heal Quickly