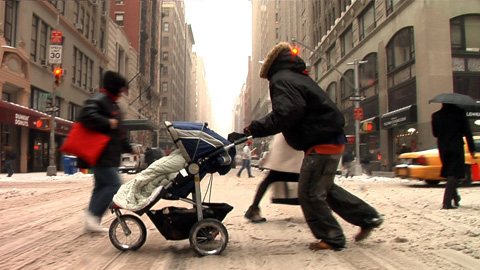 Sean Baker has to be one of the most underrated young American indie filmmakers working today. After Four Letter Words (2000), he reinvented himself with two stellar features, namely Take Out (2004), which took years to screen theatrically, and Prince of Broadway (2010), which actually came out a couple of years ago. It played at the 2009 Wisconsin Film Festival, but only had its theatrical opening last September. Both Take Out and Prince of Broadway vied for the 2009 John Cassavetes Award (films made under $500,000). The double nomination probably hurt Baker's chances of winning by splitting the votes he received.
A documentary-like look at an illegal immigrant Chinese delivery person in New York City, Take Out was shot in an actual Upper West Side restaurant during business hours, featured lots of b-roll shots, and interspersed actual orders with Baker and Shih-Ching Tsou's fictional story. An added bonus was the candid responses of the various customers (solicited via Craigslist) to the home delivery person, Ming Ding (Charles Jang). Despite his desperate need to pay off pressing debts to loan sharks, Ming is much too shy and proud to play up to the customers in order to get bigger tips.
Prince of Broadway shares the same gritty realism as the previous film in telling the story of immigrants who sell counterfeit goods on the streets of New York City. One is a fast-talking West African hustler named Lucky (Prince Adu). The other is his boss, Levon (Karren Karagulian), a middle-aged Armenian from Lebanon, whose bare clothing store serves as a front for a secret back room full of luxury-brand knockoffs – from Gucci to Vuitton. Levon has married an attractive young woman in order to get a green card. Although he yearns for the relationship to be much more, it's already on the skids.
The film's catalyst occurs roughly twelve minutes into the film, when Lucky's Latina ex-girlfriend, Linda (Kat Sanchez), dumps off a baby (Aiden Noesi), claiming that he's the father. She tells him: "Be a man for once." Linda indicates that it will only be temporary, but it soon becomes clear that the baby is interfering with a relationship she's developed with a new boyfriend – a muscle-bound, jealous thug, who beats up Lucky when he chases after Linda. "I have no papers," Lucky later pleads to her mother, "what can I do with this baby, please?"
Even though he's an adult, Lucky is emotionally a child. When he gets the baby home, he lays down the law, telling him not to mess with his porno collection or his weed before breaking into tears. The eighteen-month-old baby, whom he eventually names Prince, is adorable, but Lucky only sees him as a burden. He complains constantly about his plight, not only to the uncomprehending toddler, but to anyone else who will listen. Most of his friends feel he's being duped – the baby looks too light-skinned to be his kid. Prince also throws a wrench into Lucky's relationship with his current girlfriend, Karina (Keyali Mayaga), who wants him to get an education. Like Take Out, Prince of Broadway has a ticking clock, in this case a DNA test to prove paternity, but Baker is careful not to use it in a heavy-handed way.
Not only does the film focus on the bond that slowly develops between Lucky and Prince, but it also centers on Lucky's relationship with Levon, who serves as a father figure, even though he's hardly the ideal role model. Levon asks him, "Do you know what you're getting yourself into?" He gives Lucky money and instructions on how to hold the baby properly. He puts the baby's hat on and tells Lucky, "Hold the kid, man. You're going to drop the kid!" When Lucky doesn't listen, he shouts, "Are you fucking kidding me? Hold the kid!" There have been a number of recent films that deal with the issue of fatherhood: Josh and Benny Safdie's Daddy Longlegs, Winter's Bone, The Kids Are All Right, and Life During Wartime. Prince of Broadway also has echoes of Ramin Bahrani's Goodbye Solo, which also explored the experience of new immigrants in this country.
Baker likes to confuse and blend documentary and fiction. His films have a raw power that's makes it seem as if he's stuck his camera into real-life situations. The script is credited to Baker and his producer Darren Dean, but, as a final credit indicates, "the characters' dialogue was realized through improvisation and a collaborative process with all actors." As I keep writing about, many indie filmmakers have forsaken the well-written script in favor of structured improvisation. Baker, however, points out that there is often a stigma attached to working this way. He told an interviewer: "But [with Prince of Broadway] the improvised is simply the dialogue. Every scene had a beginning middle and end. It was just the dialogue. Some people think you are not doing your work if you don't have the full fleshed out script."
If the use of improvisation is becoming common in micro-budget indie films lately, the cutting in Baker's films is quite unusual. In his excellent book The Way Hollywood Tells It, David Bordwell explores the concept of "intensified continuity" in depth and why the cutting of Hollywood films keeps getting faster. Indie films, especially naturalistic ones, have generally shared with art cinema a contrarian impulse – the story often unfolds in long, leisurely takes. Yet Baker fractures the space and time of his film through the use of manic cutting. An editor by profession, Baker's impulse is to cut continually, which gives his film an exciting kinetic energy.
As a result, Prince of Broadway never feels boring. In exploring the subculture of those engaged in the underground economy, Baker provides an exciting glimpse into the lives of largely invisible characters who live on the margins.
Posted 18 February, 2011
Comments Off

on Prince of Broadway